This wedding is all about contrast and unexpected touches in a delightful country setting that is romantically understated. It's anything but common! Tones of olive and navy, plum and deep pink are combined with gold and lace; exotic blooms are interspersed with fruit, and the groom's unexpectedly informal attire plays against a bridal gown that's elegantly traditional.

Darkness and Light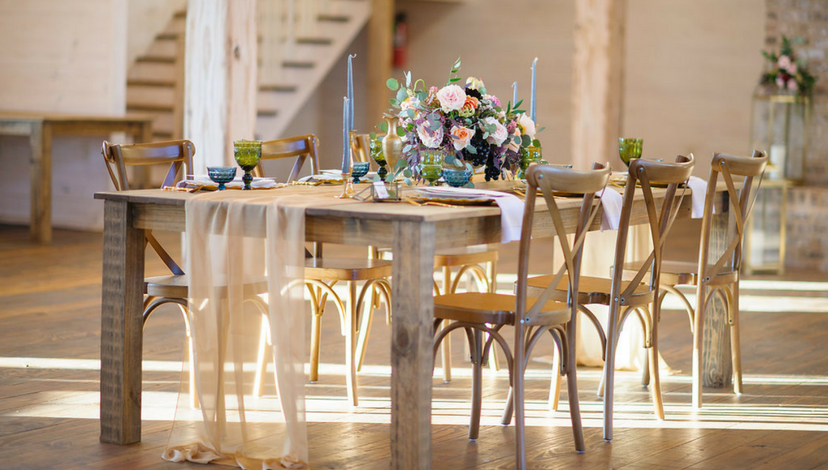 Everything is a mix — from wedding stationery to the bridal bouquet, from wedding cakes to place settings. The theme is handled masterfully, and the tonal repetition is supremely satisfying.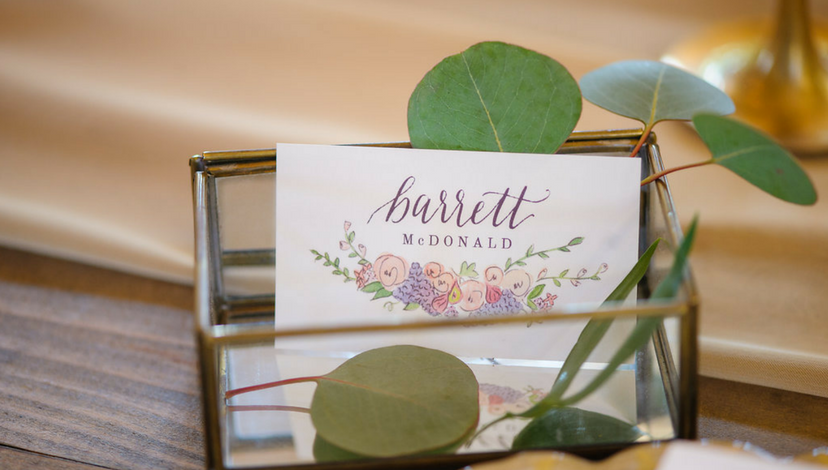 Sunlight and Shadow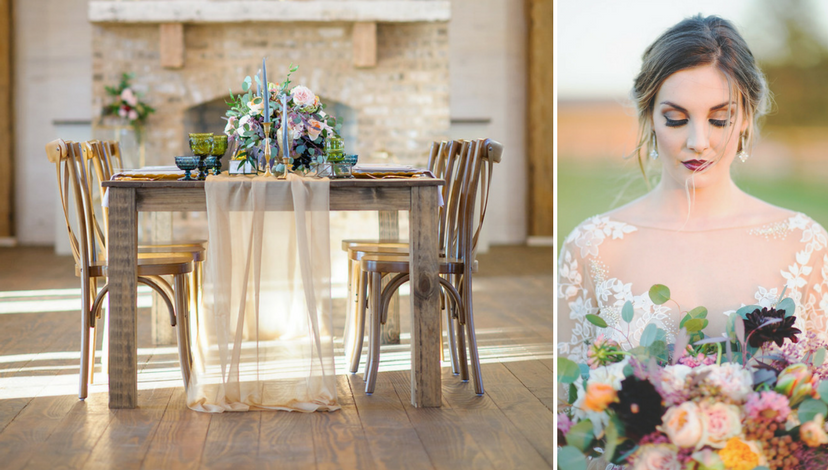 Light streams into the room, and light and dark play off the natural backdrop in ever-changing patterns. The floral centerpieces are bright and beautiful, yet bring to mind dark vistas and moody midnights. It's an intriguing combination.
Antique and Dreamy
An antique, white-painted sideboard is pulled into service as a display table for two dramatic cakes that reflect the theme perfectly. The top of the server is covered with a dramatic jeweled and sequined gold runner that cascades down each side for dramatic effect.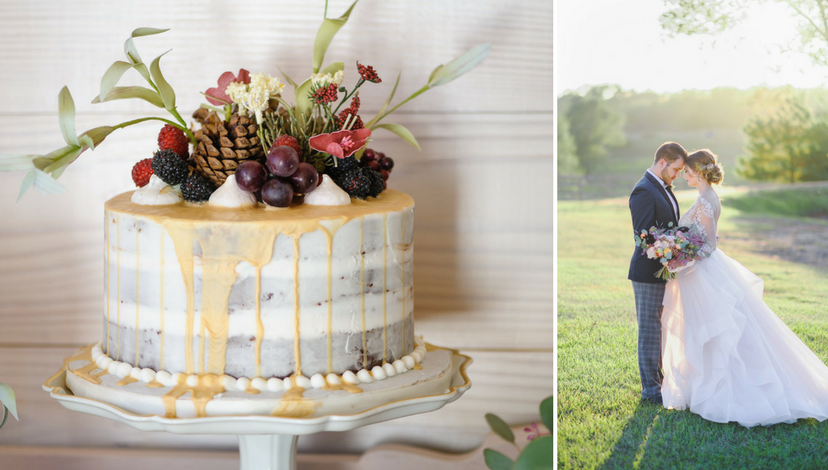 Sheer and Glowing
Sheer, flowing runners of antique pale gold highlight unadorned wood tables set on gleaming floors. The setting is perfect in a room filled with soft tones and natural textures, from the fireplace to ceiling timbers and filtered light. The single spot of dramatic color in floral centerpieces is all that's needed.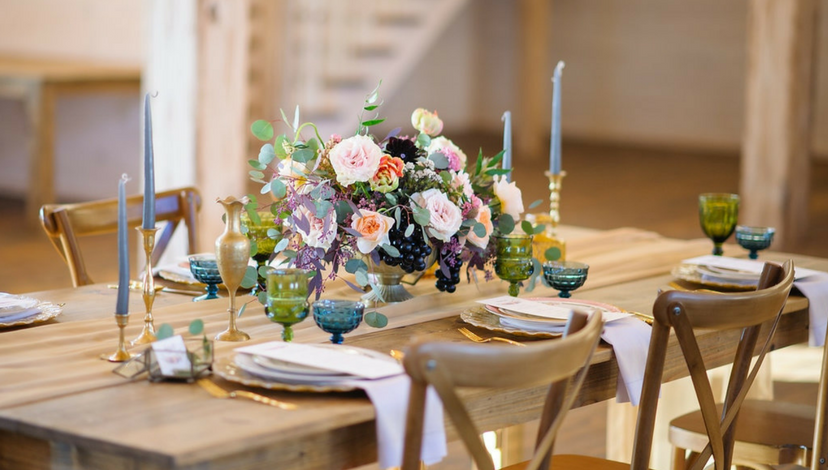 Moody and Unexpected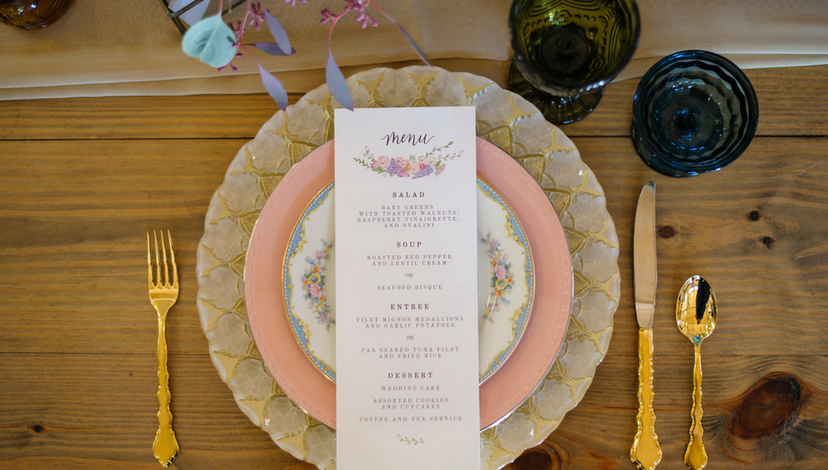 Each place setting is as fresh as can be and light as springtime but melds perfectly with the overall tone of the celebration. Golden accents appear in fanciful chargers and ornate flatware, while solid pink service plates are topped by romantic floral salad plates. The menu card repeats the floral theme, but with a light touch, and the setting includes a simple ivory napkin, a perfect accompaniment to the simple table.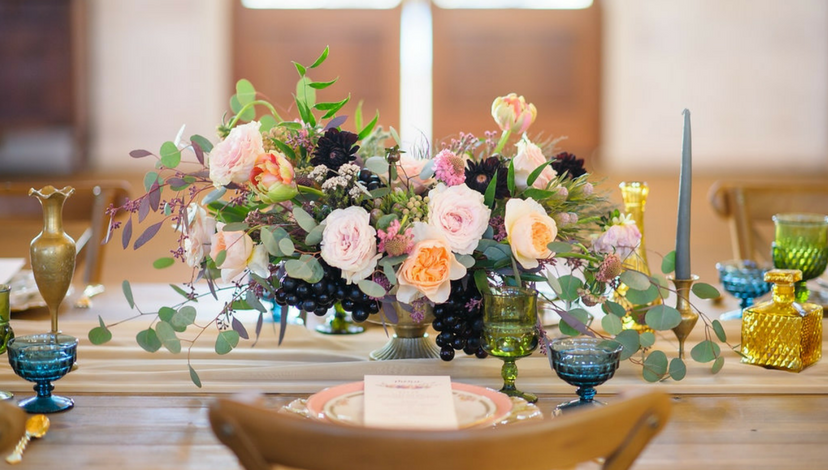 Whimsical and Charming
Vintage pressed glass in the form of gold decanters, blue and green goblets at each place, and a variety of rustic country-inspired accents highlight the theme and underscore the contrast. Traditional golden candlesticks hold dusky blue tapers for an unusually charming effect.
Dark Blooms and Delicious Fruit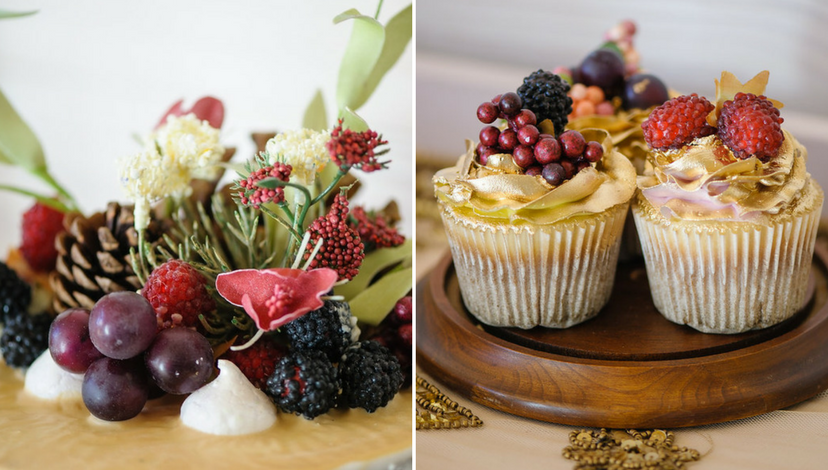 Who would ever have thought of topping a wedding cake with a cascading spread like this? A dazzling display of cascading gold anchors a delectable (and mostly edible) mix of berries, grapes, and exotic blooms and leaves. Even the miniature cupcakes are fancifully embellished and beautifully displayed.
Adorned in Style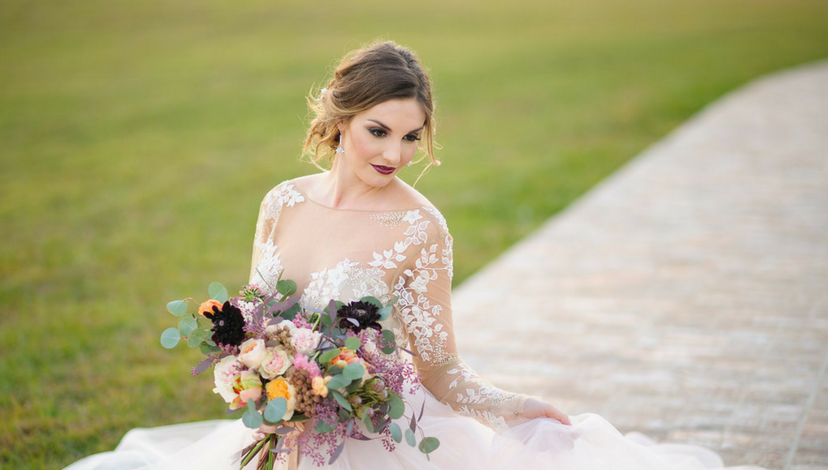 Everything about this wedding celebration is stylish and memorable, from the bride's hairstyle to her vividly dark lipstick, and the delight is in the ingenuity and the daring to be different. We love the look — is this a new trend?
---
Credits:
Chargers, table runners and linens: BBJ Linen | Event Stylist: Moonlight & Lace  | Venue: The White Magnolia  | Photography: Brittany Moronta Photography | Floral Design: Root Floral Design | Rentals: Midnight Moon Rentals | Stationery and Calligraphy: Mary Catherine Dunphy | Sweets Bar:  Piece of Cake