Tropical adventures have always been a theme for events; however, Kehoe Designs created the kind of environment that feels so real and immersive, your senses are blown away.
This kind of memorable experience speaks to our sensations where custom details are forged into the design to evoke a reaction, transport you in time and trigger emotions.
"The design started with my idea of transporting everyone to their home on Kauai. I wanted people to feel like they were getting on a plane and being magically transported to an exotic tropical island." Vince Hart, Vice President of Sales.
Taking you back in time, this throwback terminal airport takes you to an era where travel was a luxury and considered much more like a treat.
Step into a world where lush canopies, vintage surfboards, and Hawaiian woven bowls were crafted to create an authentic design to start the evening.
"The concept was led by their love of Hawaii and their goal to transform a raw space into something magical." Vince Hart
Bringing the outside in is one of the hottest trends for events. We believe in immersive environments where the visual cues feel so physical it evokes the feelings of being in a real tropical utopia.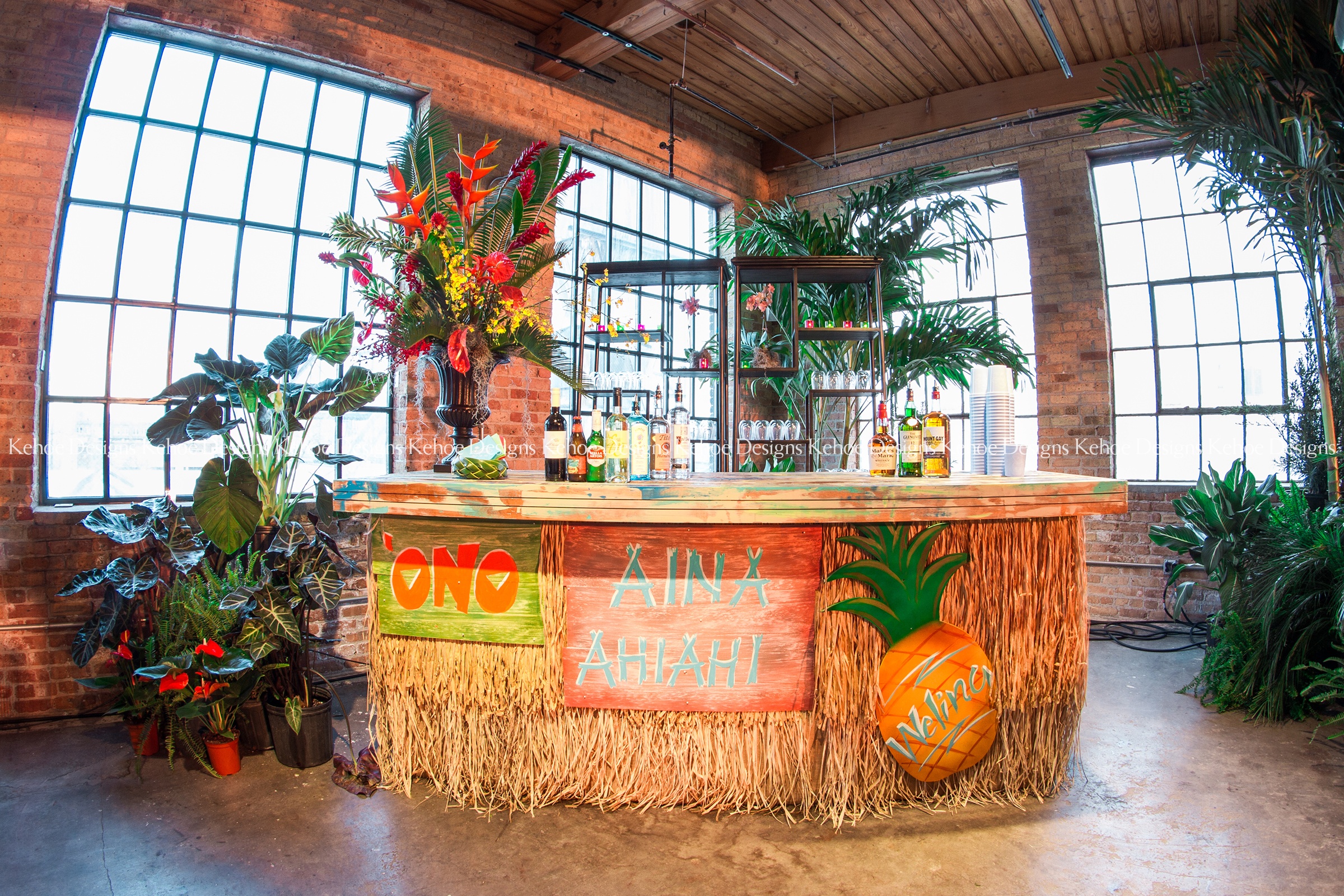 Show-stopping design, complete with custom built bars, Tiki Huts, personalized branding and dramatic lighting allowed the guests to be transported into a tropical paradise. You didn't have to go far to getaway.
KEHOE DESIGNS
Behind the creative force of the Kehoe Designs team are the experiences, fashion trends, new technologies, and activities that inspire us. Whether it is what's new and hot on the scene or rediscovering eras and traditions of old, it is through the richness of this exploration – of living –that personal style is born. As event designers and producers, it is also this passion for life that we believe sets us apart, both as creatives and in the artistry of our craft.
To begin your journey in the passion-filled world of event design & decor, contact Kehoe Designs.
---
Credits
Event Décor & Floral Design Kehoe Designs | Plantscapes Floral Exhibits | Planning Great Events, Inc.| Venue MCA Warehouse