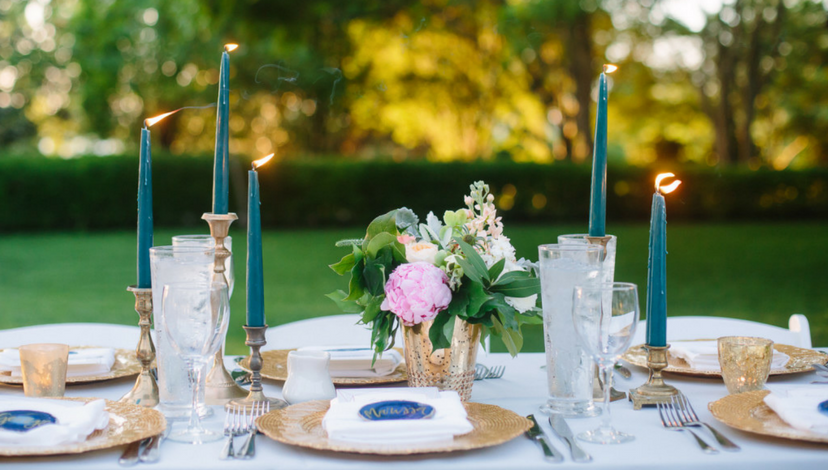 Today, almost any theme can be adapted to a wedding celebration, from formal to familiar, from upscale elegance to downhome country, from subtle elegance to trendy and colorful. Sometimes, elements from the natural world highlight and enliven traditional choices, just as color can be used to express individuality and express a mood.
Some surprising elements are trending today on the wedding scene:
Gemstones, Crystals, Agate and Geodes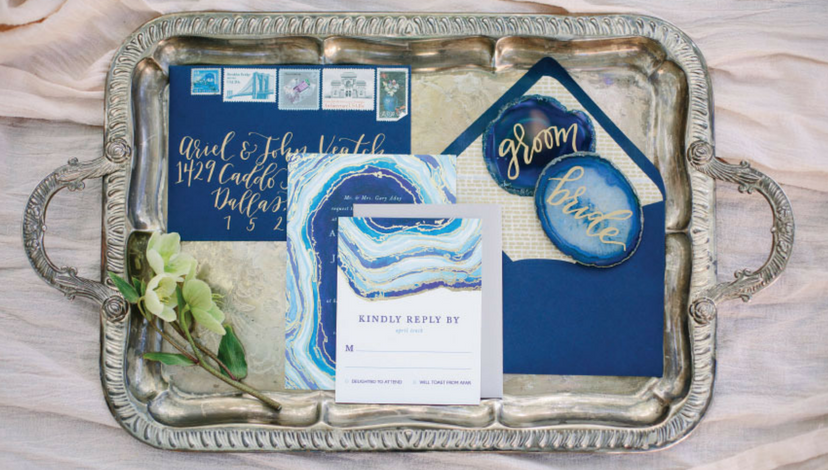 While you may usually think of crystal at a wedding as a clear, flawless sparkly glass, modern designers think otherwise! Incorporating agates and geodes into your wedding décor is a lovely way to inject some color and natural. Geodes are volcanic rocks with vibrant glimmering crystals hidden inside while agate slices have exquisitely unique patterns and colors. Some gorgeous ways to add these natural beauties is by adding an agate slice as a name card, useing rock candy, with their intricate crystal formations, as cocktail stirrers or mimic the color and pattern of a gorgeous blue geode for the base of a wedding cake.
Rock On!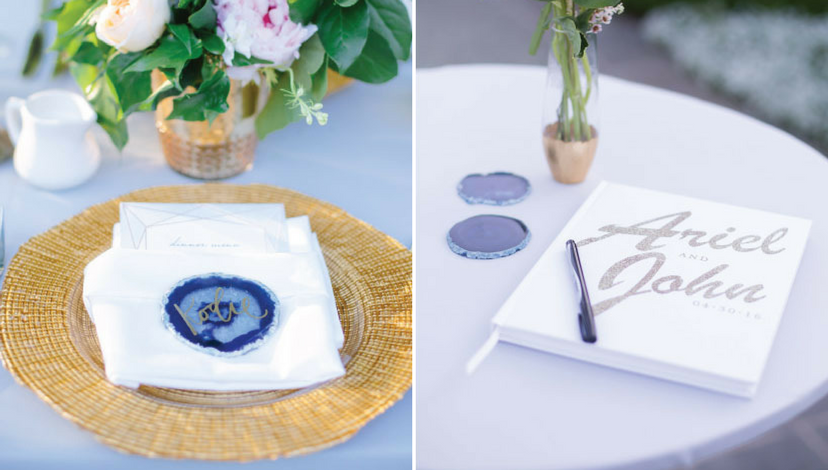 Chipped from the earth, found along riverbeds and meandering streams, or mined from deep below the surface of the earth, a multitude of "rocks" can be dazzlingly appropriate. Here a thin slice of gorgeous blue geode serves as nameplate atop a pure white napkin and golden textured charger.
Not Only Set in Stone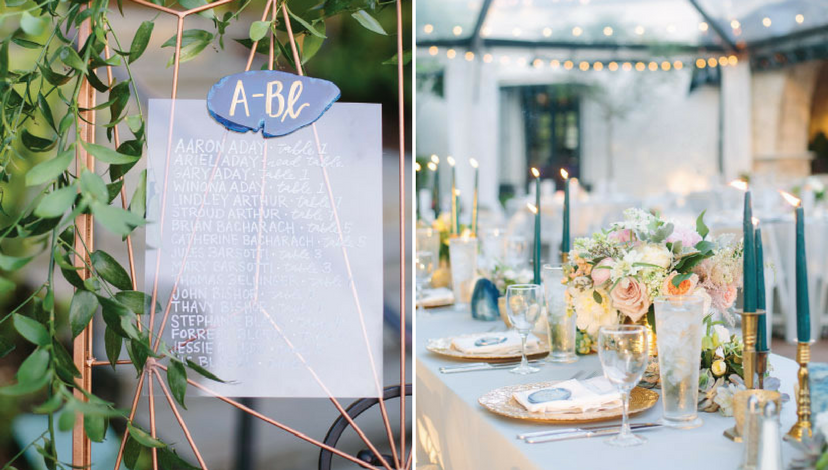 Dramatic coloration and unique patterns are not limited to geodes in their natural state. The immense appeal can also be captured on paper or in fabric for a wedding ceremony or reception. The look is sophisticated and fanciful, especially when combined with a single intense color picked from the spectrum of the stone.
Color It Trendy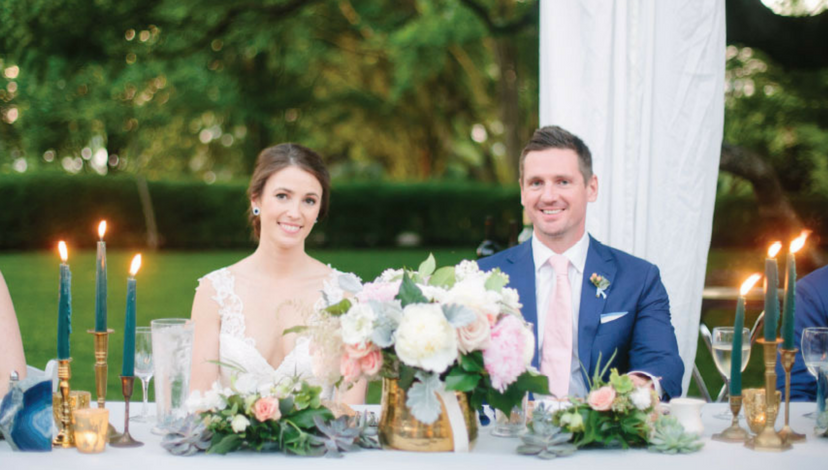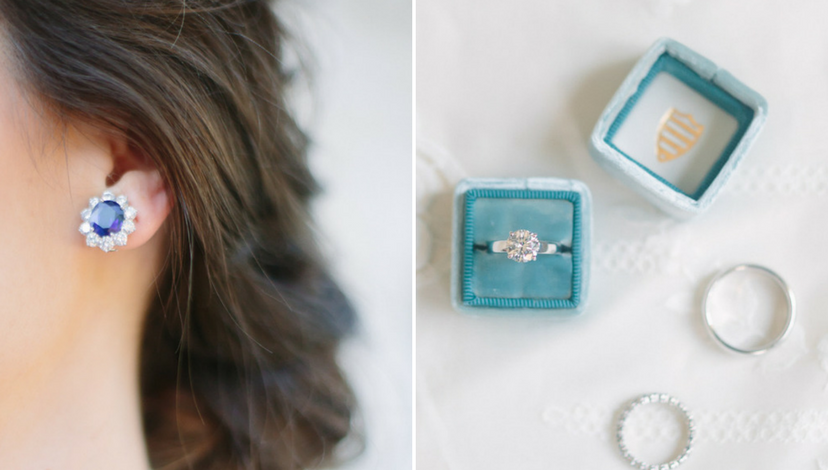 Not only have yellow and pink diamonds found favor with modern couples, one of the hottest new looks relies on colorful stone of a different variety to add zest to wedding celebrations. Colorful geodes add spark, no matter what the style.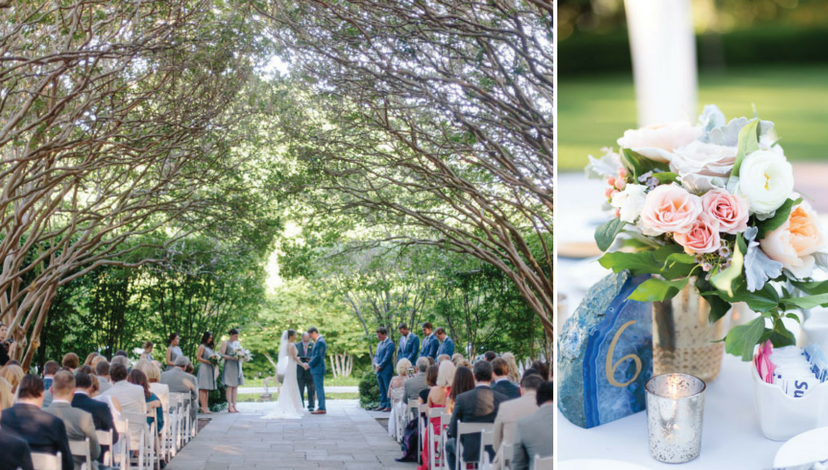 Thematic Repeats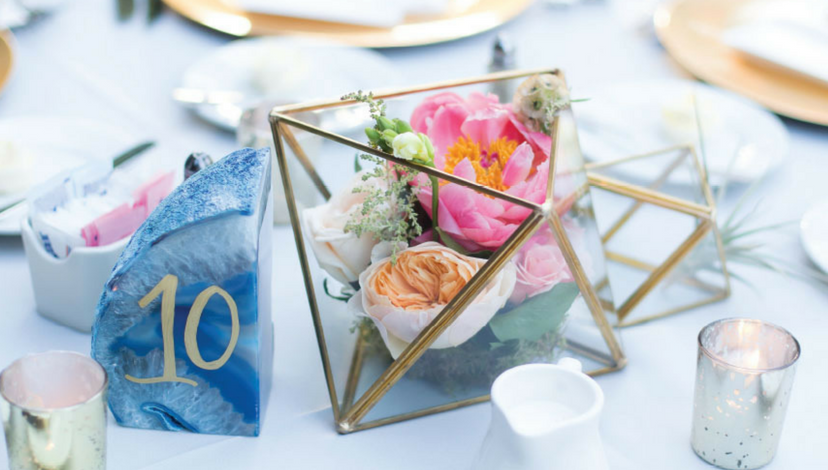 Brass-trimmed prisms echo the shape of natural crystals and contain small floral arrangements. Set next to a blue-toned geode, it's a beautiful reminder that nature is multi-faceted.
Texture and Color
Smooth and rough, natural weaves and delicate colors, arching shapes and sharp lines: The natural world is full of contrast. Embrace the mix!
Smoky Blue
Because there's a natural progression from deep blue through muted lavender to pale grey, there is something naturally appealing and appropriate about a wedding party clothed in those tones. The pale pink and peach bouquets, even the groom's pale tie, are chosen with care for their dramatic effect.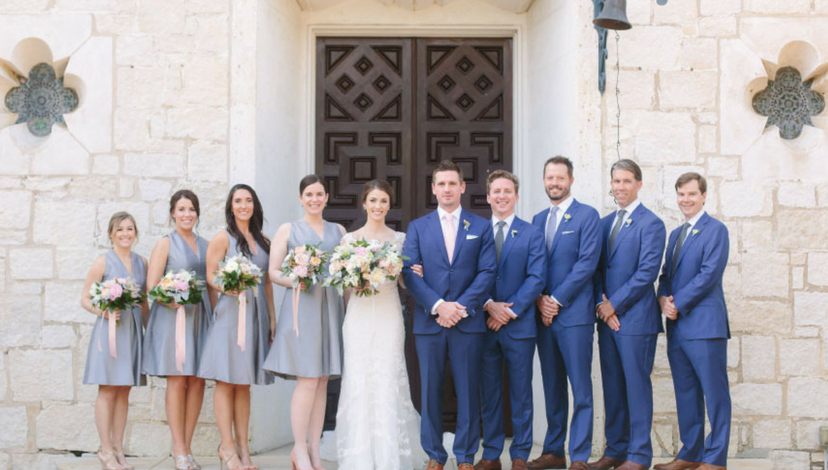 White and Pale
Knowing when to stop is the mark of a master. White chairs, pale blue linen and sumptuous pastel centerpieces are paired with expertise, and contribute needed balance to a setting characterized by color and pattern. It's dreamy, romantic and done just right.
{{cta('e4550d27-b7a8-482b-ba74-3a7d38adcb60′,'justifycenter')}}
---
Credits:
BBJ Linen | Chic Fleur Weddings and Events | Sugar Bee Sweets | Everly Alaine Florals | Gil's Elegant Catering | Dallas Arboretum | Shay & Olive Photography