Ten new "fashion forward" colors for fall have been released by Pantone Color Institute, the harbinger of design that ushers in seasonal trends that we all savor. Fall 2017 will be a colorful one, highlighted by comfortable, enveloping brisk new tones that range from a bright grenadine to deeply-dramatic tawny port and outdoorsy autumn maple.
Other distinctive notes in the fall lineup are played by cooler shaded spruce, with a blue-green personality that reminds us of long walks in the woods, darkly-beautiful navy peony and neutral gray.
2017 Color Trends Inspired by Pantone's Fashion Color Report
An icon in the fashion and design industry, Pantone is the inspiration behind this fall color trend report. The 2017 color choices, with both warm and cool palettes represented, is exciting, innovative and singularly adaptable for fall weddings and social gatherings. We especially love the inclusion of such unexpected, barely there, pale -pink ballet slipper, and the surprise of tangy golden lime! And we are already dreaming of table settings that call upon distinctive marina blue for added verve, or soothing golden tones of butter rum that add comfortable conviviality to any event.
Take a look at some inspired ways to use the Fall 2017 colors and to create memorable event settings.
Warm Color Palettes
Grenadine Red — Stand Alone Excitement
Joseph Leigh Designs
This is one of those energizing shades that enlivens everything around it. One can't help but feel enthusiastic and alive in the presence of this bold, rusty red hue. Here it not only graces the tabletop with a full dose of autumn glamour, but it reappears beautifully in the floral centerpiece and napkins to highlight the drama of clear crystal banded with silver and the glow of gold. It's a bit audacious, but isn't it beautiful?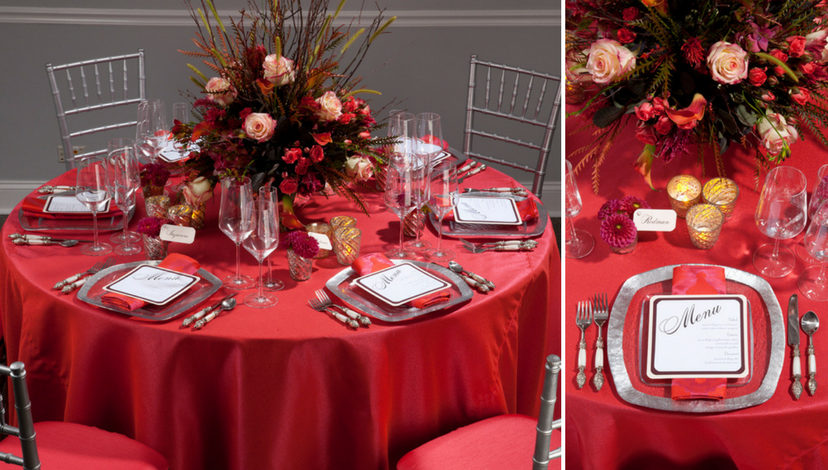 Joseph Leigh Designs
Autumn Maple — Deliciously Different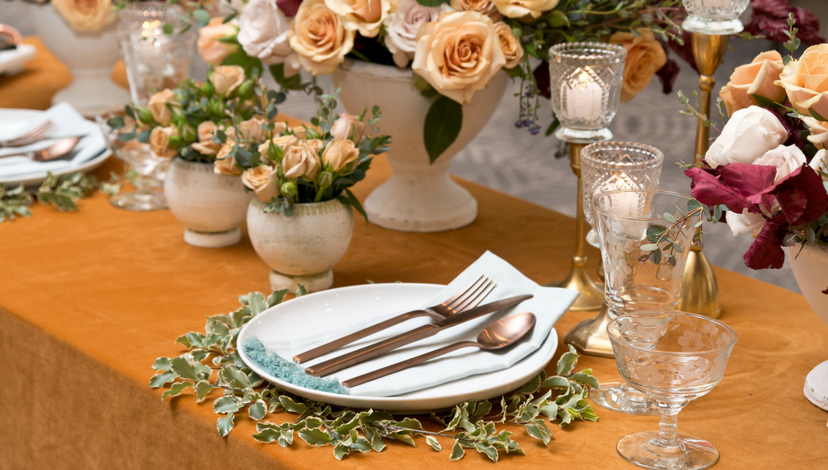 Fleur Inc.
With a sunny, golden disposition that is reminiscent of the warmth of the setting sun, autumn maple has the appeal of freshly-tapped maple syrup. This gorgeous table shines with autumn splendor. Highlight the warm color with an abundance of white for fresh appeal on your fall 2017 table; add delicate greenery, lush butterscotch blooms and gleaming bronze flatware and candlesticks. The cool tones of the gray-green fringed napkin are a perfect complement to this cozy autumn tablescape.
Butterum — Subtle Elegance

HMR Designs
Understated, and anything but ordinary, the undulating pattern of this textured linen brings sophistication and formality to the table without a hint of stodgy tradition. The subtle pairing of impeccable gold accessories, gold-rimmed chargers and china, and a bevy of pale flowers testifies to good taste and a masterful attention to detail. No need to shout the message. This is a classic interpretation of style that can be a welcome departure from the norm for autumn weddings and special events.
Golden Lime — A Tasty Surprise
Weeland Photography | Events by Cori
The designer of this table setting chose to use restraint. A little bit of golden lime — repeated in both patterned china and gorgeous floral centerpieces — is the spark that lifts this event table from ordinary to sublime. The citrusy element is reinforced with small bunches of tangerine trailing from the centerpiece, and wispy rosemary sprigs accent individual bread loaves at each place. Delightfully woodsy placements contrast with pale linen, and textured dove gray napkins accentuate the lighthearted, upbeat theme.
Weeland Photography | Events by Cori
Ballet Slipper – Classic & Stunning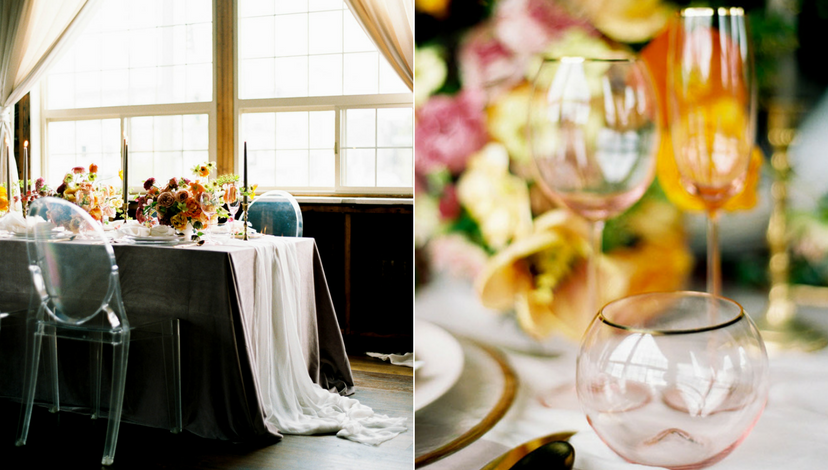 Sarah K Carpenter | GATHER Events | Gather Design Company
As pale a hue as ever you could imagine for a fall table setting, Ballet Slipper is universally flattering and exquisite. This soft shade of pink is gorgeous paired with shades of plum, dark rose or whites and ivories. This soft, feminine and ultra-romantic color is everyone's event favorite. Create a stunning look by mixing in deep florals, rose golds, and soft touches of ivories, and crystal.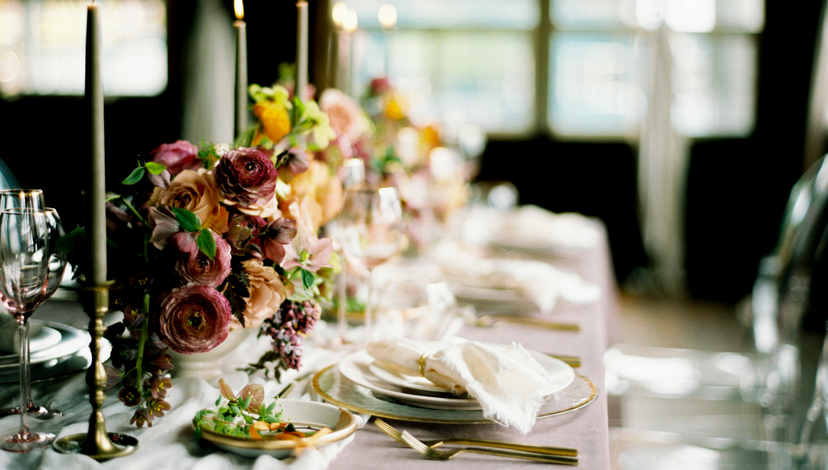 Sarah K Carpenter | GATHER Events | Gather Design Company
Cool Color Palettes
Marina Blue — A Powerful Performer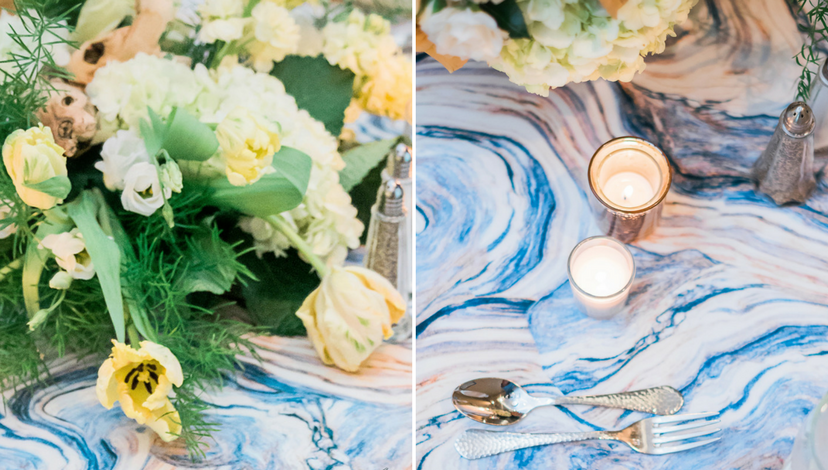 Rachel Elaine Photo | Justines Flowers
This blue and this linen are bound for glory this fall! Marina blue swirls fade to pale and deepen to dark while mixing with sandy earth tones and creamy white. A natural choice, the swirling geode-patterned linen evokes a bit of mystery, and is beautifully complemented by natural textured napkins. It enhances the youthful elegance of hammered metal-handled flatware and golden sunburst patterned chargers with equal ease.
Navy Peony — Perfect for Thanksgiving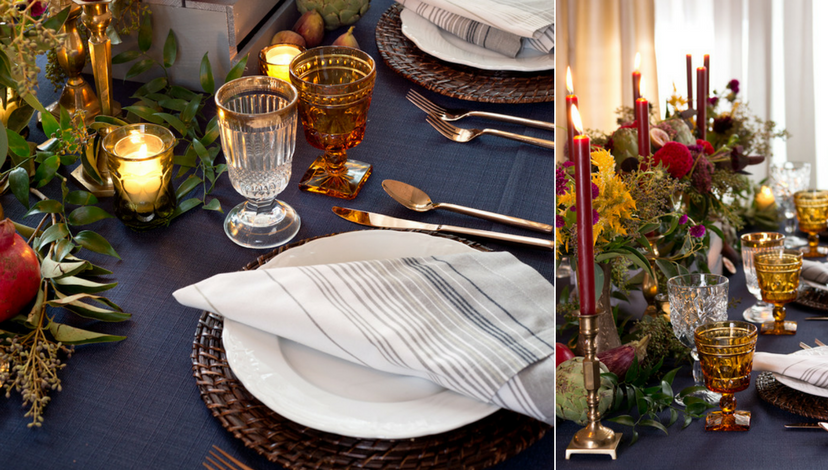 HMR Designs
What a striking combination of autumn colors — for a November wedding or a traditional Thanksgiving feast. This slightly nubby navy linen is the backdrop for a lively mix of autumn color. The traditionally festive setting includes polished brass candlesticks, amber pressed glass goblets, burnished copper-tone chargers and golden accessories, along with simple white china. Burgundy tapers and the multicolored fresh-from-the-garden centerpiece are offset by contemporary striped napkins for a whimsical touch. Don't you love it?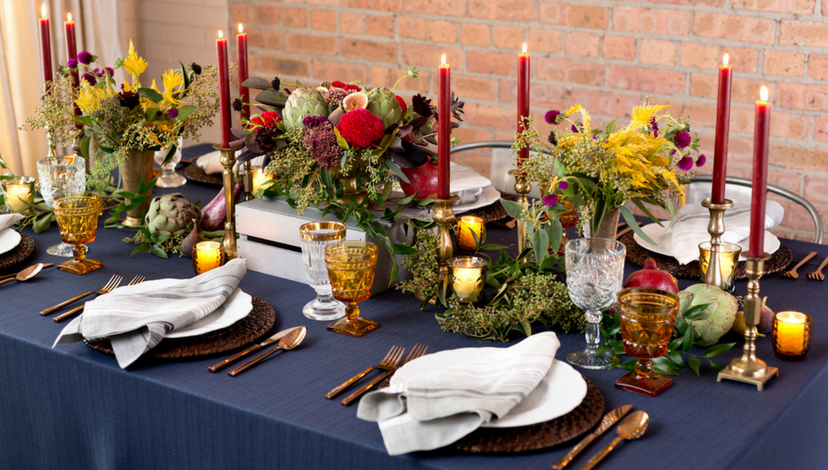 HMR Designs
Neutral Gray — A Shining Display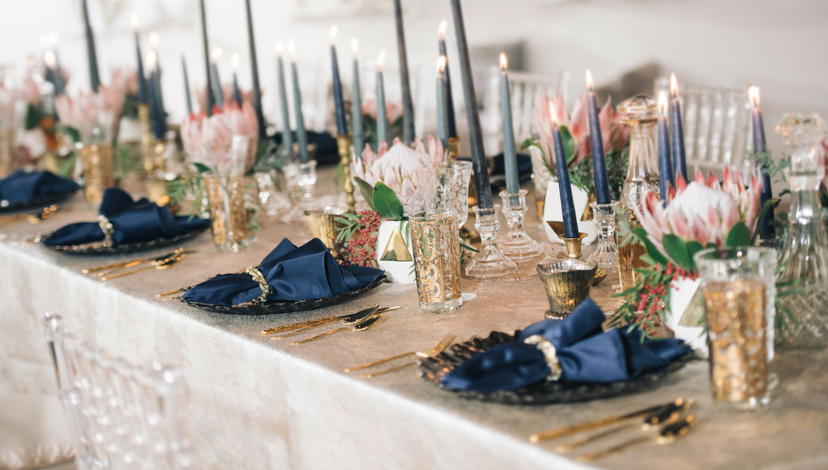 Luxe Urbanista | Maha Studios | Avant Gardenia
Chic and unusual, this iridescent linen sparkles with an almost otherworldly sheen, offering a gleaming backdrop for everything else on the table. Although there's a lot of pattern on this banquet table, it is all simply a part of the stunning effect created by clear crystal, shining gold, multi-tone gray candles and deep gray chargers. The unexpected impact of dark navy napkins at each place only underscores the simple form and beauty of pale pink exotic blooms.
Shaded Spruce — Fancy and Fanciful
Brooke Price Photography | CocoLuna Events
Picked from the cool spectrum, this is one of the more versatile of this autumn's color picks, especially when it's rendered in velvet with a personality that changes depending on the light. Used as linen for this beach setting, it's certainly unexpected and beautiful paired with the unabashedly theatrical mix of florals and accessories that grace the table. Brass and burgundy mix with abundant pattern and the bold colors almost explode with exuberance! The dash of white keeps it all from being overwhelming — and the gold dipped feather at each place adds a bit of bohemian charm.
Brooke Price Photography | CocoLuna Events
Tawny Port — A Warming Thread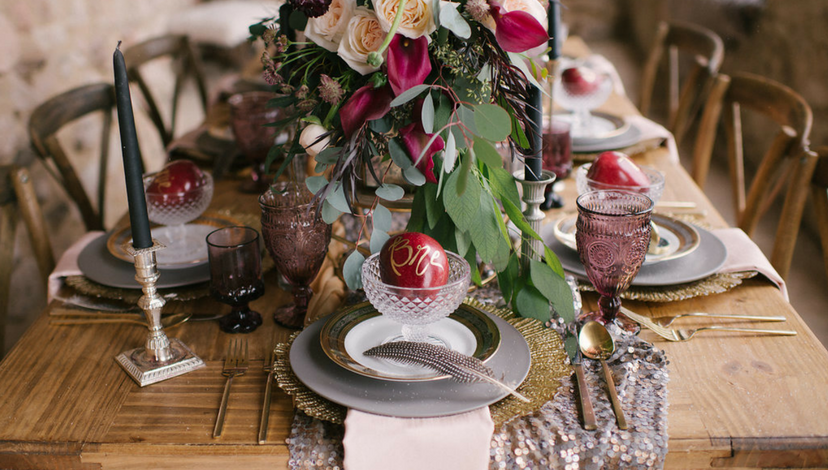 Alexan Events
Here, the designers work wonders to evoke a sense of richness and abundance, and the setting seems to slide effortlessly from one season to another. It could be autumn or winter, and the table would be perfect for either. Goblets, grapes and flowers speak to the flavors not only of fine wine but of both seasons. Taupe and white, black candles and simple bases, silver and a sparkling sequin runner, simple linen napkins and sheer table drapes all work beautifully with the bare wood table.
Alexan Events
Make the Most of 2017's Fall Colors for Weddings & Events
This year's trending fall colors are equally comforting, striking and dynamic. Whether you are planning a wedding or corporate event, these colors offer a wide variety of looks that will surely make for standout, gorgeous events.