How do you view romance?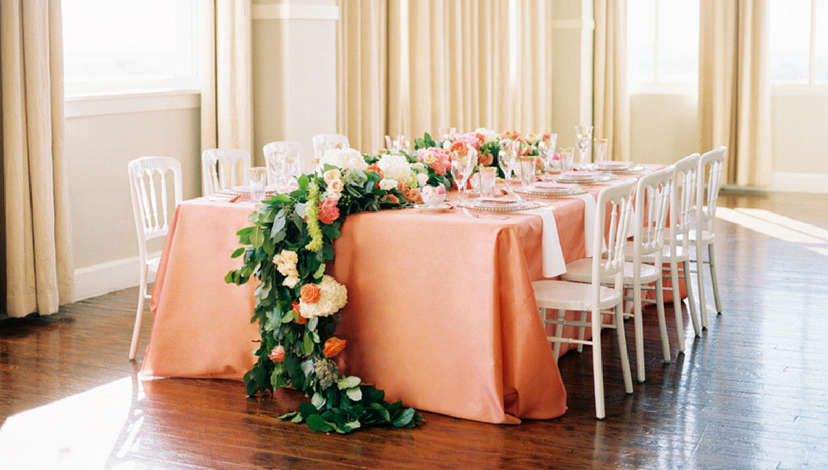 Brides of North Texas – Nicole Berrett Photography
It's a very personal picture — a romantic candlelight dinner at home or a long, lazy day in the sun; a walk in the woods with your companion or a handwritten note scribbled on a napkin and passed under the table; a long weekend at a rustic mountain retreat or a dressed-up date at the city's most elegant hotel.
Whatever your personal vision, you are sure to find expression in romantic wedding decor that can be as upscale or as "down home" as you wish. 
Romantic Wedding Ideas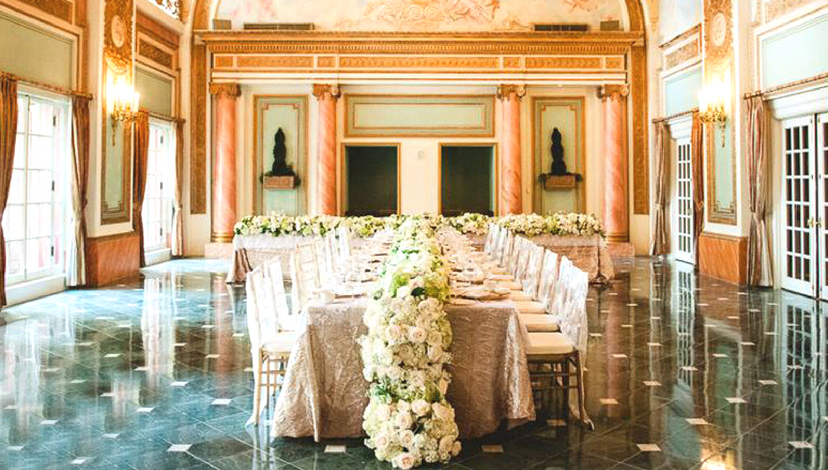 Top left: Arthur Engel Photography | Top right: An Affair to Remember – Kristen Weaver Photography | Bottom: The Adolphus Weddings and Events – Jennifer Crenshaw Photography
Luckily, there is no season on romance. Although spring and summer weddings often include airy fabrics and soft colors — the traditional trappings of romance — there is no reason why your romantic picture cannot include bold, bright colors, a kaleidoscope of hues, or the surprise of jewel tones.
Left: NK Productions – Hunter Ryan Photo | Right: So Stacey – Bob and Dawn Davis Photography
BBJ Graceful, available in a wide range of hues to stir your creativity, has that elusive romantic quality that makes it an ideal choice for romantic wedding theme ideas any time of year. Available as table runners and chair drapes, use this soft and sheer fabric to complement, contrast, enrich and enliven your ceremony and your reception. It's a natural!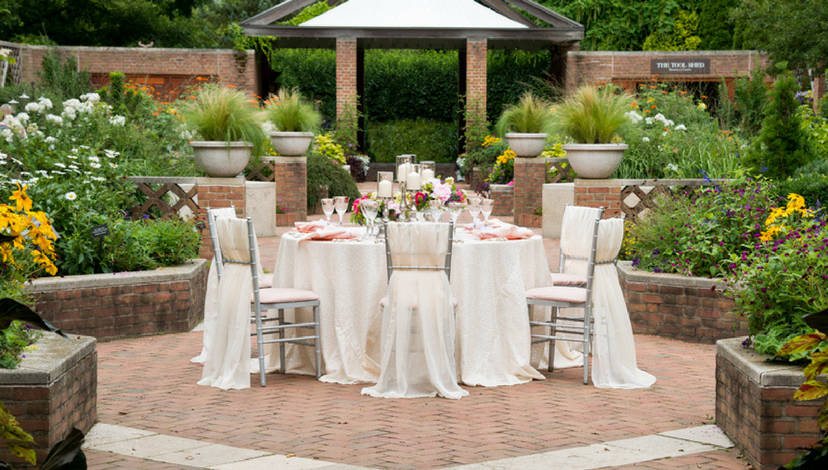 Use a lighter hand in spring and summer, but pile on texture in the cooler months. However, remember that white and ivory themes are adaptable to any season and to any setting, from snowy mountains to white sand beaches.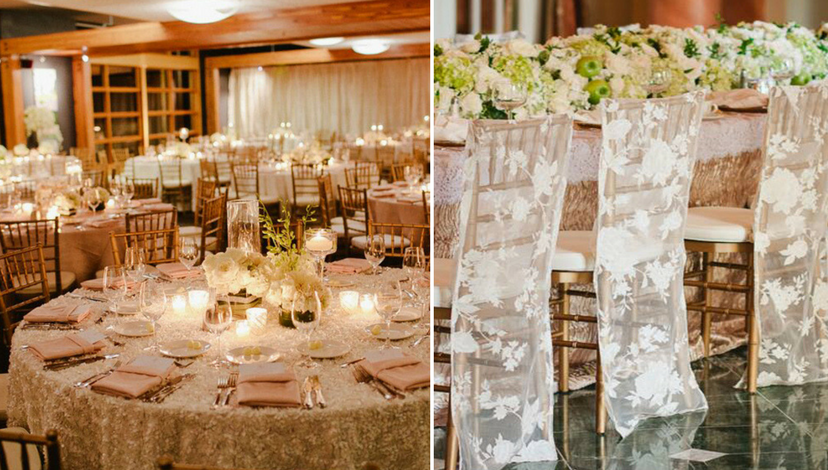 Left: Taylor'd Events – Jamie Jones Photography | Right: The Adolphus Weddings and Events – Jennifer Crenshaw Photography
Places for Romantic Weddings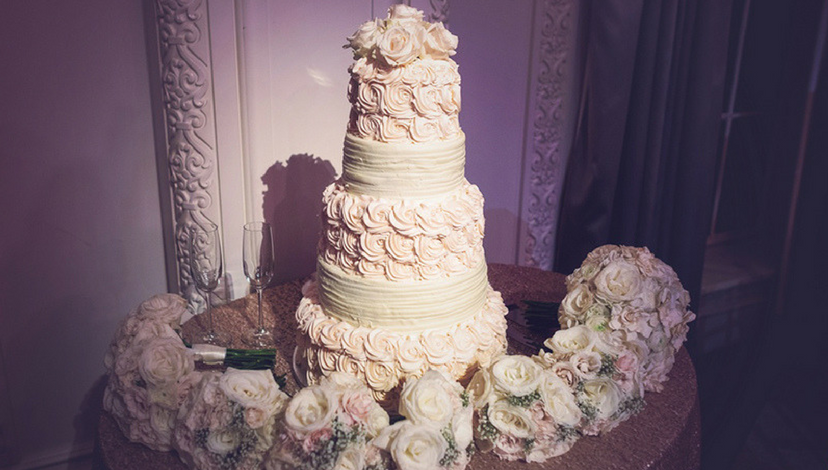 Top: Goen South Events | Bottom: Kevin Paul Photography – Stephanie Bradshaw
Destination weddings are, by their very nature, romantic. Getting away to a special location with family and friends is an experience to be savored in memories long after the wedding flowers have faded. If big adventure is your style, plan a Valentines Day ceremony in Sydney, Australia: February is summer there and you can have your choice of wonderful beaches or have the backdrop of the Opera House and the beautiful harbor for your ceremony.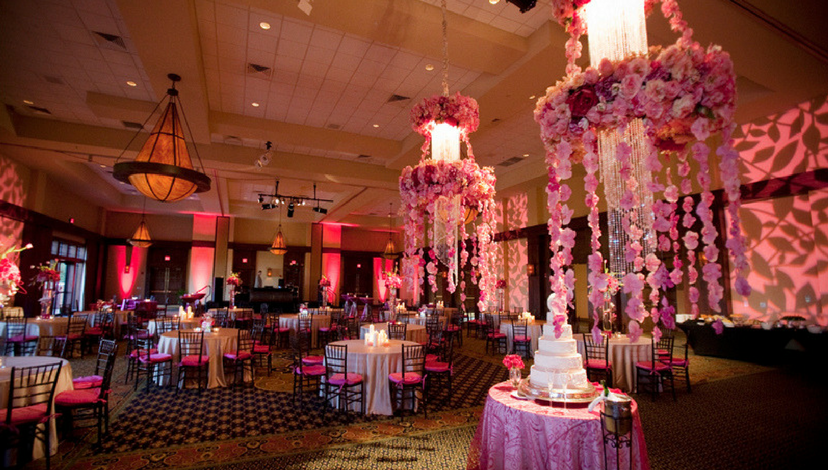 Jerrod Brown Studios
A romantic wedding theme, though, even if it is on Valentines Day, doesn't have to be all red and white hearts, as this perfectly curated table setting illustrates. Silver Shantung linen pairs with a white Lamour napkin at each place for traditional elegance, and a nod to tradition in china and crystal takes the romance to new heights. It all speaks of love for a wedding or any other celebration on this special February day.
Left: Angela Newton Roy Photography
Far Away or Close to Home
Avery House
Do you dream of a wedding getaway to a private villa on the Coast of Mexico or in the south of France? If a destination wedding is not in your future, why not recreate your storybook faraway wedding right in your own home town. Recreate a south of the border fiesta atmosphere. Use vibrant colors and punchy patterns as table linen; serve traditional seafood and spicy cocktails; book a parading Mariachi band, and breathe in the romance of Mexico as you celebrate romance on your terms.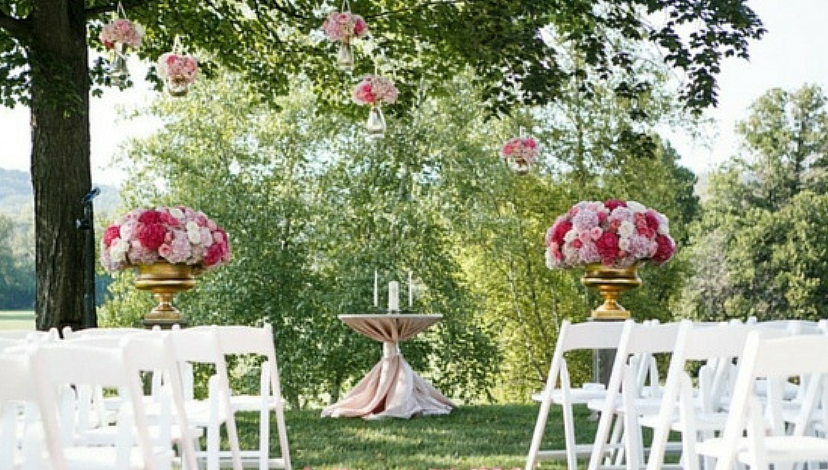 Avery House
If Eze, France, with its cobblestone charm, has captured your heart, plan your honeymoon there, but celebrate your wedding among family and friends with a romantic themed wedding that makes you feel like a princess. Little speaks French country better than a blue and white theme! Complete the illusion and delight guests with a traditional French Croquembouche as your wedding cake.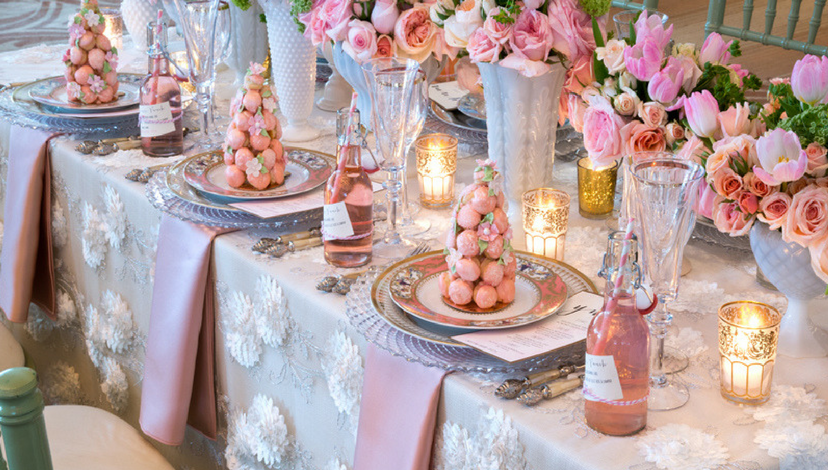 Top: Brides of North Texas | Helmutwalker Photography | Bottom: Debi Lilly / A Perfect Event
If you choose to marry close to home, but still want the flavor of far away places, pull out all the stops with beautiful BBJ linen, gorgeous flowers and personalized accents to assure that romance flows as naturally as the champagne at your romantic wedding reception. Whether you plan your reception at a mountaintop retreat or in an urban garden, in a private backyard or in a ballroom, you have every opportunity to recreate a romantic destination.
Romantic Wedding Theme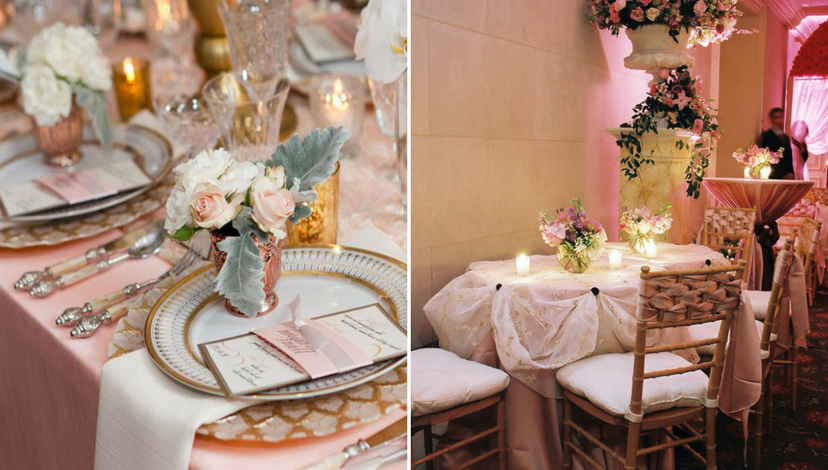 Left: Christine Janda Design & Event – Becky Brown Photography | Right: Outstanding Productions | RUDA Photography
Pink and ivory with metallic touches and the sparkling light of crystal are the epitome of romance. Use silver and go heavy on pale and ivory tones for spring and summer dates; adjust to deeper rose tones and more robust gold accents for a winter ceremony, and the same hues work equally well. Simply mix in some deep rose tones in floral; and perhaps add napkins in vibrant pink or green tones.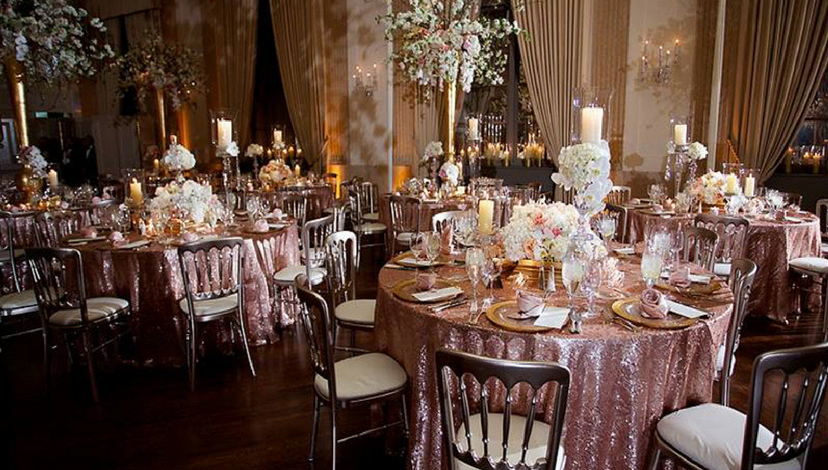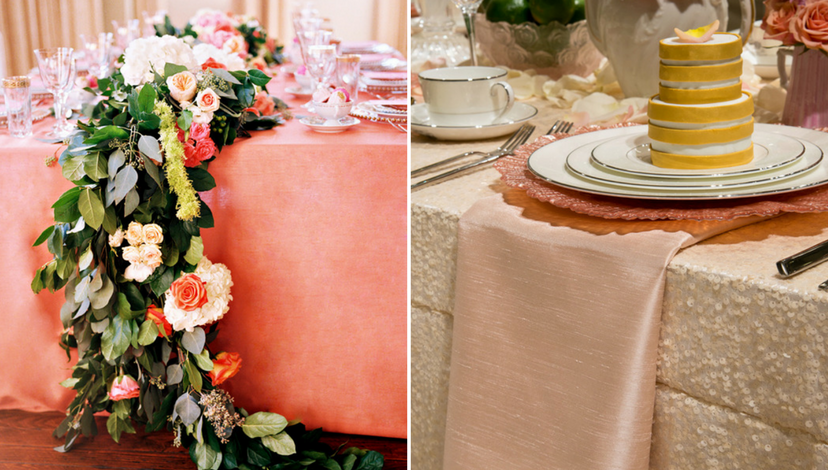 Top: So Stacey – Bob and Dawn Davis Photography | Bottom left: Brides of North Texas – Nicole Berrett Photography | Bottom right: Debi Lilly – A Perfect Event
Table linen, both Cameo Shantung and Ivory Charmed, is just one of the beautifully orchestrated details in this charming setting. For another season, consider the impact of BBJ Velvet, and perhaps a floral design napkin.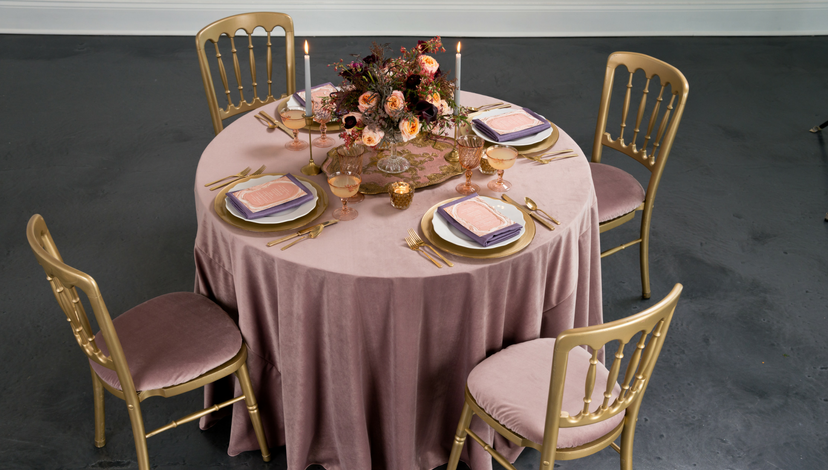 Emilia Jane Photography | Fleur Inc. | The Lakewood | Minted | Nimblewell | Hall's Rental
A Winery Theme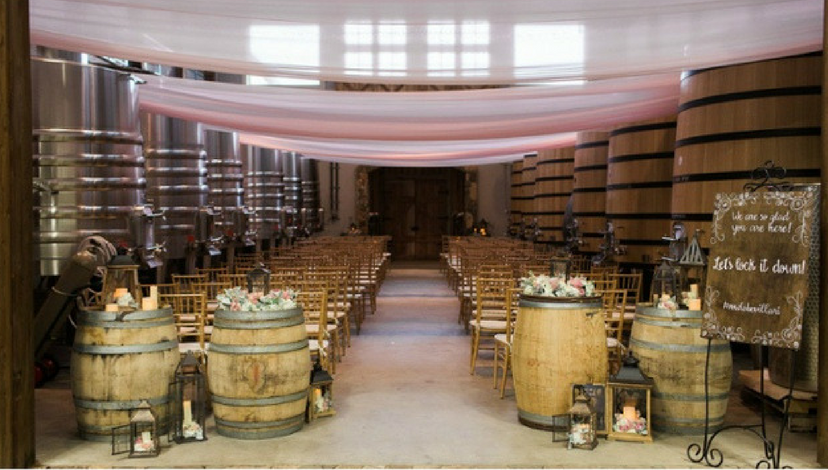 Angela Newton Roy Photography
Unusual settings lend themselves to spectacular celebrations. While most people would think of an outdoor tented reception with a view of distant grapevines as a "winery wedding," you can also speak your vows amid the barrels and casks, and then move to an elegantly decorated indoor hall for dining and dancing.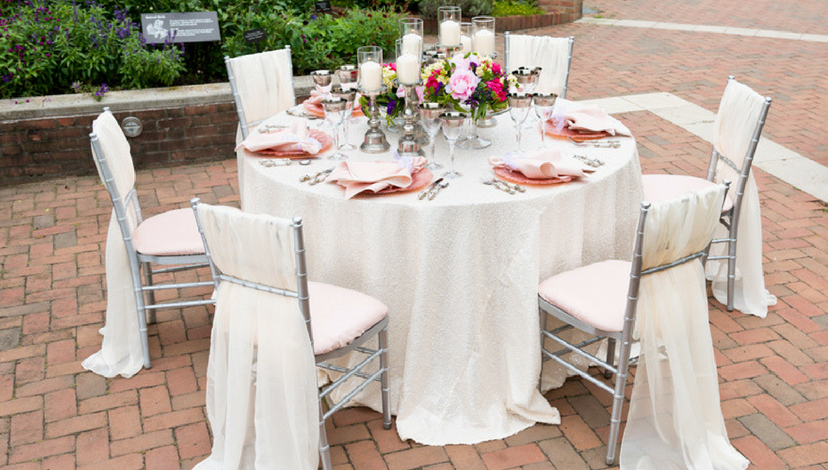 Romantic wedding decoration ideas are every bit as beautiful when they are unexpected. This winery wedding is sensational, thanks in large part to the juxtaposition of gleaming metal processing barrels and rustic wood aging casks, the romantic environment that plays rich brown tones against pink and white sheer ceiling swags, and the perfectly tuned mix of pink, ivory and blush tones.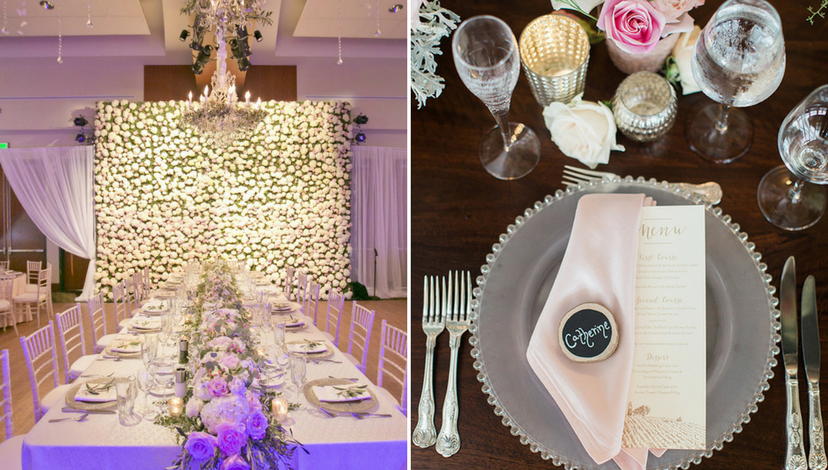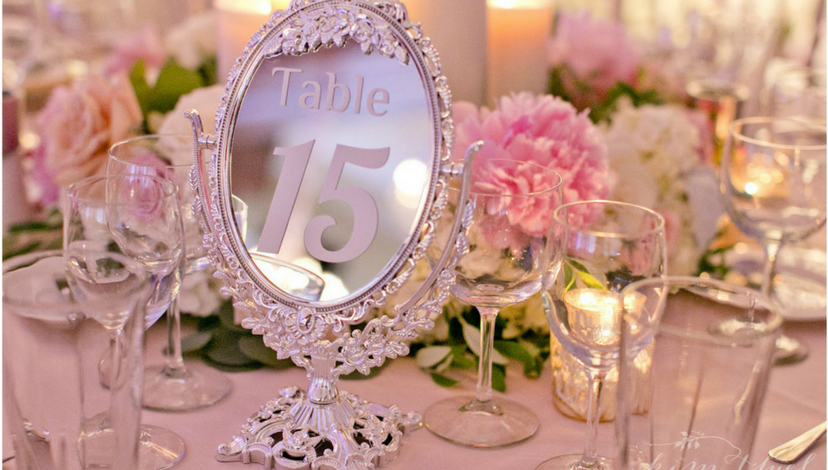 Top left and bottom: Kim Thiel – Event Design: Sash & Bow | Top right: Angela Newton Roy Photography
Anchoring notes of grey and silver are a great addition. This setting features both sequined and silky table linen for another unexpected textural statement. It's a vintage approach to romance!
Tented — Day or Night
NK Productions – Hunter Ryan Photo
There is something inherently romantic about a tented party, whether it's a playful circus theme or an elegantly romantic wedding under the stars. Outdoor weddings can be casually beautiful, of course, but if your romantic dreams are embodied by a white canvas tent and an aura of mystery, be sure to include lots of greenery and great vistas as well. Capitalize on the romance of the great outdoors and the natural setting.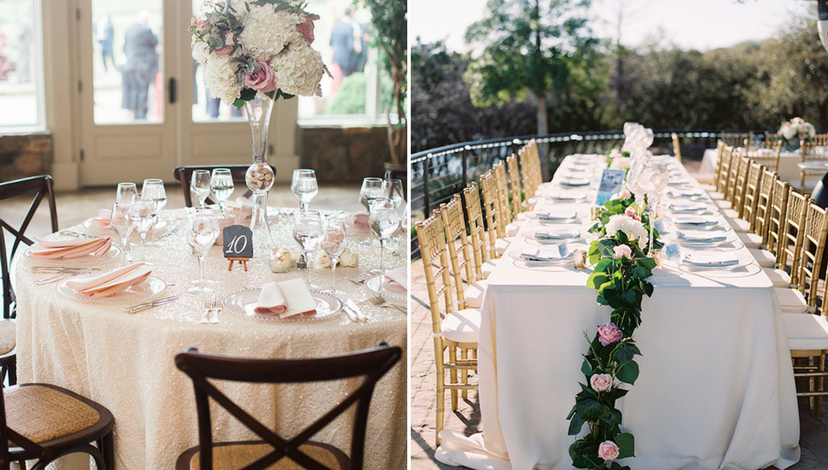 Top left: Angela Newton Roy Photography | Top right: Something Pretty Floral – Charla Storey Photography | Bottom: Big Events Wedding – Austin Gros Wedding Photography
For 2017 and beyond, green and organic tones just naturally seem to spell freshness and renewal, and for many people that's an enchanting message of new love and commitment. Take your romantic vision to a trendy, modern place with a mostly white scheme, highlighted by a touch of green in chair cushions and table linen — it a "big top" success for a stunning and very romantic wedding.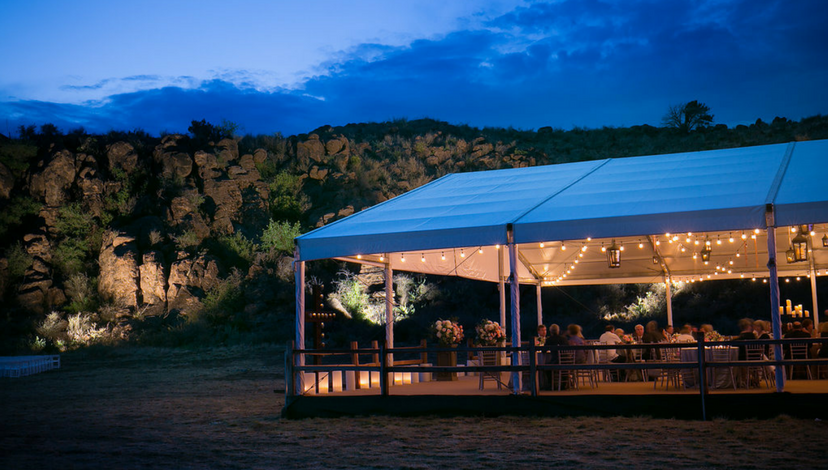 Steve Wrubel Photography
Romantic Wedding Decoration Ideas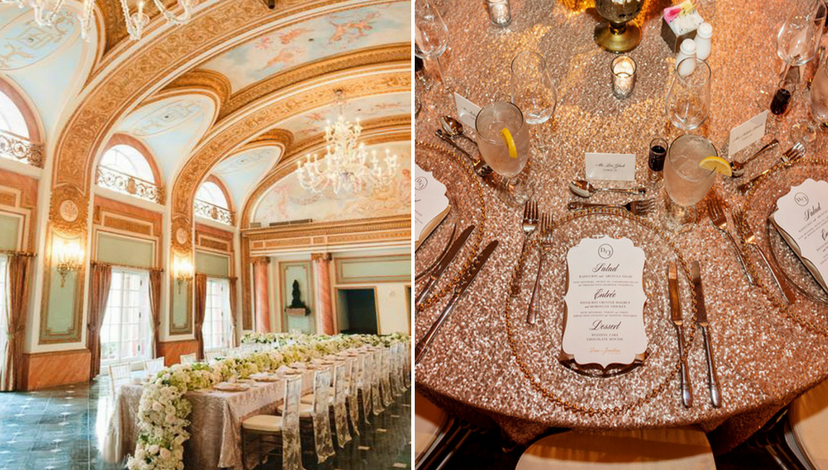 Left: The Adolphus Weddings and Events – Jennifer Crenshaw Photography | Right: Stephanie Bradshaw – Kevin Paul Photography
The hallmark of romantic wedding decorations is that they are personal, full of meaning for both bride and groom, and in harmony with the overall theme. It's not difficult to achieve, with a little forethought and great attention to detail. By spending the time to focus on the small things when planning a wedding ceremony and reception, the big picture is "fleshed out" and the whole event becomes more meaningful.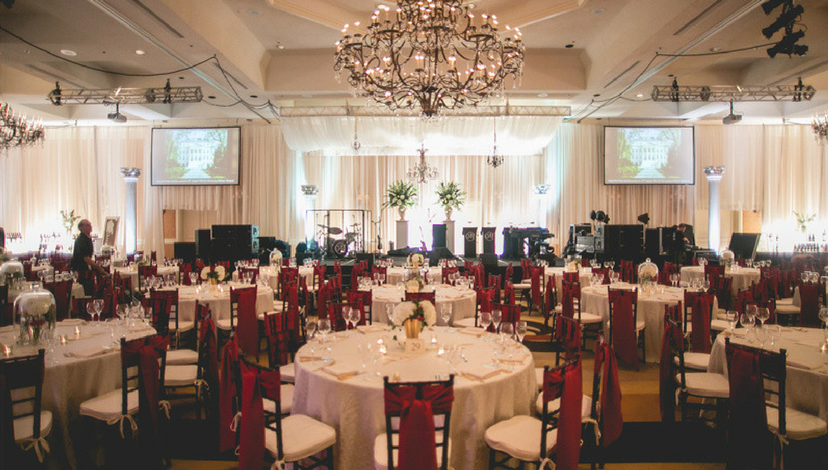 Top: Nashville Wine Auction – SheHeWe Photography | Bottom left: The Adolphus Weddings and Events – Jennifer Crenshaw Photography | Bottom right: Angela Newton Roy Photography
No matter what your choice for a wedding theme, from rustic to elegant, casual to vintage, chances are it will reflect your own version of romance. After all, celebrating romance and the power of love is what leads to planning a wedding in the first place. To make every celebration special, BBJ Linen is your choice for quality, reliability and designs that are in tune with latest styles. How can we help you make your next event the talk of the town?