It's regal and elegant, but it also has an air of mystery; it's described alternately as intuitive, imaginative, complex, or contemplative. It is artistically challenging, intense and organic, energetic and moody. The Pantone 2018 Color of the Year demands attention but is not overpowering. Instead, when it's used sparingly, it is the kind of color that has one wishing for more!
Named Ultra Violet, this daring and unusual color is no ordinary purple! But, despite the fact that it's no shrinking violet, it works as well with contemplative darks and moody greys as it does with contrasting pales or with other brights. It can be used in full intensity with pure white or paired with cream or pale blue for a watercolor-like composition. In short, it can be soothing or dramatic.
How the Pantone Color of the Year is Chosen
Fleur Inc. 
The Pantone Color Institute analyzes global trends in order to forecast color palettes that are destined to be "influencers," for product design, packaging, fashion, and for designers and manufacturers throughout the world. Color philosophy draws from economics, politics, culture, and the general "global situation," as nebulous as that sounds.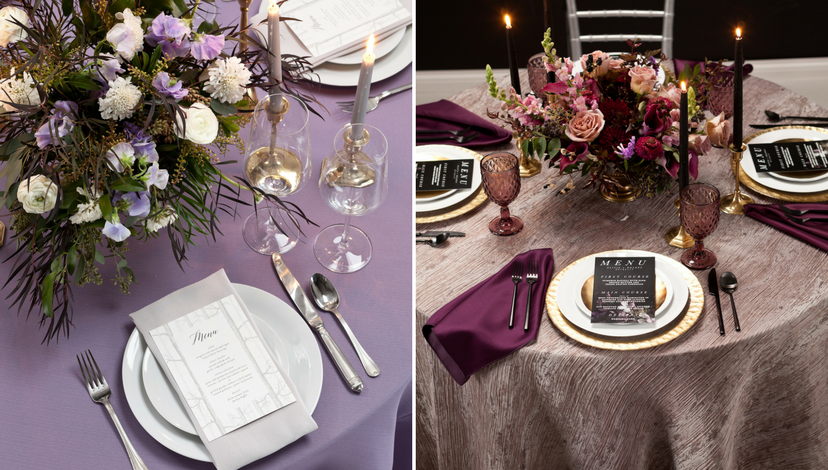 Left: Trä Blume – Right: Fleur Inc. 
Based on collected data and opinions, and a well-honed, time-tested psychology of color, Pantone has named a Color of the Year for the past 17 years. In 2015, however, a pair of colors shared the honor: Serenity and Rose Quartz were said to express the "need for renewed harmony in a chaotic world." Last year, the unusual color choice was a yellow-toned green named Greenery that spoke of rebirth, renewal, and restoration.
What Ultra Violet Symbolizes
Emilia Jane Photography | The Lakewood | BBJ Linen
For 2018, according to Pantone Color Institute Vice President Laurie Pressman, the enigmatic tone represents creative inspiration that is necessary in a world "that requires inventiveness and imagination." She describes Ultra Violet as a color that "takes our awareness and potential to a higher level. From exploring new technologies and the greater galaxy to artistic expression and spiritual reflection, intuitive Ultra Violet lights the way to what is yet to come."
Purple has long been a favorite of pop culture icons, including Prince, Jimi Hendrix, and David Bowie, and is also associated with individuality. It is equally at home, however, among the nobility. Royal purple has always represented culture, wealth, and power. It is also the color, traditionally of mysticism and spirituality, now a favorite for those "seeking refuge from an overstimulated world" — yoga enthusiasts, mindfulness practitioners, and nonconformists. The color is also associated with meditation and peacefulness.
Varied Personalities of Ultra Violet
Florence + Graham
Some of the unique characteristics of this bold choice are described as original, multi-dimensional, luxurious, forward-thinking, enchanting, theatrical, dazzling, naturally elegant, unexpectedly modern, and spell-binding.
If any of these words and phrases resonate with you, you'll want to explore the possibilities inherent in Ultra Violet as a color choice for your 2018 wedding, corporate function, or anniversary celebration, as well as for trendy fashion choices and home decor.
Ms. Pressman, however, is quick to point out that the Color of the Year chosen by Pantone represents "so much more than 'what's trending' in the world of design; it's truly a reflection of what's needed in our world today." 
Eight Unique Palettes with Individual Harmonies
The Color Institute also recommends ways to incorporate Ultra Violet into various color palettes. Everyone should be able to find a favorite grouping of tones to revamp a home, decorate a banquet table, fill a closet with "go-together" stylish clothing, and add color to life and special events.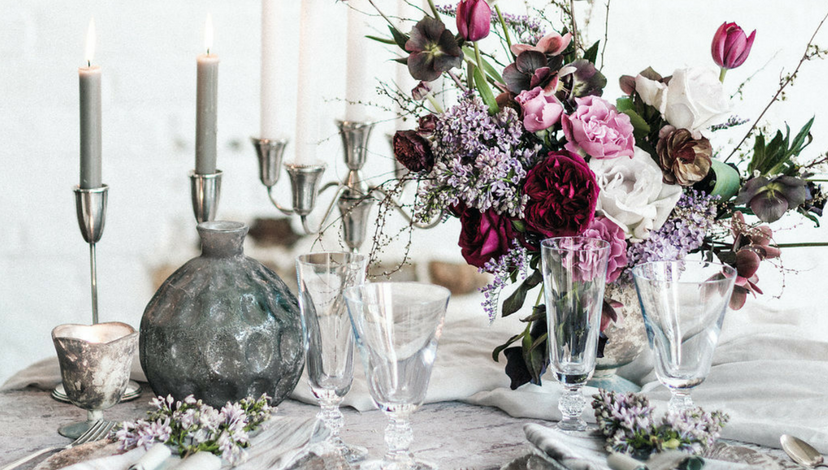 Noel Perrone | Ronya and Co | Kerry Patel | BBJ Linen
Each coordinated palette bears a name: Purple Haze and Kindred Spirits are understated and subtle, with undertones of calm, but they never become dull. Instead, they are pleasant and engaging, timeless, and very different from one another.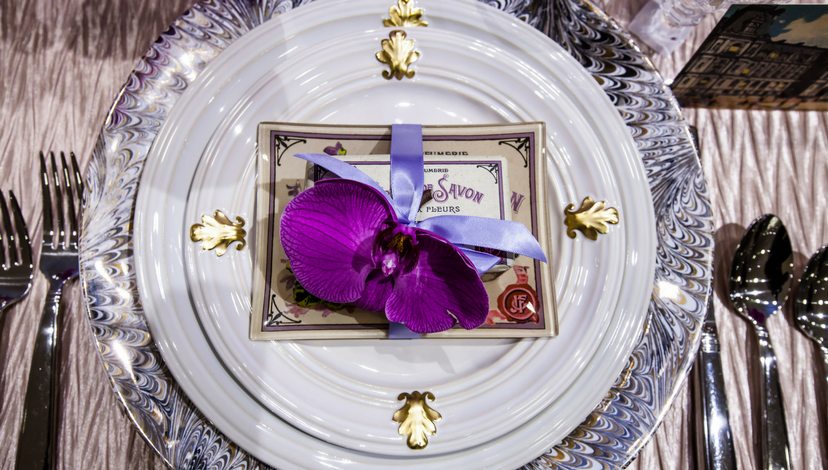 Debi Lilly | A Perfect Event | BBJ Linen
Drama Queen and Intrigue introduce more varied colors and mix saturated tones with colors drawn from nature. They offer an earthy mix and that is ever-so-appealing. Each brings to the theme a sense of excitement and strength.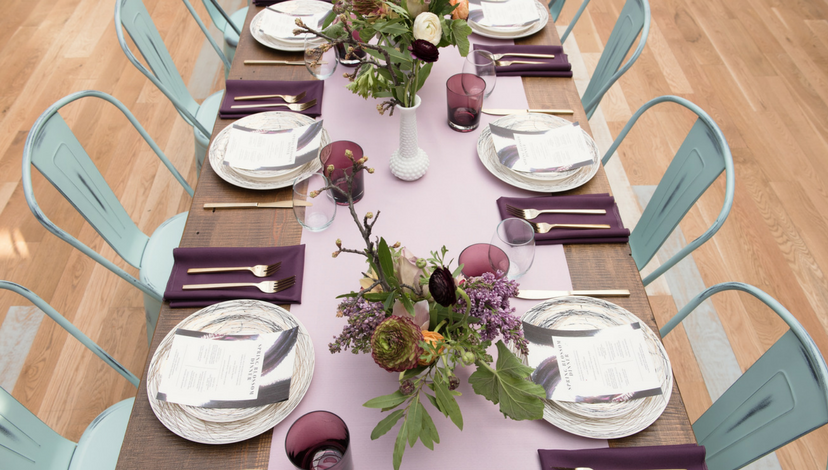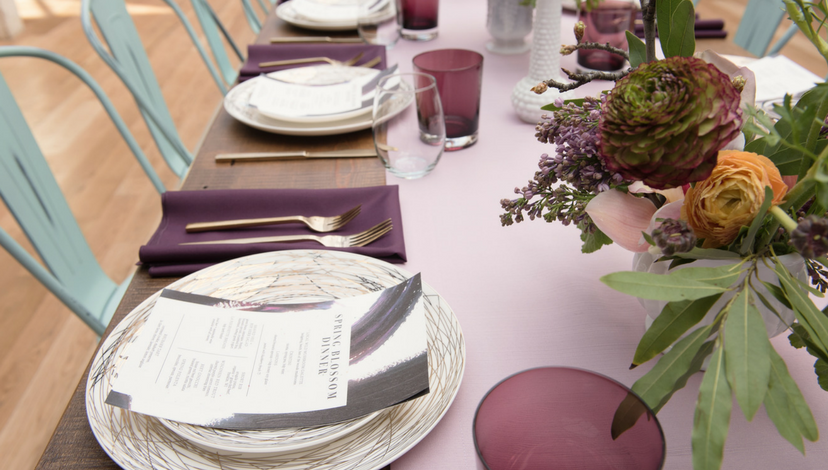 Mary Rafferty | BBJ Linen | Big Delicious Planet
Quietude and Attitude reflect opposite sides of the same coin. In effect, one is masterfully reassuring, with related calm, organic hues bolstered by Ultra Violet and a saturated rose; the other is ever-so-slightly sassy and audacious, drawing on a rainbow mix of youthful, zesty, and exciting color.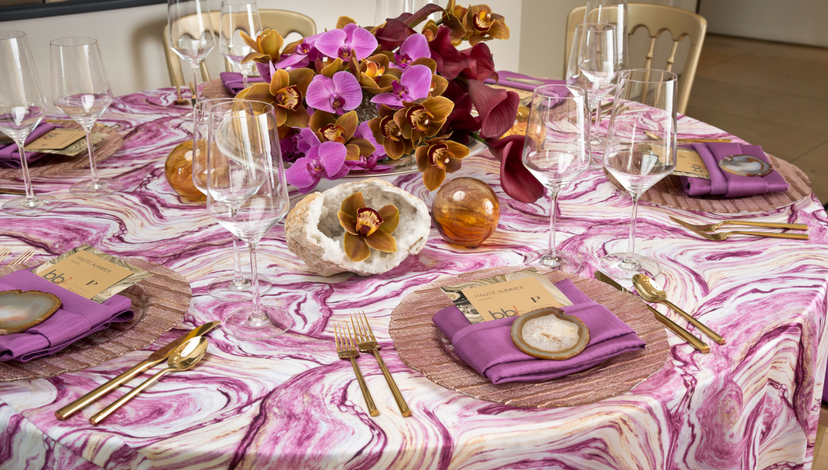 BBJ Linen | Designs by Pavel | NoMI Kitchen at Park Hyatt Chicago
Finally, the remaining palettes are for the bold and adventurous. One is filled with the vibrant hues of Desert Sunset from which it draws its name and is a glorious combination of warm tones that are endlessly fascinating. They are vibrant, but soothing at the same time, and they can be combined in endlessly different ways.
Natalie Walsh of HMR | City View | BBJ Linen
The other new palette is softer and paler, but no less pleasing. Floral Fantasies brings to mind an English garden of pale blooms, sparked with the darker accents of Ultra Violet and a dark navy reminiscent of the night sky.
Showcase Ultra Violet for Events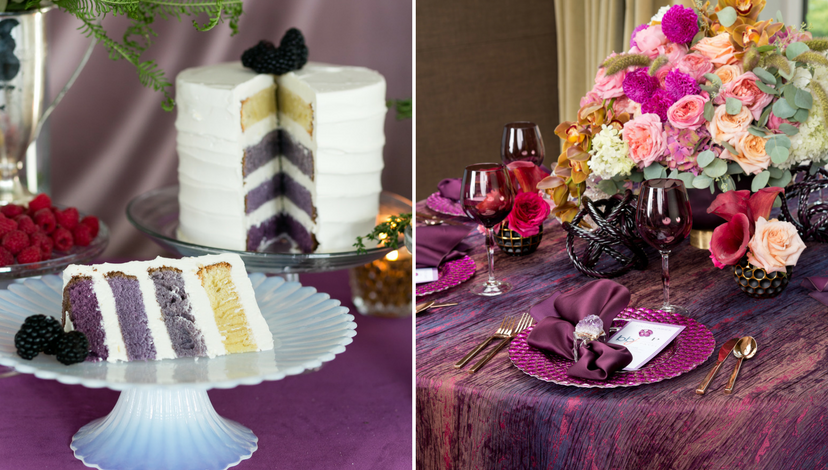 Left: Emilia Jane Photography | The Lakewood | BBJ Linen – Right: BBJ Linen | Designs by Pavel | NoMI Kitchen at Park Hyatt Chicago
Mix Ultra Violet with pink, peach, and pale blue to build evoke a country garden. Spice table settings with subtle green or ground the scene with cream and gold.
Highlight the drama of Ultra Violet by playing up the whole spectrum of eggplant, plum, lavender, violet, and pale blue in a dreamy bouquet of related hues.
This deep violet color of the year harmonizes well with other jewel tones, including ruby, emerald, topaz, and amethyst, and the appeal of dark and dramatic cannot be disputed, especially for fall and winter events.
Fleur Inc.
Ultraviolet is versatile enough to move easily from the flowery brightness of a midday garden to the dusky, grey-blues, charcoal, and navy tones of approaching midnight.
What do hydrangea, purple peonies, bluebonnets, cornflowers, delicate violets, and exotic orchids have in common? They would all look wonderful on a table set with pure white linen and sparked with sensational Ultra Violet napkins!
Saturated Ultra Violet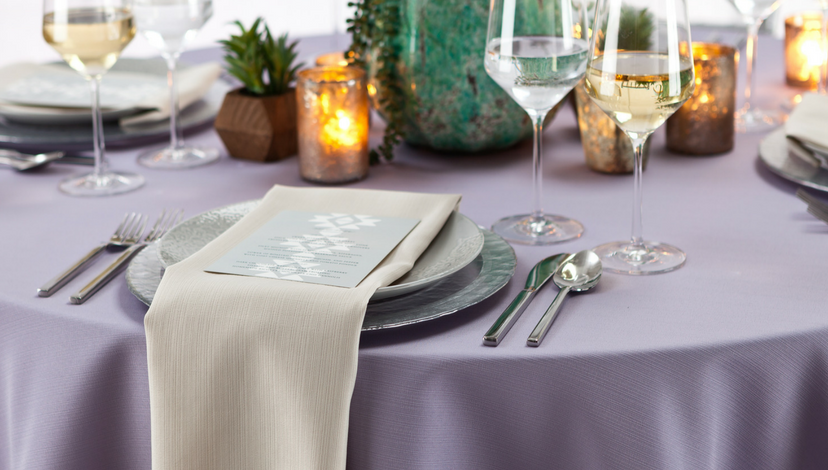 Employ a single dash of Ultra Violet — as sashes on bridesmaids' gowns or ties for groomsmen, as trailing ribbons on bouquets and table centerpieces, as toppers for bartops, or as the decoration on a simple wedding cake.
Ultra Violet is stunning — even in its pale personality — both fresh and unique. But as a stand-alone bright, it is unforgettable!
We know we'll be seeing a lot of Ultra Violet for weddings and elegant celebrations because it enhances design schemes ranging from exotic to rustic and from elegant to playful.
There may be no single best way to showcase the zesty Pantone Color of the Year, but there are many spectacular ways to use it for your upcoming special events. We'll be waiting to ooh and aah over the memorable event photos that we anticipate!