There's something intensely earthy and infinitely mysterious about the combination of graphite and diamonds. Perhaps it's the juxtaposition of smoky and mysterious with clear and sparkling, or the realization that both take eons to form in the earth's crust and may also be predominant elements on faraway, as yet unknown worlds.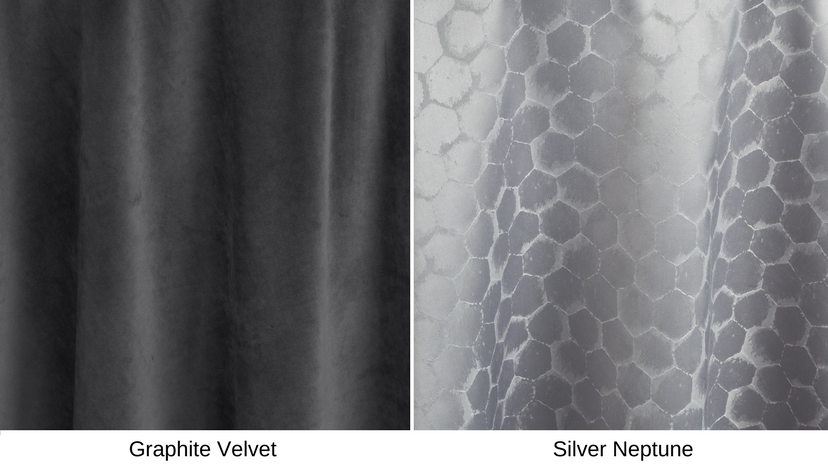 Graphite and diamonds together create elegant table settings, and BBJ Linen has captured that appeal in two new linen patterns that allow you to mix earthly gems with unearthly drama.
Fashion Forward for the Table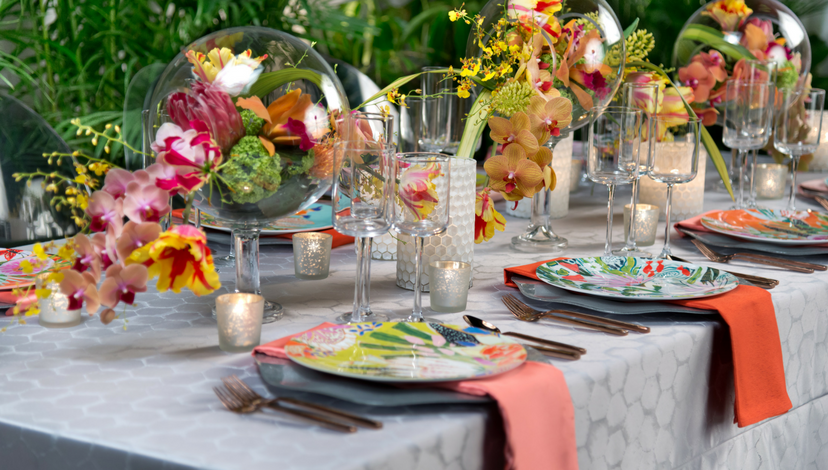 Pale grey is combined with vibrant tropical brights on the fashion runway this season, so why not on the banquet table? We think Silver Neptune knocks it out of the solar system with its metallic glow, but we're equally captivated by the moody, smoky aura of Graphite Velvet, especially when each is accented with vivid floral displays in sparkling orbs of clear crystal!
Although grays can typically be viewed as accent colors in the cool months of fall and winter, here, it takes center stage presenting the perfect background for tropical blooms. Colors jump off the tablescape against these two gray styles.
A Cool Background
Graphite Velvet joins the BBJ collection of velvet linen. Lighten its dark and mysterious depths with the silvery sparkle of diamonds and the deep colors of impressive orchids. It's luxurious, it's innovative, and it's the epitome of classic elegance. How many stunning looks can you envision?
Orchids and Greenery
Subdued, unexpected and totally stunning, this table setting takes its cue from the natural greenery in the background, complimenting the orchid hues with watery blue/green napkins. Dramatic square chargers and china in light and darker versions of silver and graphite are joined by simple flatware and contemporary crystal.
Silver Neptune: A Winner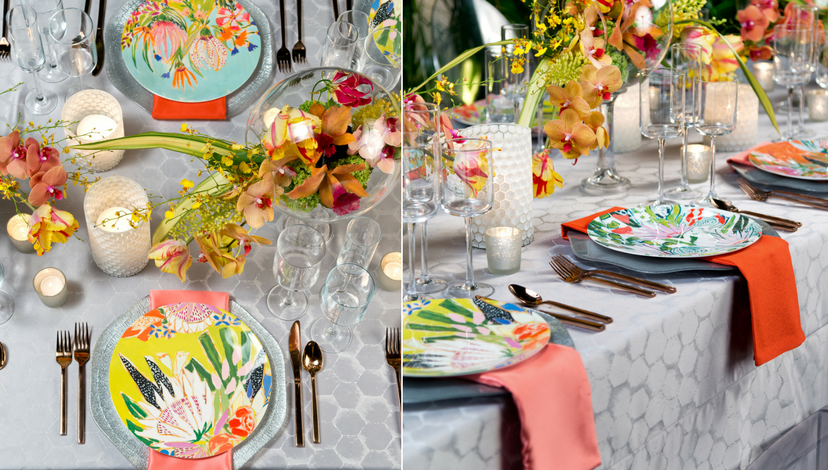 With a timeless hexagonal pattern, this versatile linen is an example of how the familiar can be reinvented! The silvery background shimmers with every nuance of light, and it comes alive with the addition of vibrant bright colors.
Explore a New Dimension
There's nothing tame about this table setting; it's as exciting as a trip beyond the bounds of our own planet, breathtakingly beautiful! Note the adept use of more honeycomb patter, in addition to silver-dusted votive holders, and the unusual clear globes that contain an exotic mix of blooms.
Fiery Drama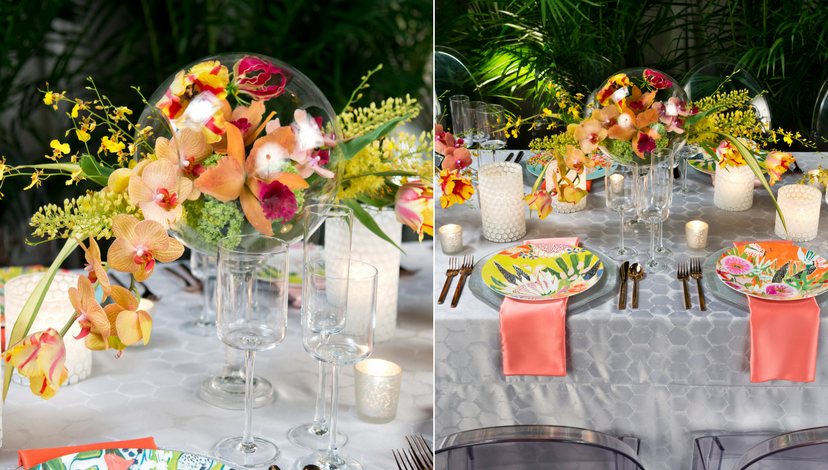 Layer the silvery geometric weave with additional pattern and forget any tendency toward timidity. The result? A space-age experience that is heightened immeasurably by the pairing of unique table covering with bright, unmatched napkins, vivid floral centerpieces, unexpectedly exuberant and multi-patterned china.
---
Credits: Kehoe Designs