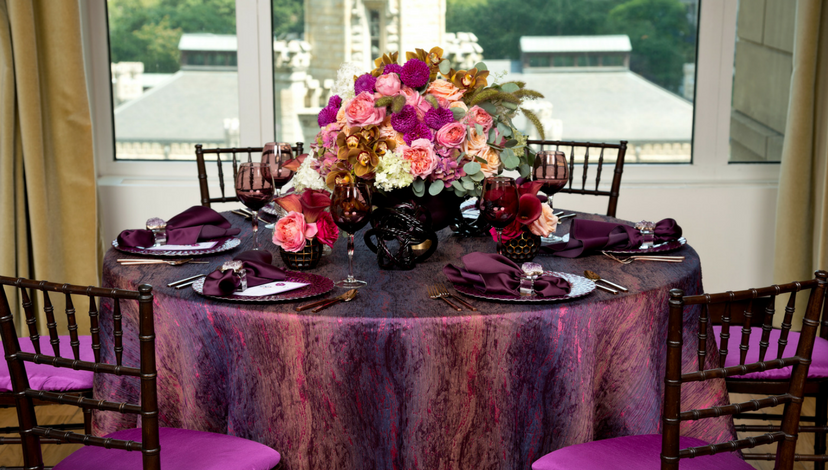 Pink has many expressions: In the pink, seeing the world through rose-colored glasses, hot pink, tickled pink, and, if you'll excuse our French — la vie en rose. All of the colors and patterns in the Haute Pink Collection can stand alone, but they're also delicious when combined with other shades of pink or with other complimentary colors — especially orchid-purple and amethyst hues.
Passionate About Pink
Turn heads and make an unforgettable statement with stand-alone linen that are show stopping all on their own.  Fuchsia Petal is exuberantly edgy, over the top in dramatic "presence," and needs no embellishment other than a minimal and modern floral centerpiece!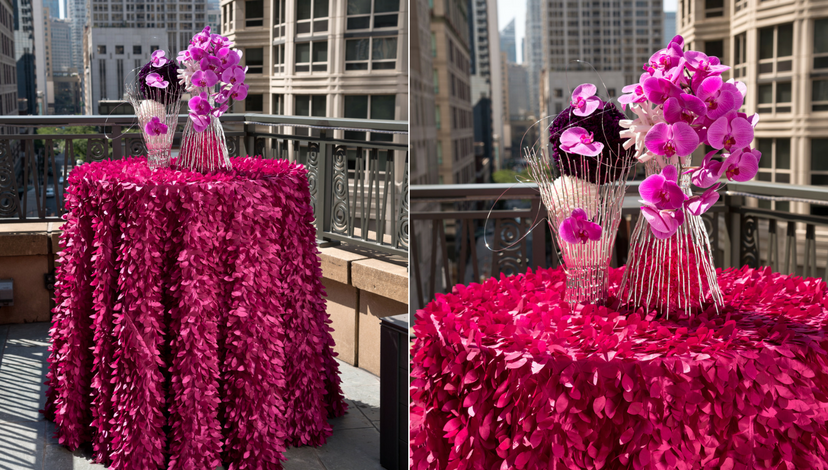 From Sensuous to Subtle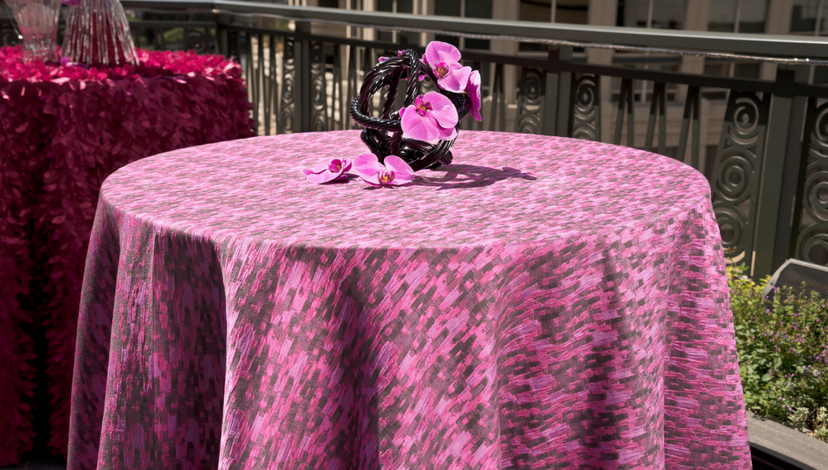 Pinks aren't created equal, and dramatic Cosmo proves that linen doesn't have to shout to make a loud and clear statement. Here it provides an elegant backdrop for a riotously colorful floral centerpieces, chair cushions that shine like jewels around the table, and tone on tone chargers. With the addition of solid plum napkins, it's a celebration of the darker side of pink. Who could resist?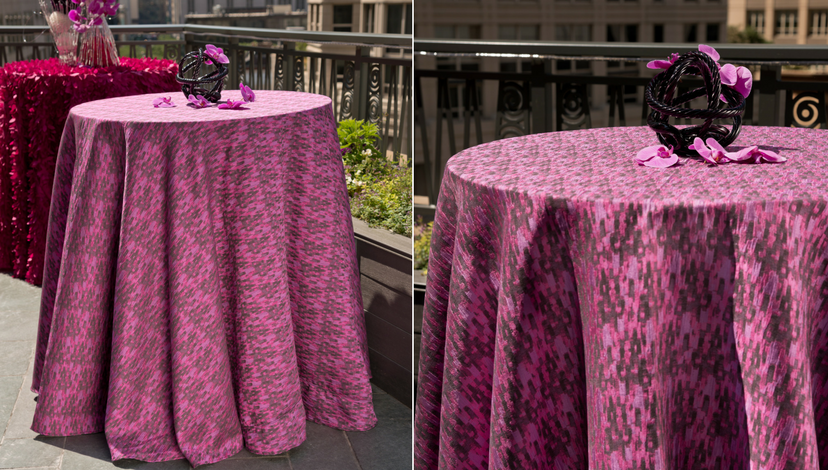 Glorious Color — and Oh So Haute!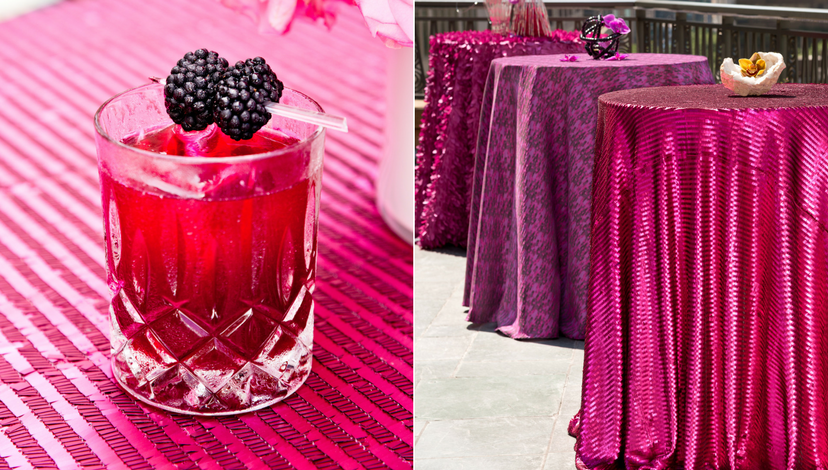 Azalea Gigi shimmers, and is a standout in any crowd. Its iridescent stripes capture the light in breathtaking ways, allowing it to shine in any setting, day or night. As dramatic high-top linen, this one has no equal, and there's no reason to add anything else!
Darkly Dramatic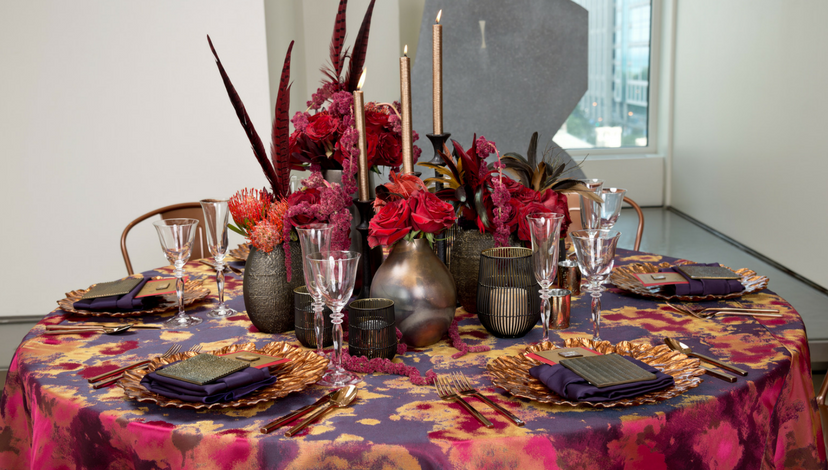 Pink Radar, with its dark background, overall pattern and intense colors, is inspired by Victorian opulence, but it has a contemporary vibe that allows it to stand out against neutral backgrounds and sleek surroundings. In short, it plays well with others! Here it's paired with glowing copper and ruby red. It's gorgeous and beautifully appropriate.
Hitting the High Notes
In all hues from pale blush to deep, rosy purple, pink is always on the edge of passion. Why not combine those hues for double the effect? This event setting mixes the Pascal patterns in both Fuchsia and Orchid. With plenty of white to emphasize the contrasts, a floral mix that is equally daring, elegant chargers and sensational silver accessories, this is a winner!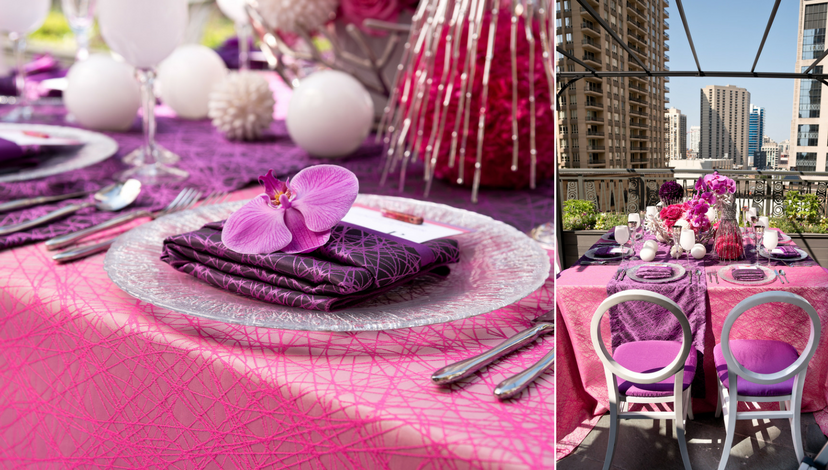 Think Pink!
Have we given you enough reasons to love pink? With their wildly variant personalities, we think there are plenty of ways embrace this new collection. Whether you call it "haute" or simply hot, why not embrace all the new hues? Pink is always on the edge of passion!
---
Credits:
Linen: BBJ Linen | Designs by Pavel | NoMI Kitchen at Park Hyatt Chicago