An haute couture event, whether a wedding, corporate event, grand opening, pre-party, industry event, or any other exclusive occasion requires meticulous planning. To create an exquisite occasion, the organizational phase should begin many months or a year prior to the date of the event. The more time you can devote to the planning phase the better, as there are countless details to manage.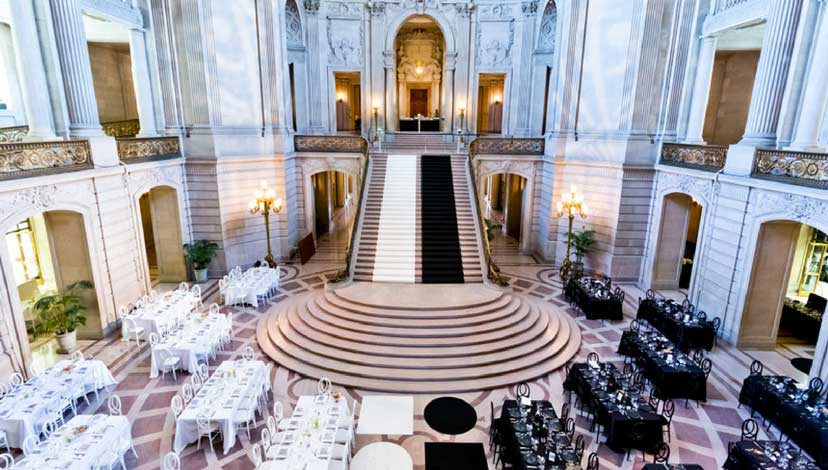 Blueprint Studios | San Francisco City Hall
The Vision Drives Your Haute Couture Design
Party Productions | Boutique Photographers
Every haute couture event has an overarching theme, with colors, textures, floral design, and luxury linens, with every detail carefully selected to support and enhance the concept. Whether you are planning a fabulous haute couture wedding, a corporate occasion, or another special event, a carefully executed strategy, with a timeline for each action makes it possible to produce a flawless event. Most high-end events are produced with the help of a professional event planner who coordinates all aspects of the experience. In fact, producing the perfect event is an enormous endeavor that demands months of dedicated attention and planning.
Luxury Wedding Venues and Haute Couture Décor
Left photo: NK Productions – Hunter Ryan Photo | Right photo: Paul Johnson Photography – Florals by the Sea
Style, budget, personality, and the vision for the wedding celebration are essential aspects of choosing a theme and décor for an haute couture wedding. Once the wedding date is selected, the first step is to reserve the venue. Many of the most popular venues can be booked up months or even years in advance. Several types of venues are popular for haute couture events including:
Hotel Ballrooms

Yachts

Wineries

Private Estates

Country Club Clubhouses

Resorts

Museums
The design and space of the venue you choose will impact your overall design. Even a rather bland, luxury hotel ballroom can be transformed into a breathtaking environment with the help of a talented haute couture wedding design planner. The size and shape of the venue is the first point to evaluate in planning the design and décor for your event. Make the space, including pillars and walls, work with the event décor. An artistic and thoughtful high-end event designer will take any space issues into account in designing the décor for a haute couture event.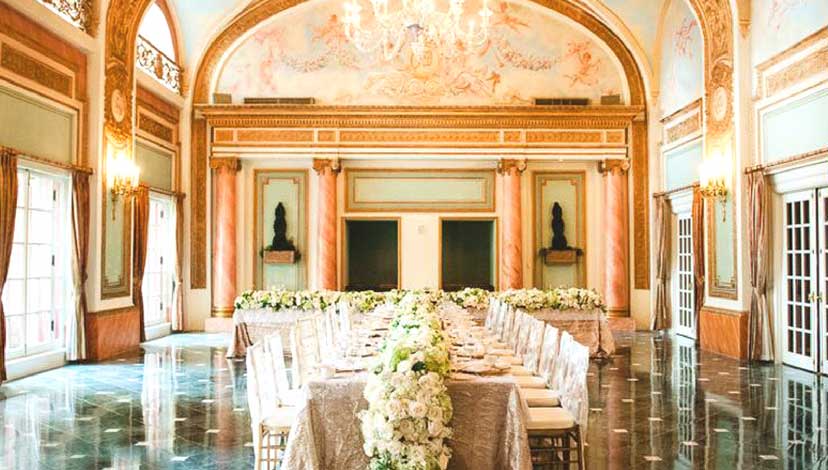 The Adolphus Weddings and Events | Jennifer Crenshaw Photography
Outdoor events will typically require creating an outdoor/indoor space with tenting. A pole tent (or tension tent) creates more drama and has a higher peak, while a frame tent creates more space, as the structure does not include indoor poles. For pole tents, consider covering the poles with elegantly draped swaths of fabric and floral treatments that will reflect your choice of luxury table linen.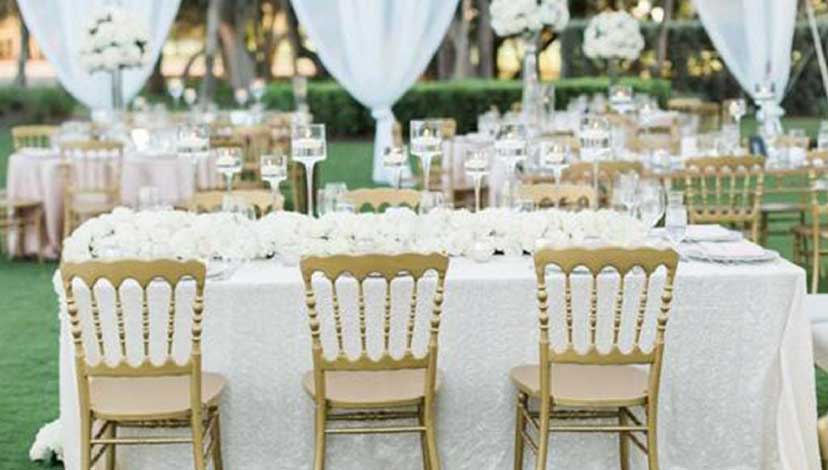 NK Productions | Hunter Ryan Photo
Choosing an Haute Couture Event Design Planner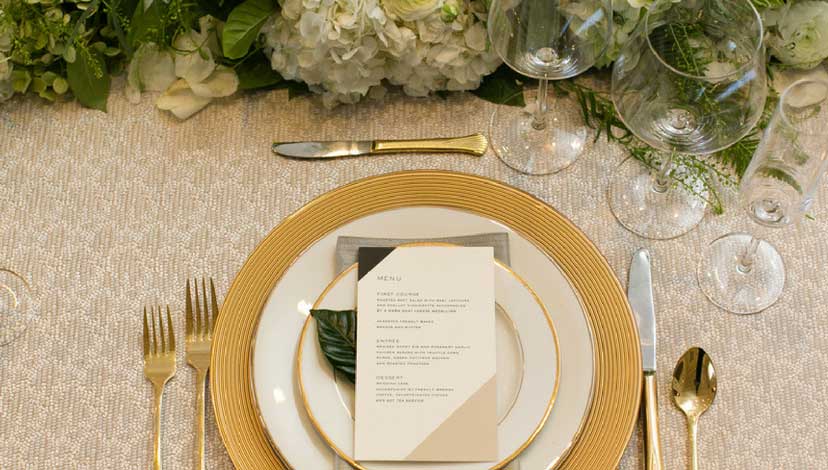 Clover Events | Platinum Events | Emilia Jane Photography
Various professionals can be called upon to assist you in creating a truly memorable and dramatic occasion. Your design planner will be involved in every aspect of your event and can provide critical input on table design, as well as the menu, bar setup, and all the other services you will need to make your haute couture event stunning. Some events will require more than one designer to produce the ultimate high fashion event. The planners engaged for these tasks often include:
Wedding planners

Interior designers

Couture designers

Fashion industry designers

Floral designers

Gourmet caterer
Professionals in the field of haute couture weddings vary in the services they offer. They may recommend different vendors for critical aspects of the event such as table design, space décor, floral designs, and menu.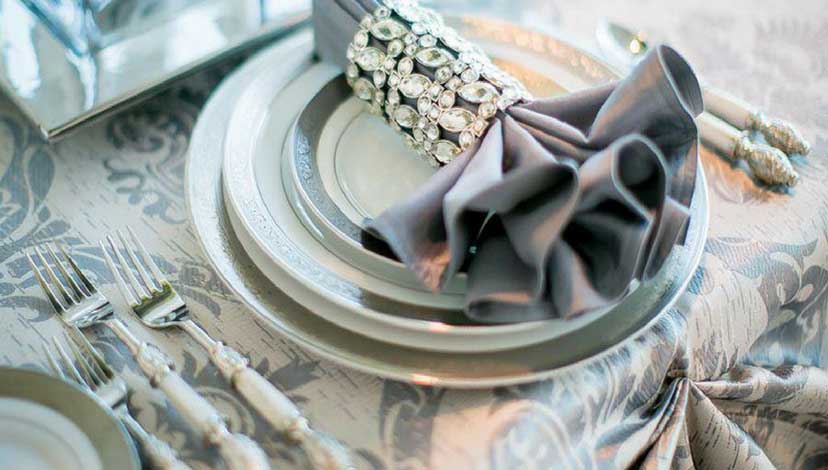 Party Productions | Boutique Photographers
Haute Couture Weddings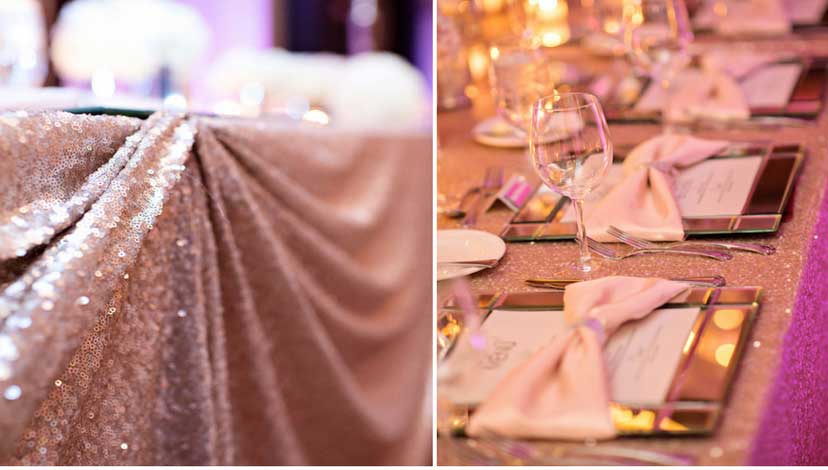 An Affair to Remember | Kristen Weaver Photography
Many brides and grooms take time to review various wedding designs online to assist in explaining their vision of the style or concept for this important occasion. Wedding table design is, naturally, one of the most dramatic aspects of creating a romantic and luxurious ambiance for high-end weddings. The addition of luxury wedding decorations can support the wedding theme. From art-deco to rustic simplicity, to glitzy glamour that is reflected in gold, silver, or crystal stemware, candelabras, and dramatic chair treatments – these are all essential elements in the overall impact of the design.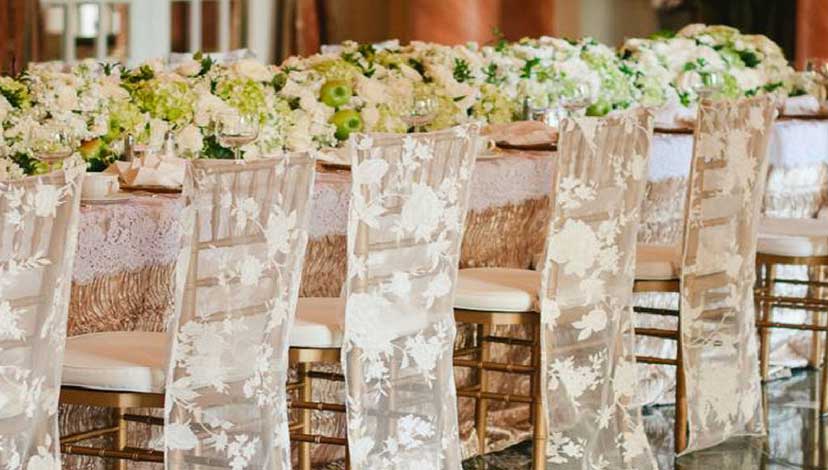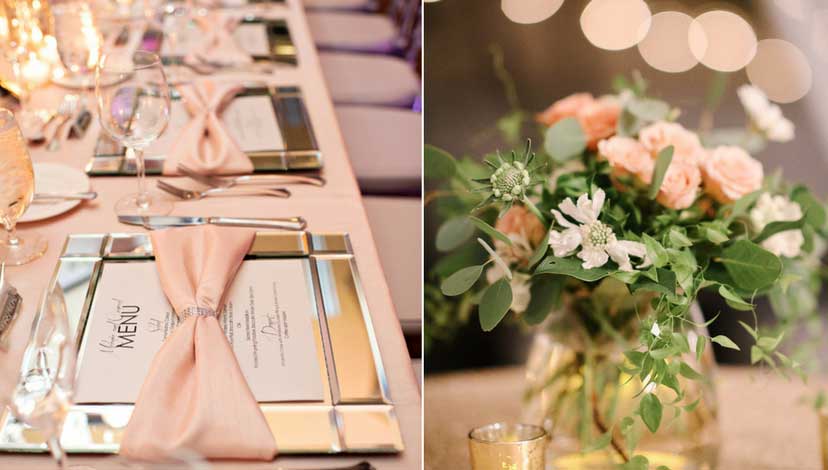 Top: The Adolphus Weddings and Events – Jennifer Crenshaw Photography | Bottom left: An Affair to Remember – Kristen Weaver Photography | Bottom right: Paul Johnson Photography – Florals by the Sea
Luxury Linens Add Opulence and Glamour to Your Event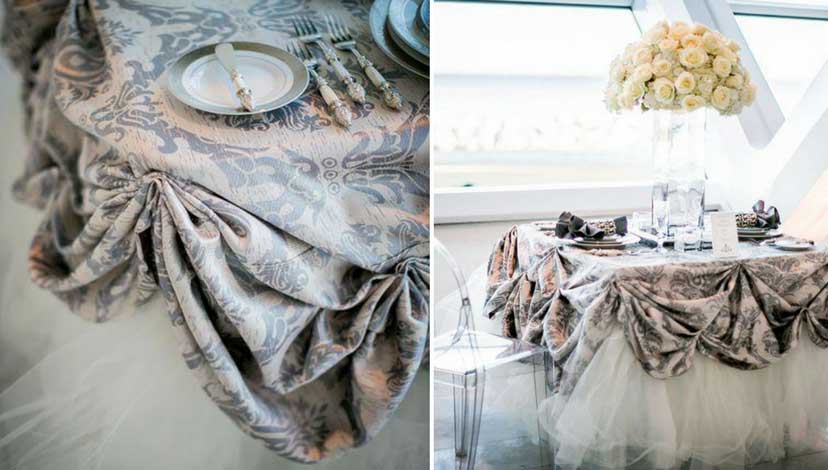 Party Productions | Boutique Photographers
The quality, color, texture, and luxurious draping of table linens are the foundation of the perfect table design. Varying textural elements in underlay, overlay, table runners, and napkins with contrasting or subtle differences in hue can be an effective method to create a luxurious tablescape for an haute couture event. The quality of the actual linens is an important issue in a formal, traditional, classically elegant, or lavishly produced reception. Traditional haute couture weddings may have an all-white theme, with only the barest hint of color accents revealed in floral design, with delicate textures, including sheer linens or lace overlays for an airy, ethereal opulence.
An Affair to Remember | Kristen Weaver Photography
Haute Couture Design: The Color Palette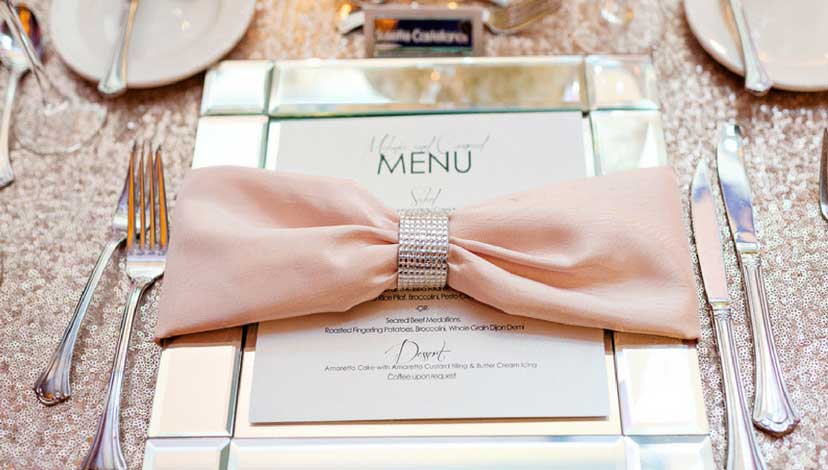 An Affair to Remember | Kristen Weaver Photography
Color plays a critical role in planning the perfect haute couture event. Certain colors are appropriate for specific events, and colors have the unique ability to create mood and emotion. Your high-end event planner should have a solid understanding of current color and design trends, as well as any cultural issues associated with colors. Each hue presents a different emotion, and choosing linen colors is an exceptionally important aspect of planning your event. Every year, specific color palettes are on-trend, and these colors are seen on fashion runways in Paris and New York, as well as decorating high-end event tables.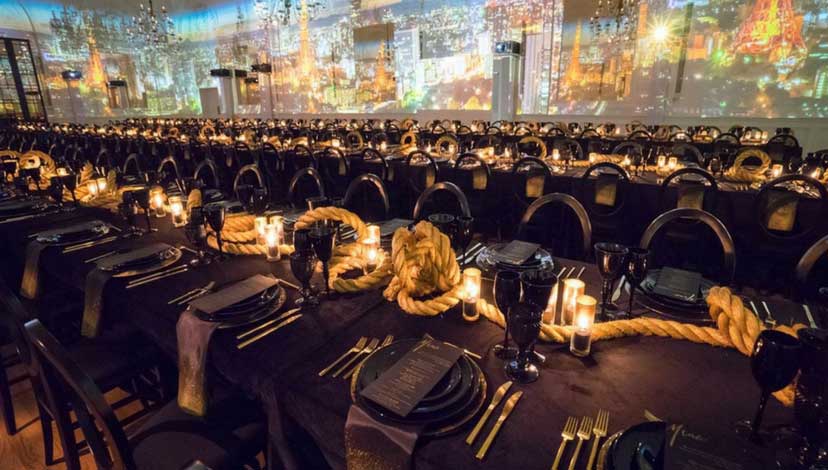 Kristin Banta Events | Miki and Sonja Photography
Your haute couture event planner should be fully aware of the color palette that is hot this season, and the hues and textures that will complement and enhance those colors. From ombre, to dramatic weaves and patterns, to luxury solids, to damask, to table linens that shimmer with a reflected opulence, there are many options for your selection. Create a table design that is on-trend, dramatic, and unforgettable with a color scheme that perfectly suits the event.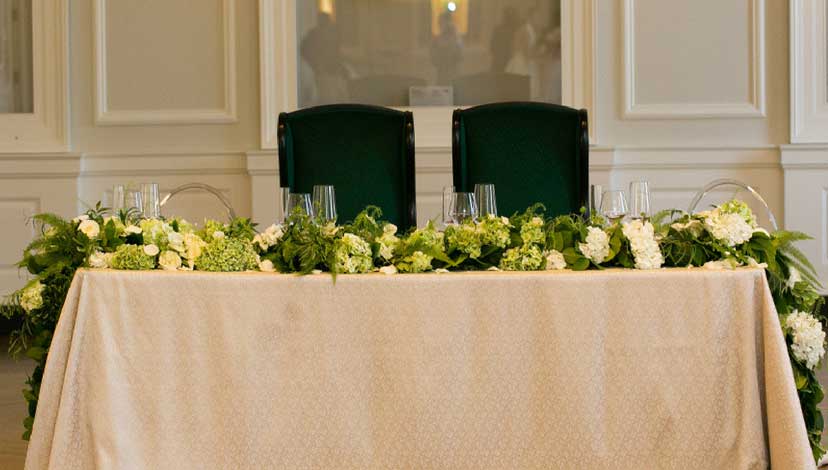 Clover Events | Platinum Events | Emilia Jane Photography
High-End Event Décor: Make it Sensational
Planning a haute couture event? The final product can be stunning and memorable, with every detail simply flawless. When embarking upon the planning process, start with the basics: venue, theme, and color. From this foundation, the table and room design can have an impact, highlighting unique details that make it stand out as being heads above the rest.