Photo courtesy of Pantone
The Color of the Year for 2017 is Greenery, chosen by Pantone Color Institute, the arbiter of trendy tones for decades. And because it's such a "natural," it's a sure bet we'll all be seeing this trendy tone in everything from haute couture to kitchen accessories, from table settings to bridesmaids' gowns, perhaps even on fingernails and flashy automobiles. At BBJ, we agree that this color, reminding us of summer gardens, key limes, and kiwi fruit is a great choice for special events that run the gamut from frivolous to formal. Here are some of the ways we envision using this new "old color" all year long!
Greenery: "Nature's Neutral"
Photo courtesy of Trendland
Pantone notes that this bright yellow-green symbolizes a basic human need to reconnect with "nature, one another and a larger purpose." That's why you'll see it popping up in people's homes in the form of live plants. We love an ombré table runner mixed with vibrant tones of purple orchids, accented with glittering jars and candles.
HMR – Morgan MFG Industrial Accents 
Go Green and Be Exciting
Alante Photography | Taylor'd Events 
Green, in modern vernacular, has a meaning larger than a single definition, symbolizing a sustainable and caring connection with the world. Add elegance to your special event, but speak it softly! Your innate sense of style will shine clearly, and you'll wow your guests with your restraint. Adding green accent walls into your home gives it just the pop of color it needs to feel warm and inviting!
Thomas Look | Photo courtesy of Elle Decor
Shimmering and Sunny
Photo 1: Photo courtesy of Archzine – Photo 2: Alante Photography | Taylor'd Events
Make your kitchen's natural light carry through with accent green chairs! You can't go wrong with the bright and natural color. Use greenery linens to play up the sunny side of life: combine dark greens with golds, or pair greenery with bright yellows and cream, adding in a few sunset brights for added excitement. BBJ's Gold and Bimini are a perfect choice for this unusually pleasing color combination.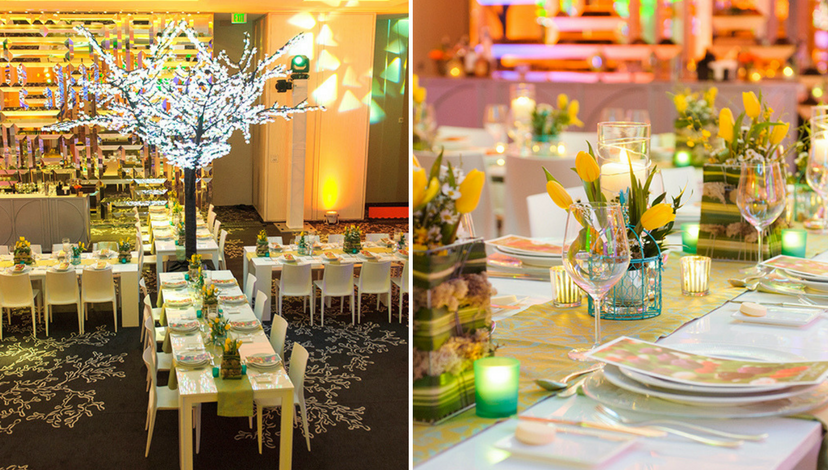 Advantage Destination & Meeting Services, Inc | Photographer: Lena Valdes
Cool It Down
Dynamic Events | Artist Group Photography
Greenery can stand on its own as a delightful accent in a sea of cream and white. Perfect for an outdoor event where natural greenery forms a backdrop, use only a bit of this 2017 hue to highlight and accentuate the beauty of the outdoors. Here, the hue makes a limited appearance on chair seats; apple green lamour drapes select tables, contrasting with the basic white theme. It's all the color necessary for the stunning setting.
Dynamic Events | Artist Group Photography
Green Goes Dramatic
These high-boy tables are a perfect example of how exuberance is unlimited. This setting shows how well the new greenery can hold hands with other brights. With an appetizer setting this vibrant it would be impossible not to have a great time!
Take it to the next level and create a dramatic kitchen. These green walls will have you singing as you prepare meals at any time of day.
Photo courtesy of Behr
Flirty and Fun

Abbie O Events
Steel Honeycomb proves that graphic designs are a great way to underscore a table setting and that there's no reason to be timid with color or with pattern. Deep-toned leafy centerpieces patterned gold, and white china, and unexpectedly bold chargers are the perfect final touch.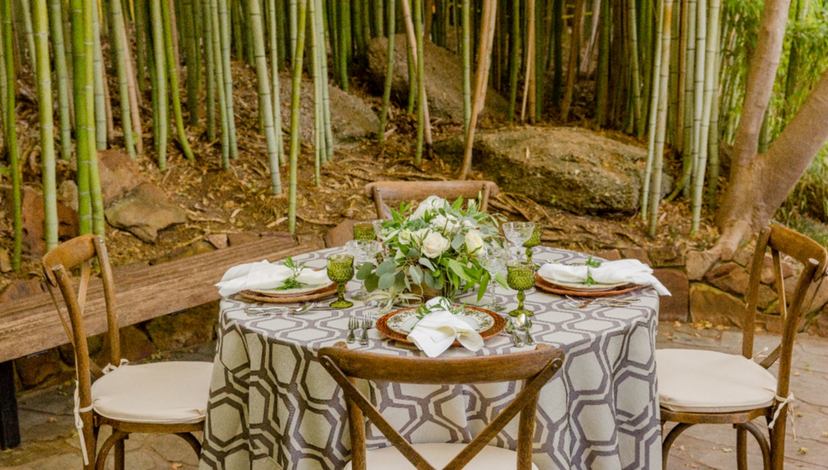 Abbie O Events