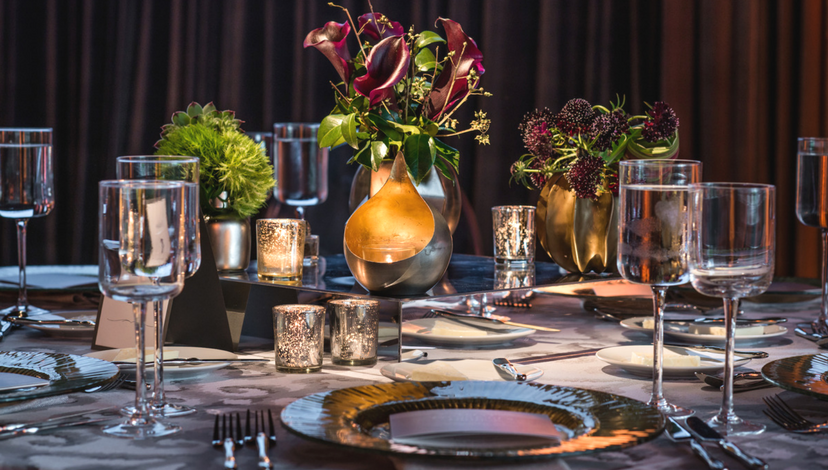 HMR Designs
Talented event planners work their magic for every special event by carefully weaving linen design and theme details with fabric to create beautiful and meaningful events. It all emerges as a perfectly tuned instrument to play a symphony of delight, no matter what "tune" is selected.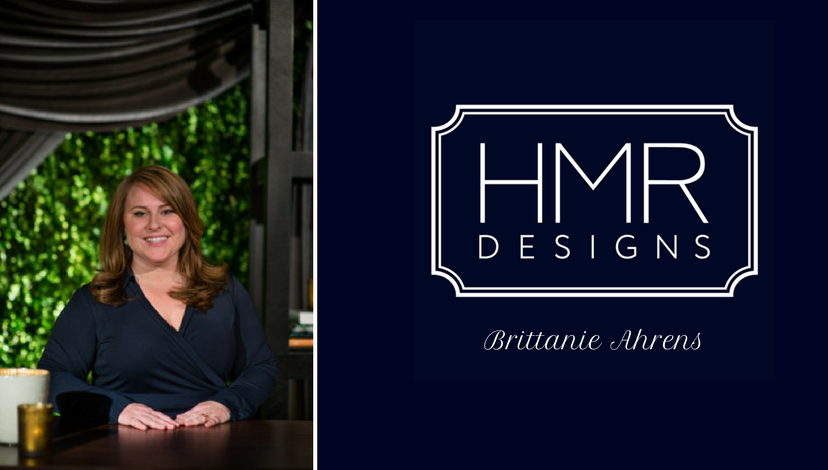 HMR Designs believes events should be as unique as the people behind them. Brittanie Ahrens, Corporate Event Designer, describes a client that likes their events to be cohesive. Her team believes a mixture of strong patterned linen and soft tones is the perfect way to accomplish this. Discover the details behind several of their jaw dropping events.
Non-compete clause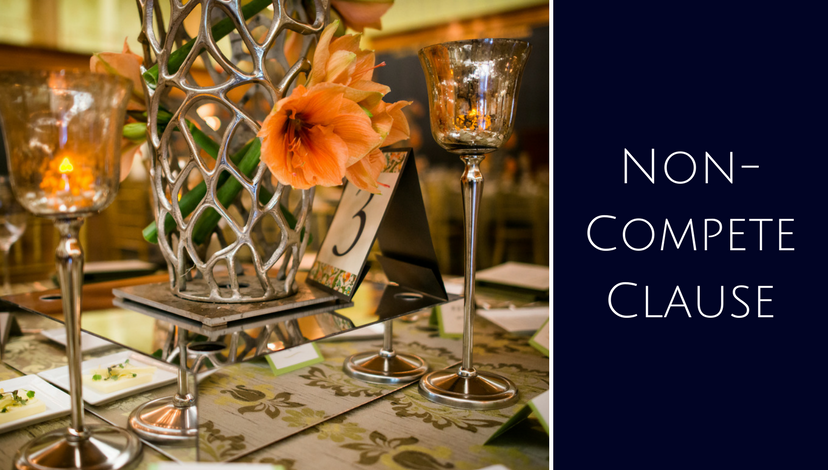 HMR Designs
In the highly-polished Art Institute Stock Exchange room, Newcastle Jacquard linen provides understated elegance, complementary pattern and color, but doesn't compete for attention. Gilded accessories and bright tropical flowers sing the high notes.
HMR Designs
A Quiet Expression
HMR Designs
Softer linen colors and muted tones are appropriate for an event in a space with much to look at: It's hard to upstage life-size elephants and skeletons — but who would want to? Here, it's enough to only play the background chord softly; it's restrained but never dull, and the beat is lively.
HMR Designs
In the Garden–Bring on the Color
HMR Designs
On the patio of the Field Museum, vibrant linen hues are perfect choices for a green lawn and brilliant floral displays, while muted tent curtains reinforce the intricate pattern of the flooring. For an outdoor event, take a cue from nature, and play the melody strong and clear!
HMR Designs
Pattern It Graphic
HMR Designs
Geometric design and bold color warm-up stark modern architecture at Venue Six10. Here graphic linen lends just the right note to a neutral, clean-lined interior. Enliven the spare background with tall green palm fronds: It's like ringing a crystal ball! No other embellishment necessary!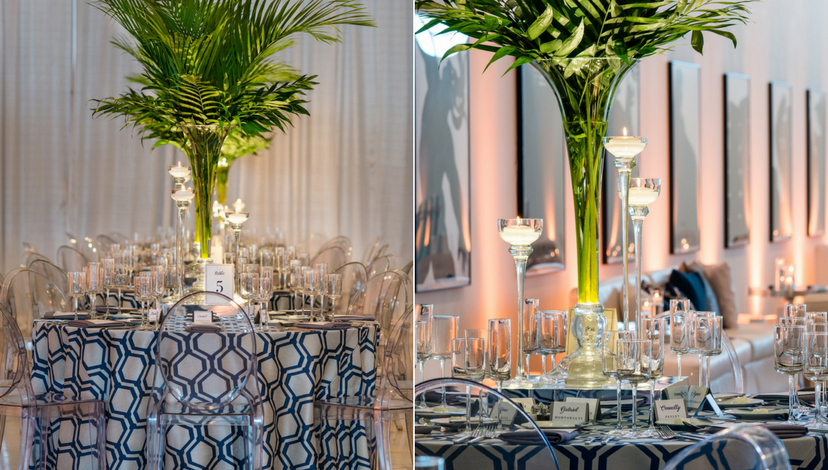 HMR Designs
Forego the Match Game
HMR Designs
Stick with muted colors, but vary the tabletop experience. Top some of the skirted rounds with similarly-toned Niagara crackle linen to produce a comfortable — and comforting — bass note for the surprise of jewel-toned glassware and colored floral displays, a repeating theme.
HMR Designs
Bright and Beautiful
Severe architecture, whether it's industrial or contemporary rustic, benefits from color and sparkle. Vivid green and purple linen team with silvery metallics and showy orchids in this setting that is one part familiar and two parts futuristic! It's a daring but delightful mix, and one that's sure to provide guests with good memories.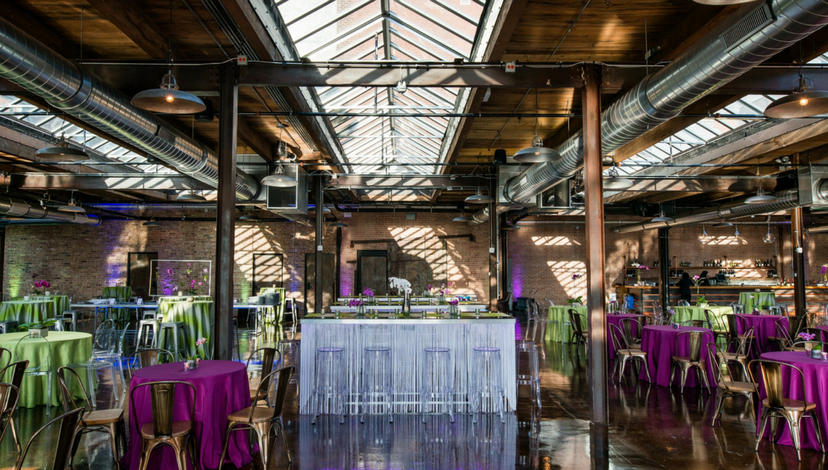 HMR Designs
Fun and Festive
HMR Designs
Ombré linen becomes the inspiration for an artistic masterpiece that plays dark and moody off clear and sparkling. The juxtaposition of gold and mirrors, patterns and solids, dark and bright, formal and fun emboldens the atmosphere yet doesn't overwhelm the scene. Pattern is used sparingly, but the look wouldn't be complete without it.
HMR Designs
Communicating Through the Lights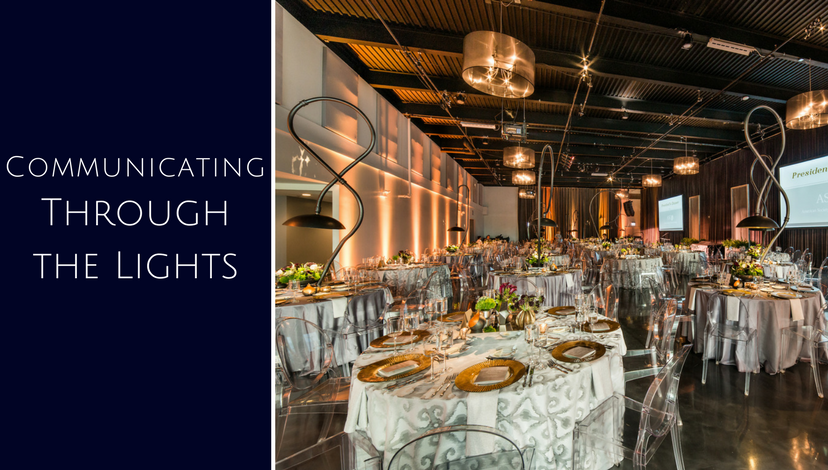 HMR Designs
With gold accents throughout the room and incorporated into the tabletops, dark floral, lamps, and drape, HRM Designs wanted something bright and shiny that would help these details to stand out. The silver bravado linen added a warm metallic light at the Museum of Broadcast Communication.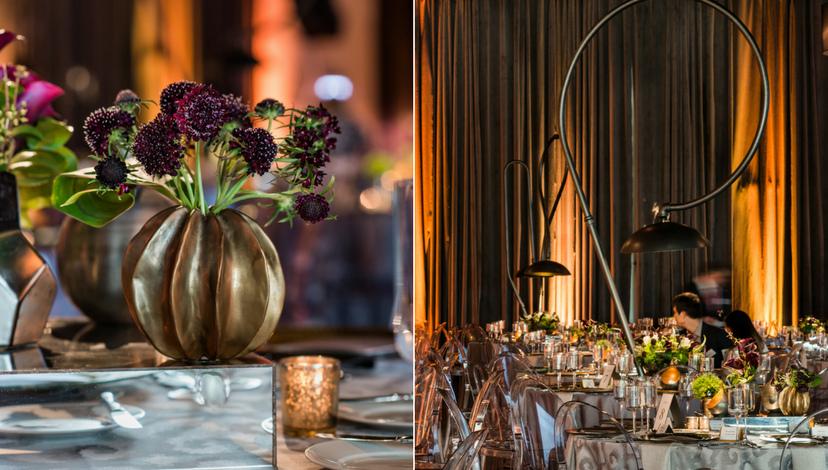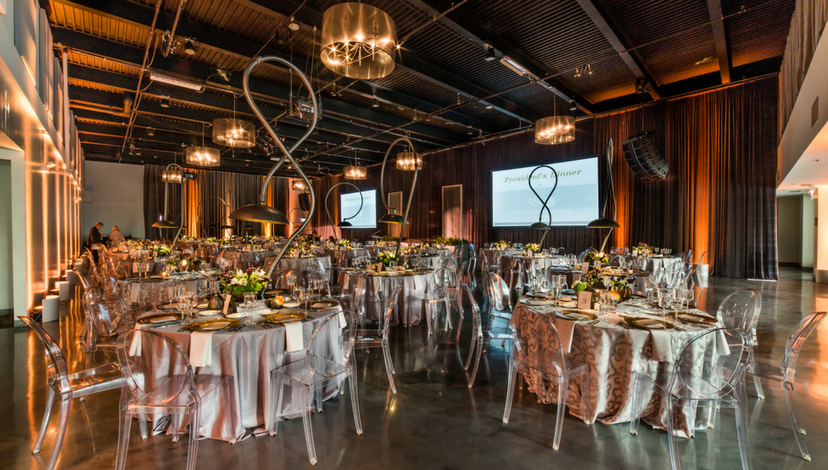 HMR Designs
Linen is the foundation for bringing a vision to life, and our partners like HMR take design with fabrics to a whole new level. Each featured look speaks to a completely different vibe and feel. They are masters of event design, and we can't wait to see what they create next!