Front Room Photography
Whether it's a winter wedding at a ski lodge, a city luncheon on a day with "snow in the air," or an intimate dinner party in front of the fire, this is the season to wrap style in cozy comfort. Be elegant while you capture warmth through simple color schemes; combine the glitter and shine of metallics and sequins, and employ greenery in unusual ways.
Rev Up with Bulbs and Blooms
Front Room Photography
An upside down bouquet of white tulips is stylishly elegant mixed with the minimal presence of light from bare bulbs and candles in glass balls suspended on slim cords. The overhead display — as dramatic as it seems — complements rather than competes with the exciting dining table just below, a charming setting for a bridal party or any other celebration!
Almost a Mirror Image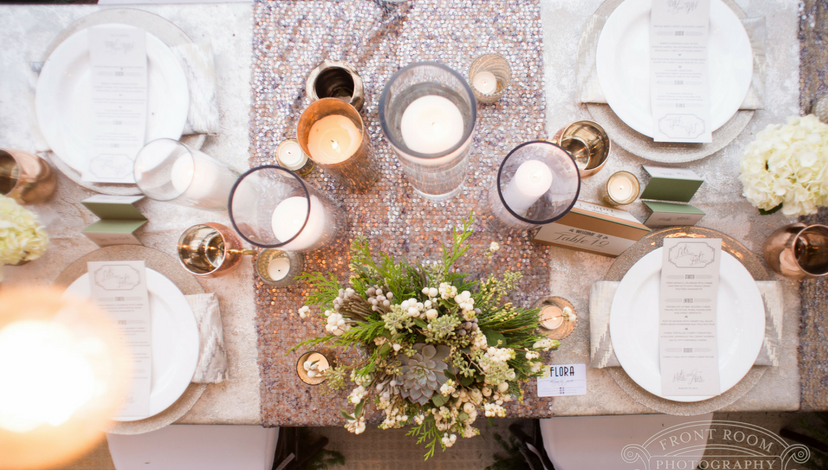 Front Room Photography
Light bounces in both directions to highlight a table set with sparkling silver enriched with natural greenery. Above and below, the simple green, white and bright ambience is both playful and sophisticated. Balance is maintained through careful blending of elements. Greens adorn the backs of chairs rather than being arranged on the table; the green canopy above seems protective, but adds serenity as well as drama.
White and Bright, but Warmed with Gold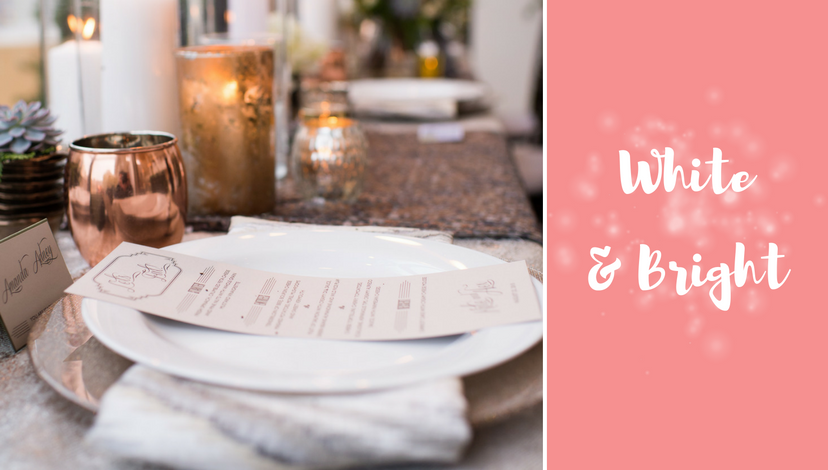 Front Room Photography
The perfect simplicity of white cloth, silver sequined runners, clear candle holders, and silver chargers under white dinner plates might seem icy without the sunny glow produced by the addition of copper tankards and the larger gold-toned pillar candleholders. This setting is tempered with a few wood accents and brown paper place cards, and it benefits from the stunning view of an old brick building beyond.
A Masterful Mix
This party setting illustrates that simple elements, layered with a deft hand and woven with natural accents, can make any setting sizzle! Combine common materials with sparkle and glow to achieve a comfortably warm and cozy ambience.
{{cta('392cc8dc-4018-4a0f-9247-3b3f2948b445')}}