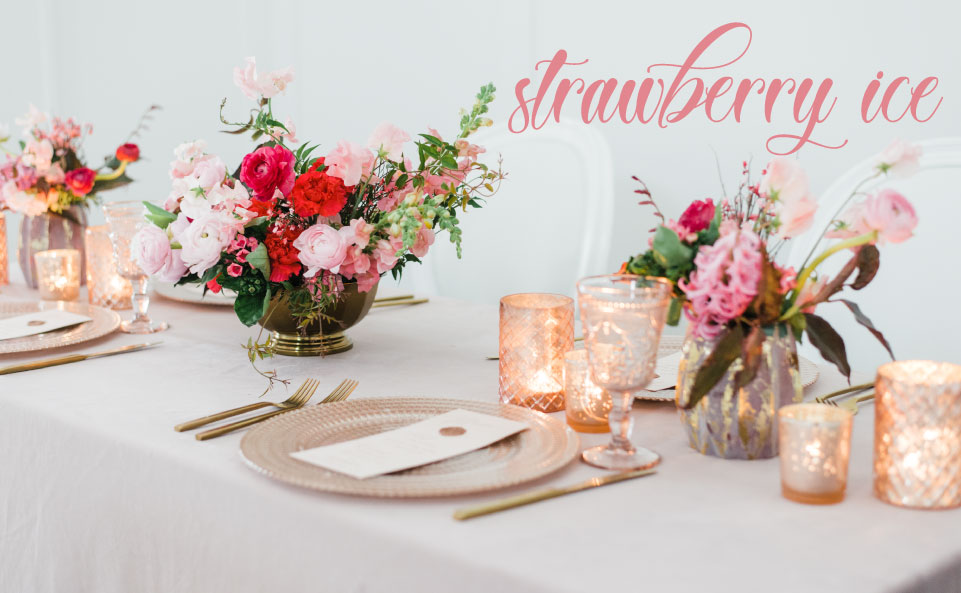 As the fresh glow of spring moves on to the full bloom of summer, a kind of transition occurs. While sunny brights and clear tones predominate, this year our favorite looks for this most glorious of seasons are more subtle and restrained.
Strawberry Ice–a thoroughly modern kind of pink–is our new color crush for these lazy, hazy days! We love it because it's flexible–it can swath a scene with singular appeal, but it also plays well with other colors, and doesn't object to a bit part. It's exciting, but not overly demonstrative; and it has the kind of subtle grace that makes it easy to live with and to love. Strawberry Ice is not a single, simple choice, but a whole family of color options that offers a bounty of summer possibilities.
Pink, but not Pastel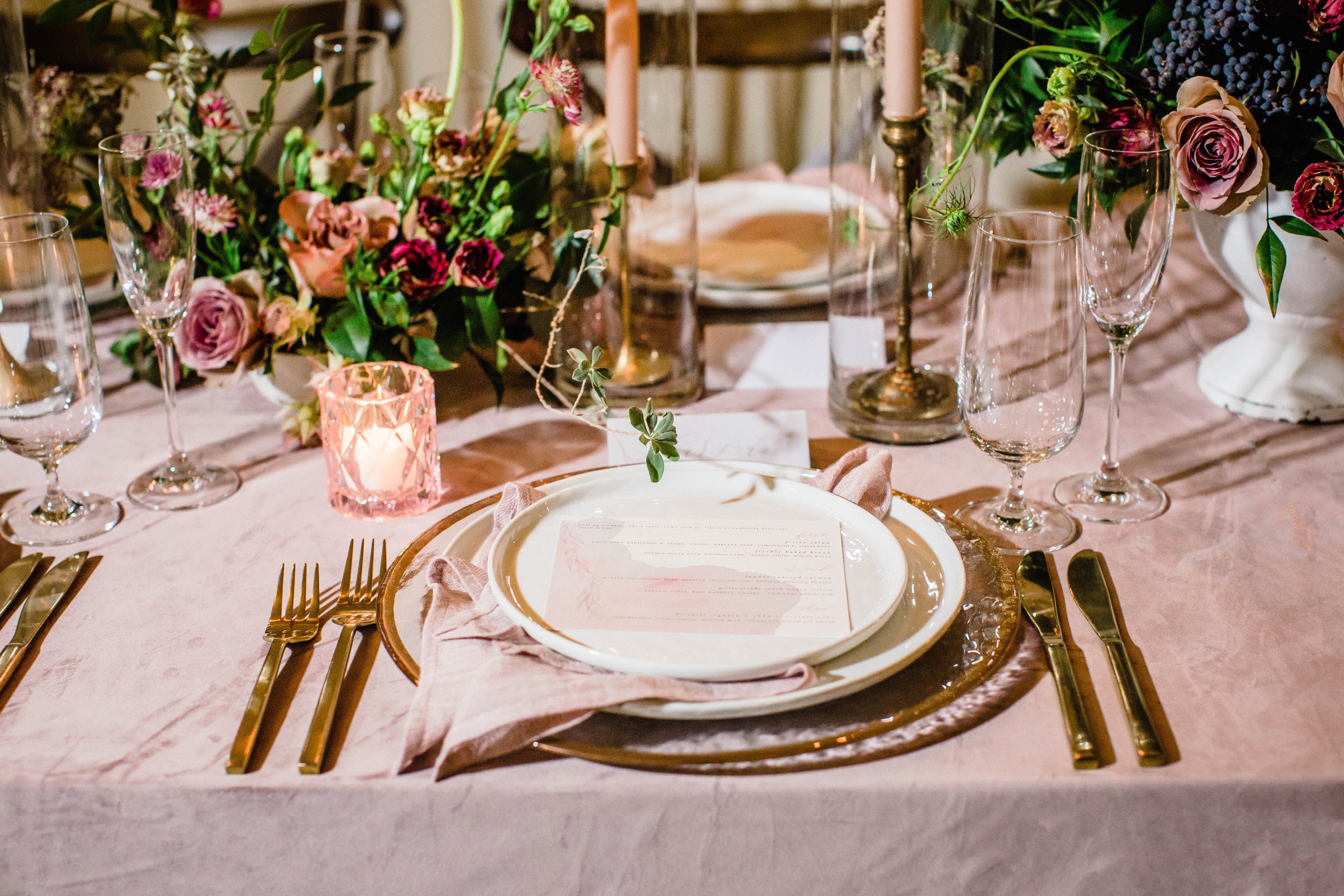 Sophie Epton Photography | 36th Street Events | Stems
The appeal of Strawberry Ice is in its uniquely flexible nature–it can be as fleeting as the blush of a pale rose petal or as tantalizing and refreshing as a slice of watermelon. While at its heart, the color is demure, this confectionary hue hints at sweetness, but also has a sophisticated nature that adds unexpected depth to summer events.
Strawberry Ice on the Runway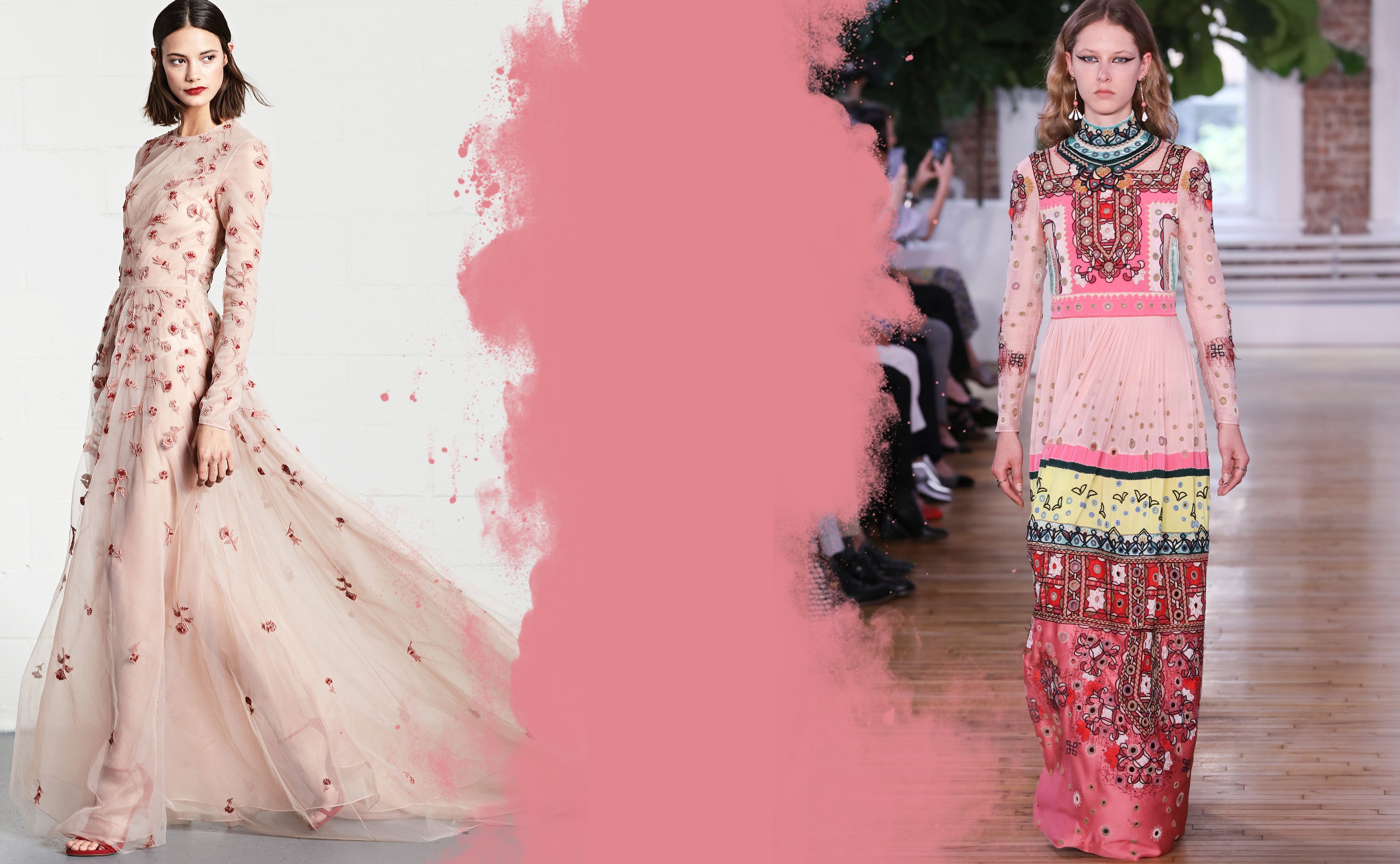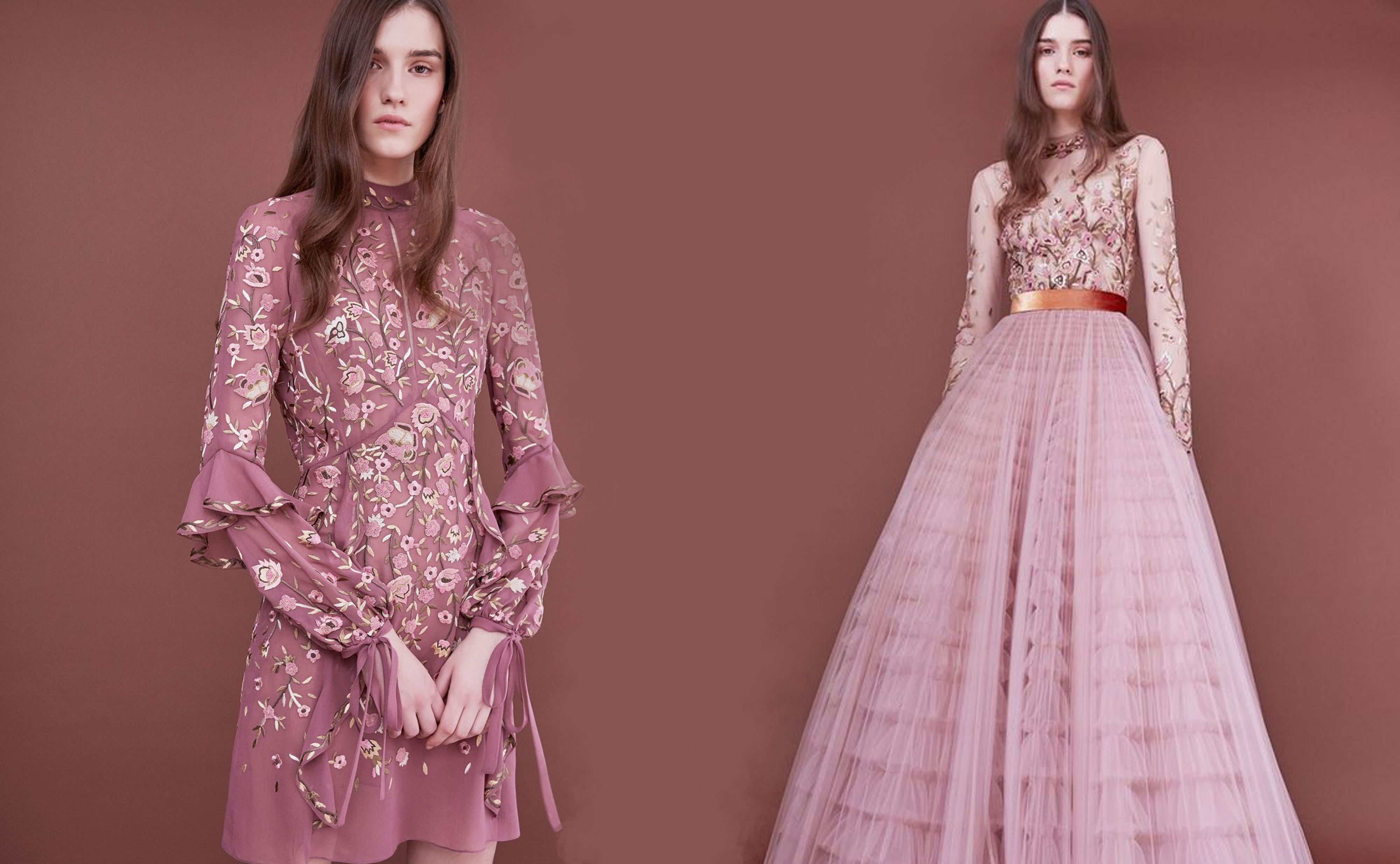 Top Left: Dennis Basso | Top Right: Valentino | Bottom: J. Mendel
Designers like Dennis Basso, J. Mendel, and Valentino have all succumbed to the various moods of Strawberry Ice! With designs that hint at the exotic or remain delightfully demure, the fashion world has embraced Strawberry Ice with flair. It's yet another reason we're crushing on the color this season, and we can't wait to add it to our own wardrobes and homes.
Romantically Inclined

Angela Lauren Co. Photography | Souris Rose
A summer pink that doesn't fade easily into the background, but is also refreshingly delicate, Strawberry Ice is a cheerful choice for summer events. From formal soiree to country garden setting, layer your linen with gold accessories, fine china and crystal, and multicolored florals displays, and let it mesmerize your guests. Strawberry Ice will perform admirably, whether you use it exclusively or mix it with other tones.
Home Attitudes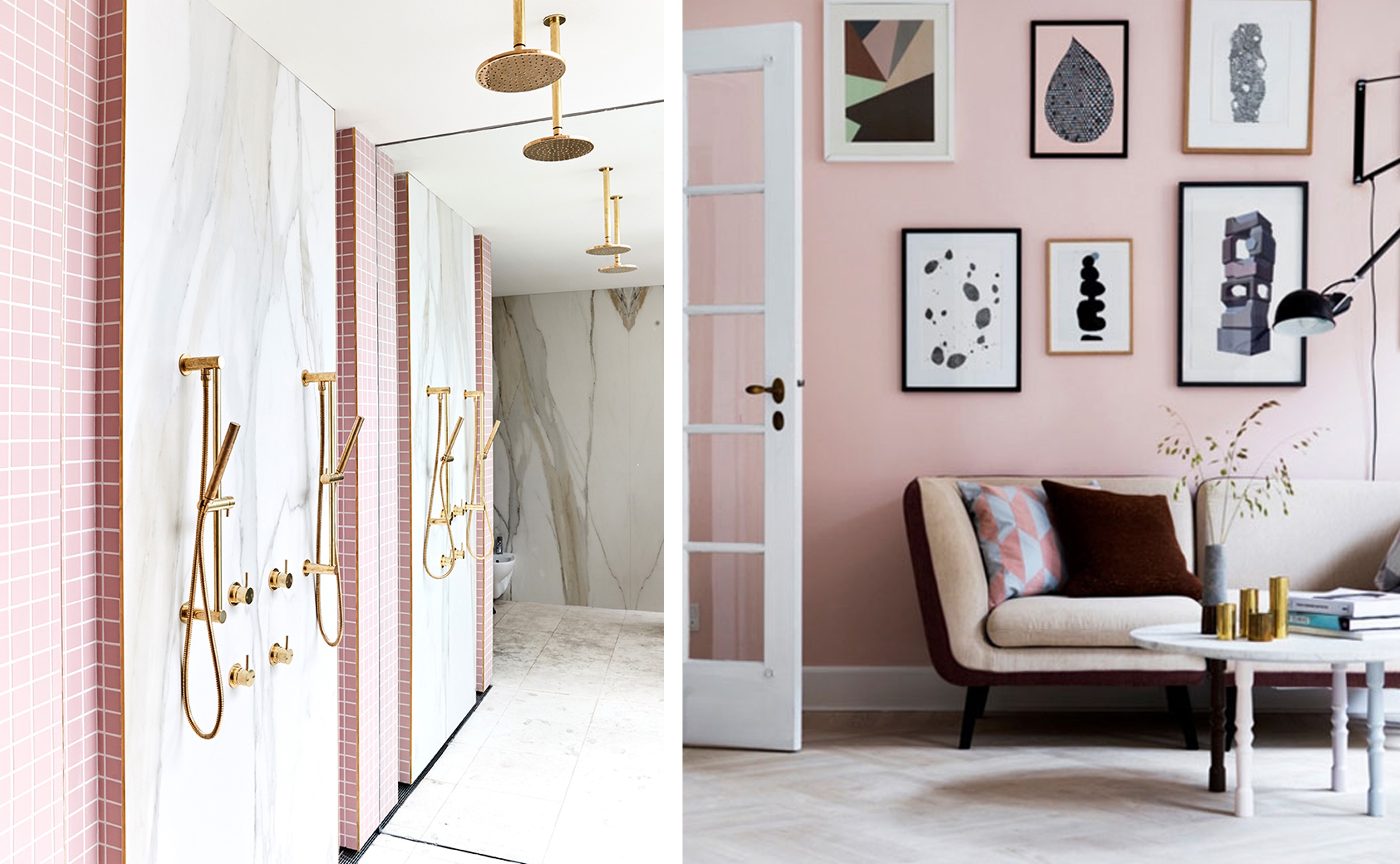 Left: Rebecca Judd Loves | Right: Nordic Design
Make no mistake: Strawberry Ice in home decor is not at all akin to the bold pink tile and lipstick brights of mid-Century design. It is an inspired complement to the newest neutrals–grey, greige, and and burnished tan; but it is also a dynamic choice with charcoal, darkest navy or astringent green. This unique pink adds impact to a modern bathroom, and softens the hard-edge effects of graphic black and white. It's a natural!
A Supporting Role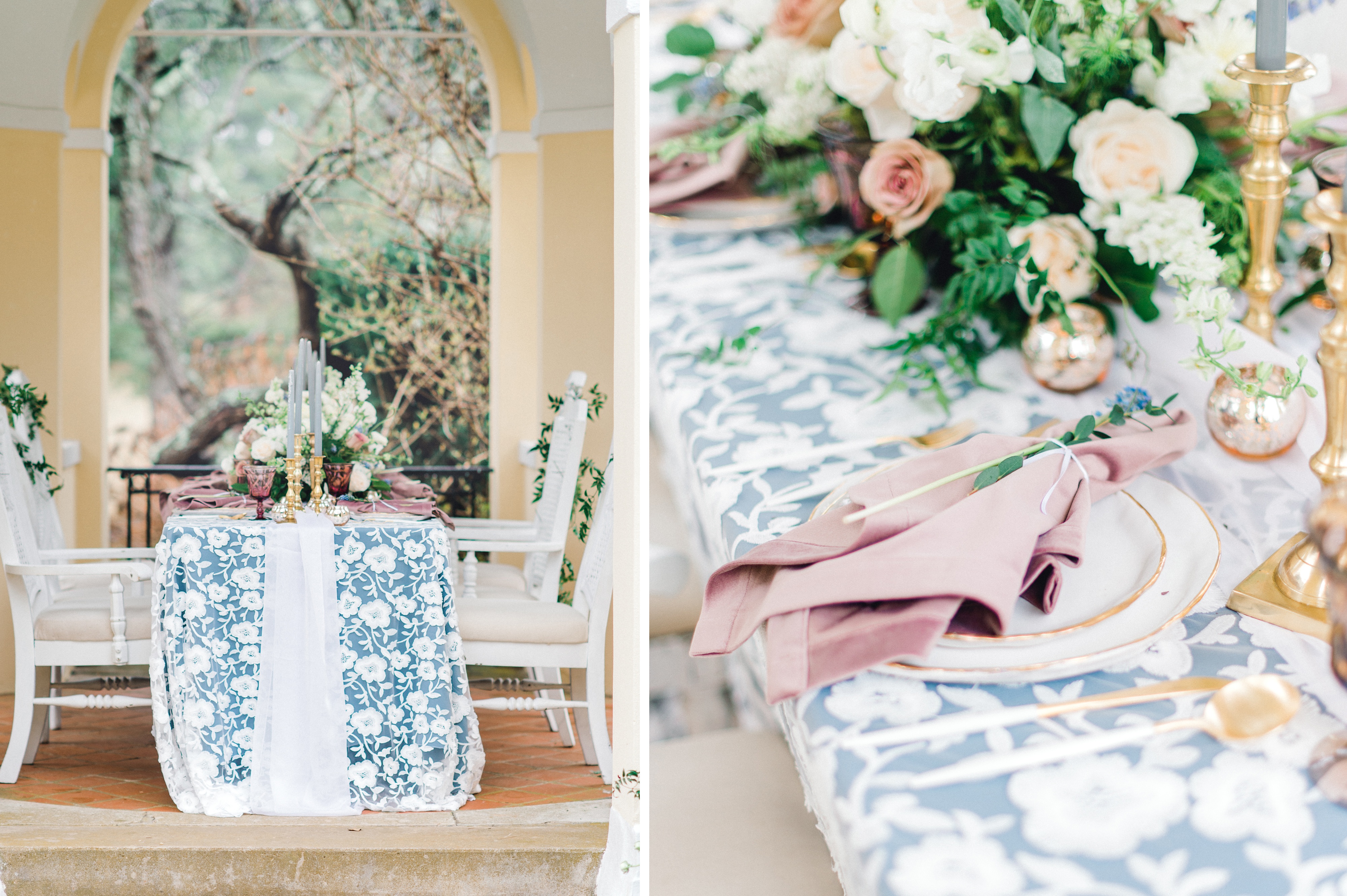 Jenny B Photography | SRS Events | Eight Tree Street Floral | Something Vintage | Airlie
Strawberry Splash made an impact when it was introduced as Pantone's "Color of the Week," but the color is just as effective when paired with blue and white and used sparingly. The color doesn't have to have a starring role; it will lend a new dimension to any setting.
Elegantly Playful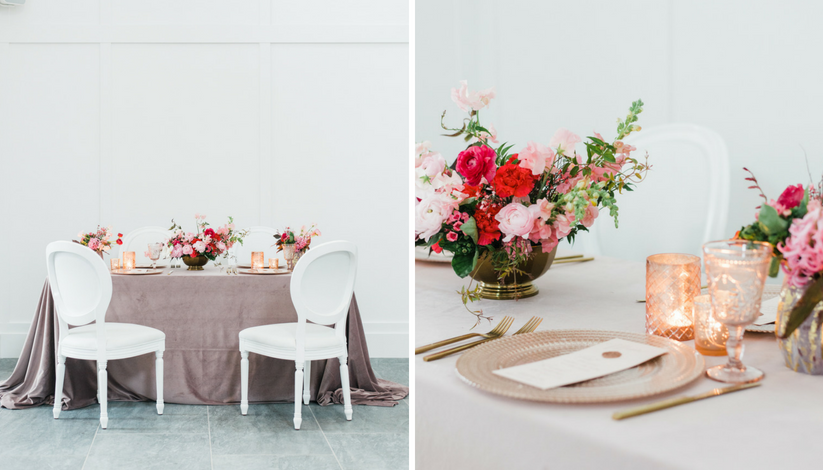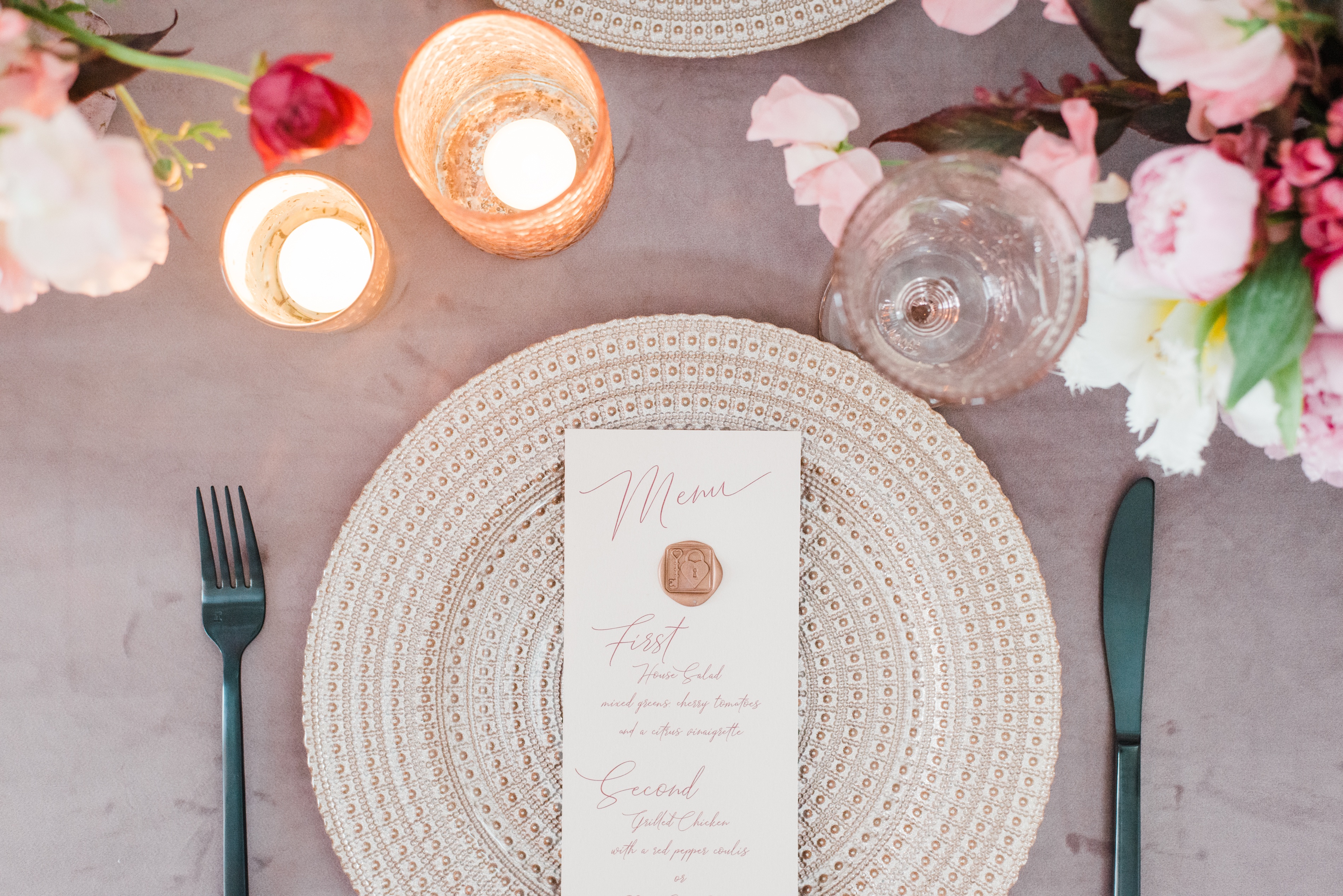 Henry Photography | MMJ Events | Old Slate Farm | Aiden and Grace | On Paper | The Estate at New Albany
Strawberry Ice is a uniquely whimsical choice for summer; that's another reason it's our current color crush. Whether as a solid, or as one component tone in a new linen pattern, we're sure you'll find a new respect for pink! It's a great way to see summer through rose-colored glasses!