Fall is finally here, and this month's Color Crush captures the essence of the season perfectly. Your color choices aren't just limited to orange and browns. This color palette is also strewn with earthy tones that reflect the idyllic landscape and jewel-inspired hues that echo the season's harvest. You'll find unique color palette combinations and fun ways to combine them. Draw inspiration from these color combos and create new ideas to deliver that WOW factor for your fall wedding or next event design.
Green Olive
Green Olive exudes harmony and serenity. Its association with the saying "to extend an olive branch" gives it a sense of peacefulness and tranquility. Pairing well with tans, dark reds, and other greens, it is a sophisticated trendy hue. This deep yellow-tinged green works with most skin tones, making it a popular choice for fashion designers. In interior design, it warms up any room and stimulates a sense of calmness. A great base color, Green Olive can also be used as a pop-out accent color. Green Olive echoes colors found in the natural world, radiating well-being.
Forest Biome
The richness of Forest Biome echoes the abundance of the natural world. This forest green evokes the color of autumn flora. It is a deep, blue-influenced green that breathes life into any event, room, or textile. Upscale and rich, it resembles lush evergreen forests and deep, gleaming emeralds. This color has been known to bring a sense of tranquility and stress-relief enabling people to relax deeper. With is blue undertones, Forest Biome pairs well with other greens.
Biking Red
This deep and elegant hue of red conveys a sophisticated and artistic mood. People are psychologically drawn to red, and while the color is normally associated with power, Biking Red has a less assertive and more comforting vibe. Red is considered one of the heaviest colors on the spectrum, and such, it has a visual weight and elegance that attracts the eye. Biking Red pairs well with neutrals or even other bold colors like purple, turquoise, and even green. This makes Biking Red a great artistic tool for event design, fashion, and more. Adventurous and lustrous, Biking Red is strong and powerful.
Pairing
Red and green are complementary colors on the color wheel, so our October Color Crush shades work well together. Traditionally, red and green are seen paired during the holiday season, but red and green are also colors that can be used year-round.
Pro Tip: Mix various shades of red and green to avoid that Christmas-esque feel. Which allows you to pair these colors year-round. Add an unexpected color, texture, or pattern to create a compelling look.
Forest Biome and Biking Red, for example, make a great combo that won't invoke those holiday attributes. This combination creates a strong, vibrant color palette. Biking Red also pairs excellently with a lighter, complementary shade like Green Olive.
In Nature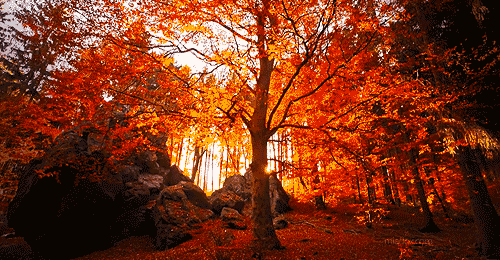 Reminiscent of the colors of leaves changing in the fall, Biking Red, Forest Biome, and Green Olive create the perfect autumn color palette. The oranges, emeralds, greens, and yellows of fall merge in these shades. Whether you want to evoke autumn bliss or evergreen depth, these colors will set a sophisticated, trendy tone.
Interior Design
Interior designers often mix dark wood with green and red tones to create a lush, rich look. Shades of green are popular in kitchens because they evoke abundance and promote healthy appetites and lifestyles. Mixing reds and greens can work for various interior design styles such as modern, retro, bohemian, mid-century modern, etc. It can also be incorporated into several different types of spaces like entryways, living rooms, kitchens, and even bedrooms. The combination of Biking Red with Green Olive creates a high-class and cosmopolitan sense of living spaces.
Fashion
The runways are popping with our color crushes. From Biking Red velvets to Forest Biome silks, you'll find these shades in both men's and women's fashion. Designers also love the military-inspired shade of Green Olive. We're influenced by the textures and trends in high fashion, so we're bringing them to your next event.
Event Design
This month's color crushes are everywhere in event design, too. Use any one of these colors as a base for your table design. A rich textured Forest Biome foundation sparkles and comes alive with touches of gold. Green Olive and Biking Red merge on a tablescape to create a rustic, desert aura. Centerpieces, too, pop with these color combos.
Whether you want to capture the essence of fall or are looking ahead to great winter trends, our colors crushes will help you create an unforgettable event. Check out our Pinterest for inspiration and the latest trends. We know you have many more creative ideas, so tag @BBJLinen on Instagram using #OctoberColorCrush to show us how you'll use this month's Color Crush. For more of our Color Crushes, check out our previous Color Crush blog posts.