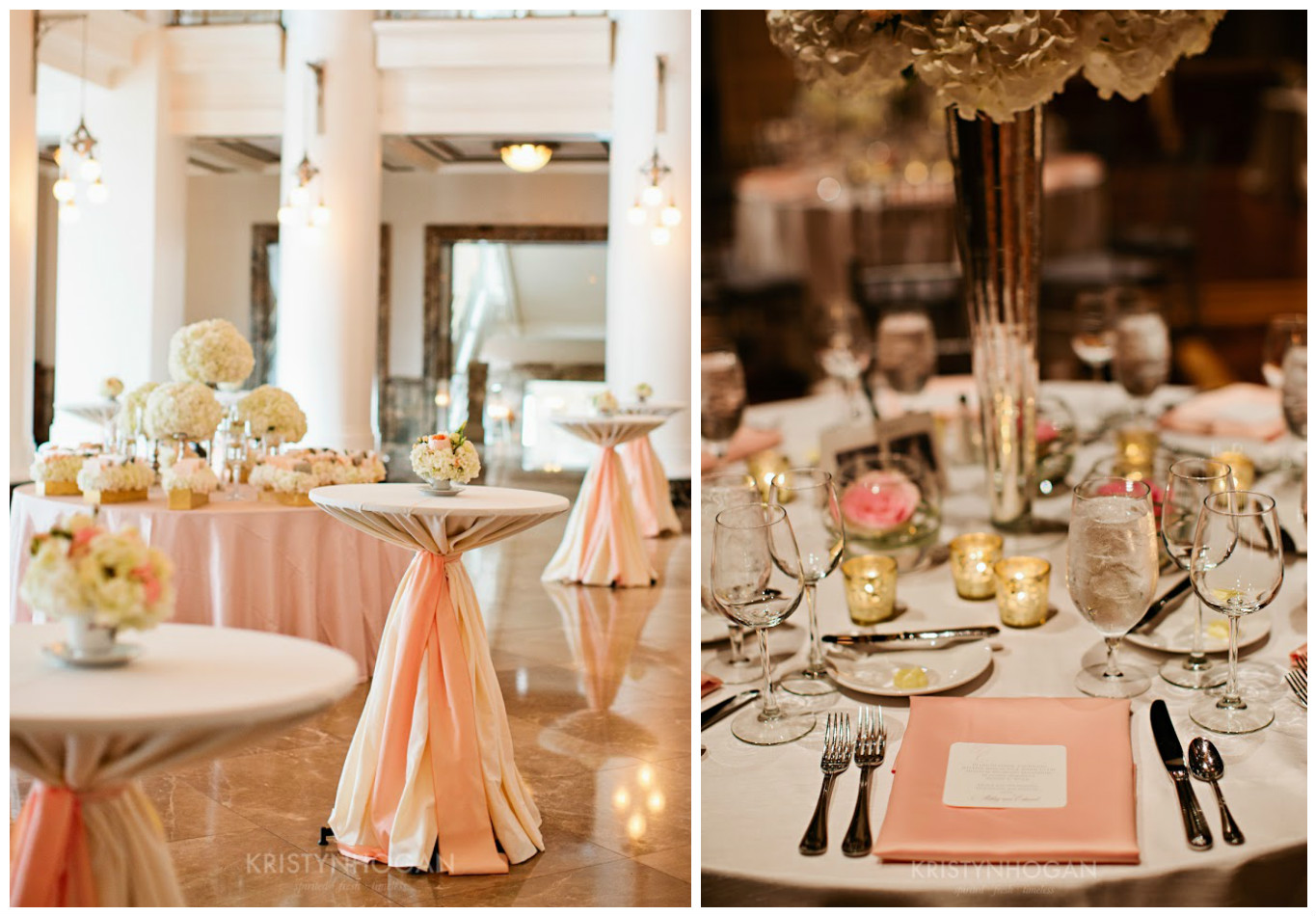 Photo Credit: Kristyn Hogan Photography
Its versatility offers great options for any event, especially weddings and social events. Soft and romantic, it pairs beautifully with other warm hues and can be used as a bold accent or as a pastel.
We love pairing colors, especially when they complement the season perfectly. Apricot makes the top of our palette list for this spring and summer.
Let's check out three unforgettable color palettes using apricot.
Apricot, Gold, Ivory, and Mercury Glass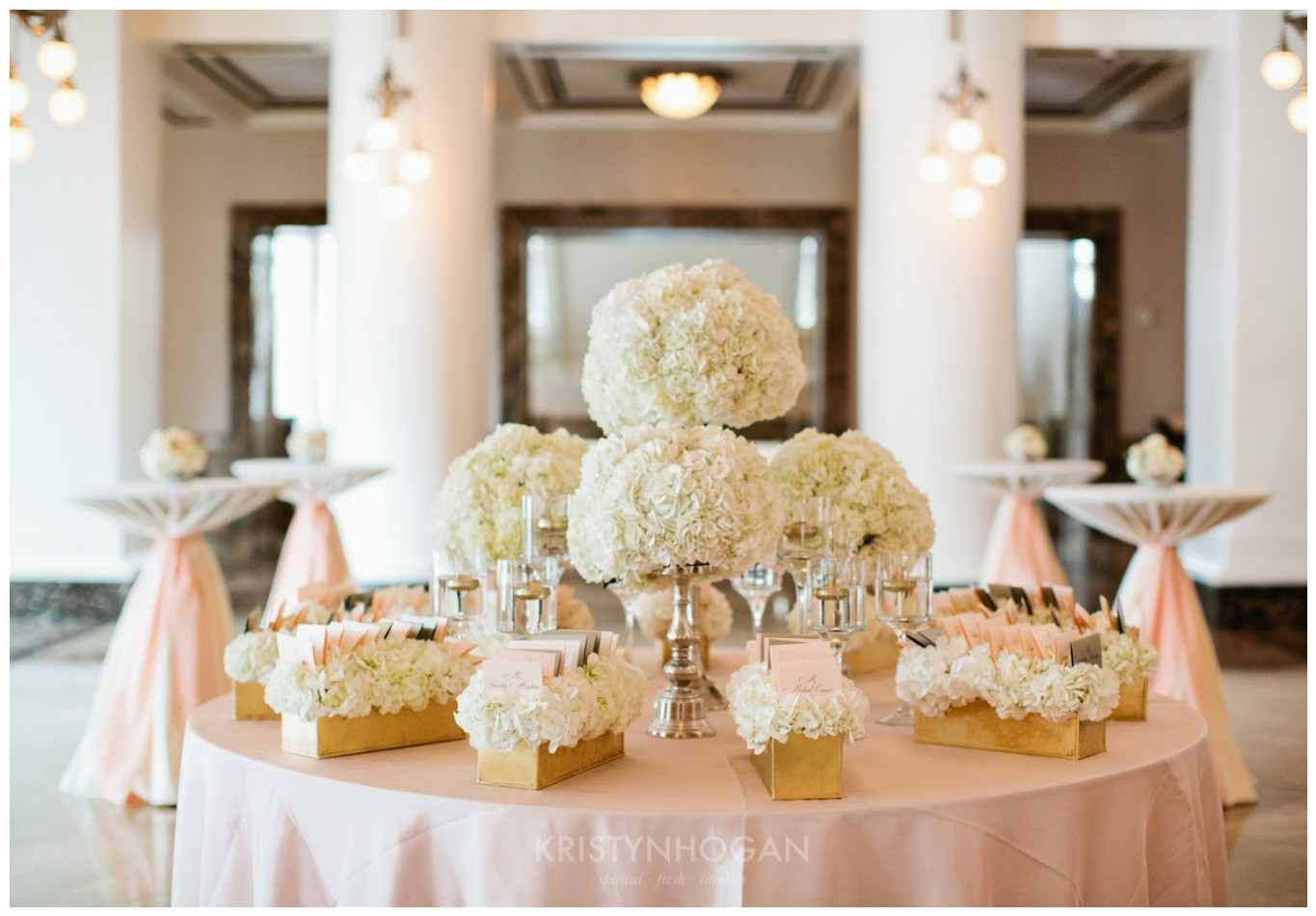 Photo Credit: Kristyn Hogan Photography
This first look is ethereal, soft, and feminine. Apricot Shantung table linen and Silver Shantung table linen create an exquisite look for a grand entrance. It's also a gorgeous background for stunning white flower arrangements.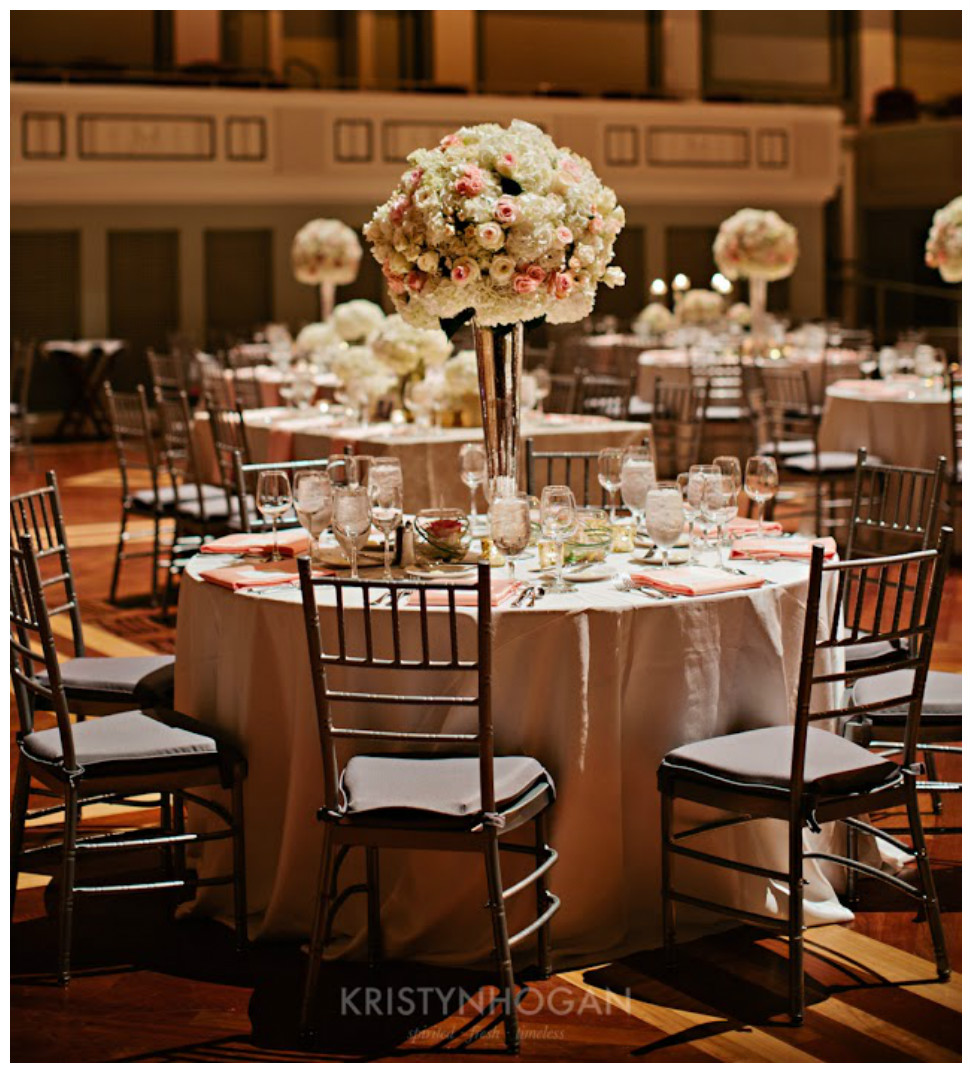 Photo Credit: Kristyn Hogan Photography
In the reception room, the soft shade of apricot creates a more romantic feel. At the place settings, Apricot Shantung napkins continue the soft apricot look, and larger mercury glass vassals add drama.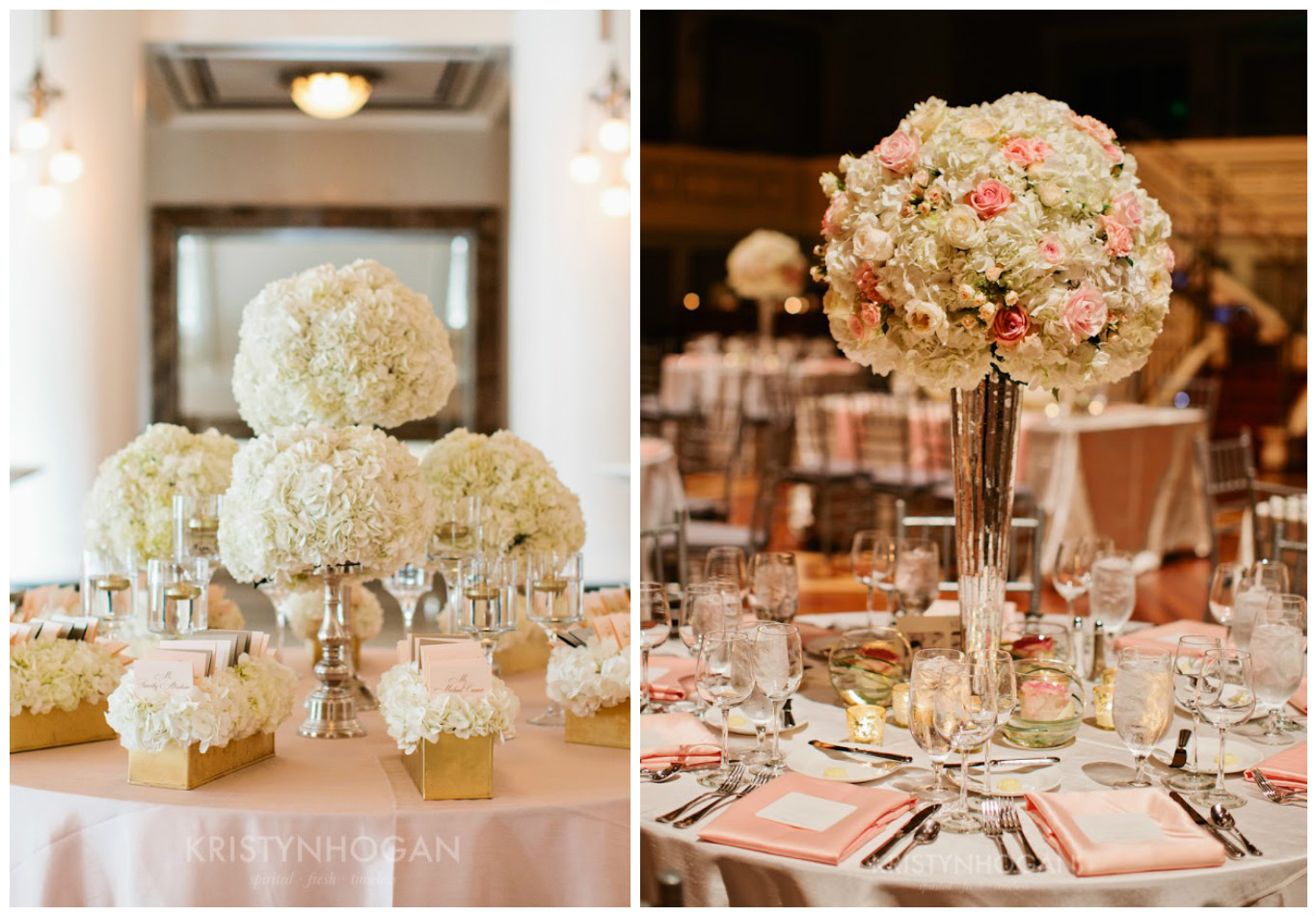 Photo Credit: Kristyn Hogan Photography
Lighter tints of apricot gave this wedding a sweet yet sophisticated look. With gold and mercury glass accents at the tables, it's absolutely gorgeous. The brighter centerpieces in the reception room create a different feel for the guests to experience. It's an interesting way to create flow through the event.
Blush, Apricot, Rose, and Celadon
This next look is a more vibrant one– summery, inviting, and stunning.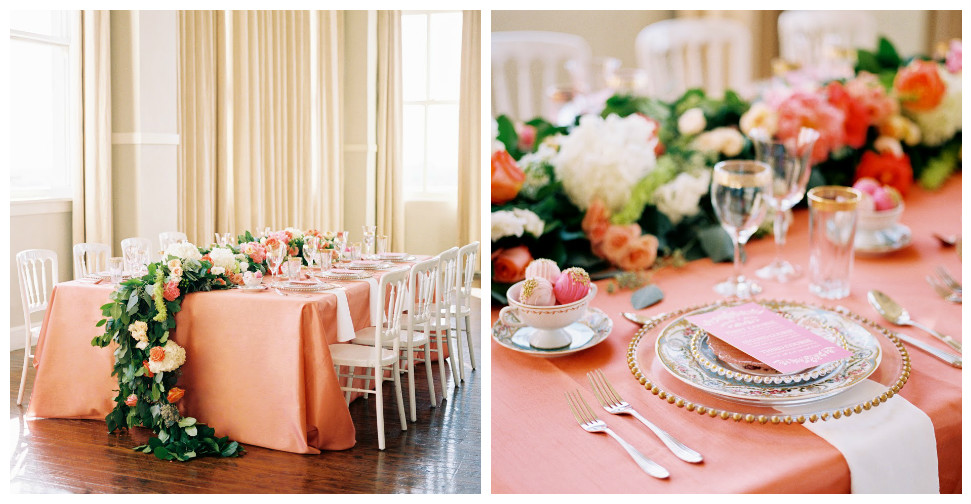 Photo Credit: Nicole Berrett Photography
We love this reinvented centerpiece look! Instead of traditional centerpieces, garlands of floral blooms and leaves create a striking look accented by Marmalade Shantung table linen.
Photo Credit: Nicole Berrett Photography
This romantic garden party theme wouldn't be complete without sweets at each table setting. To the side of each plate, a dish of decadent macarons accentuates the place setting. White Shantung napkins create a crisp contrasting look.
This look is amazing for a cheery, light-filled venue.
Apricot, Orange, White, and Gold
Our third apricot-inspired look is elegant and modern.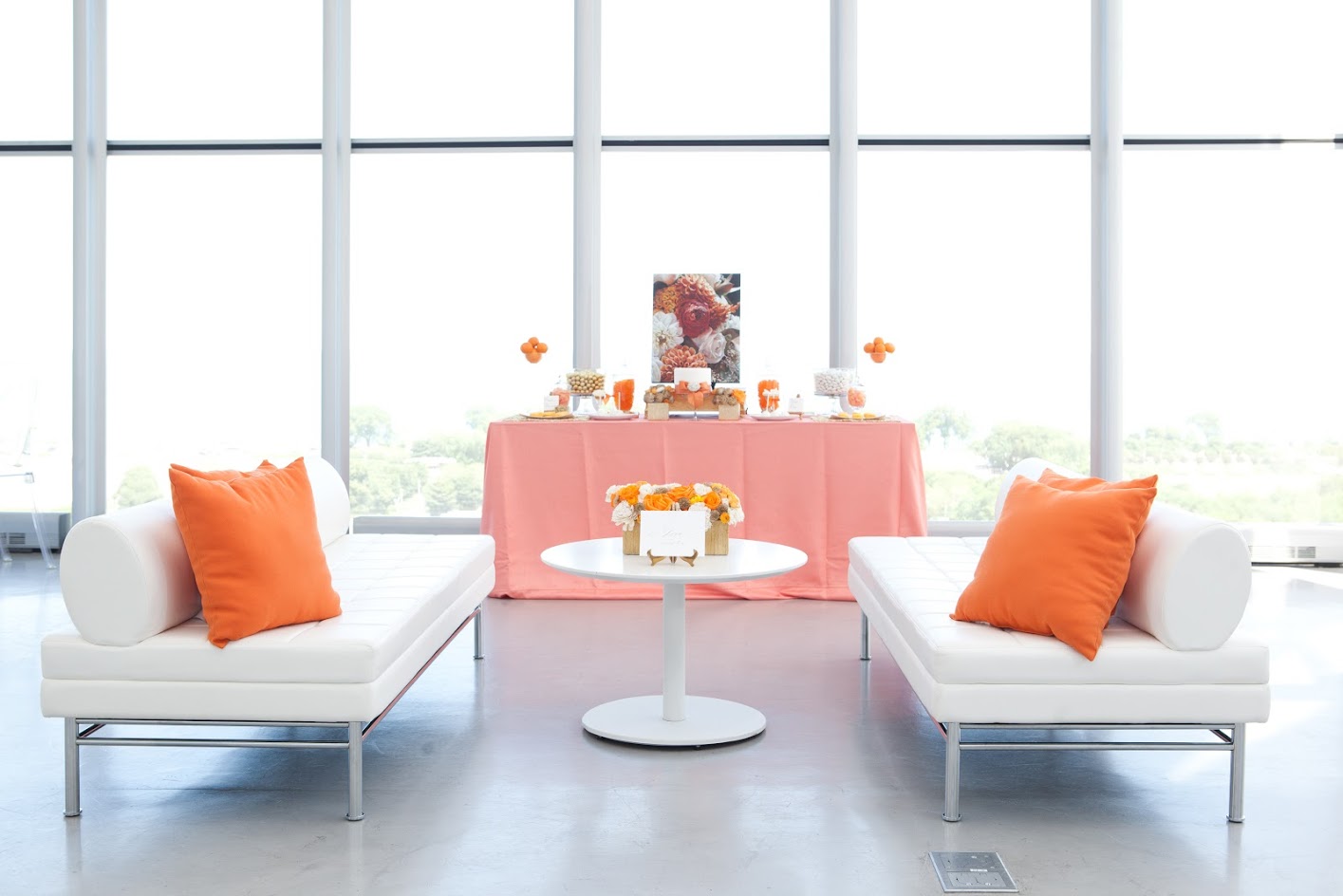 Photo Credit: Jennifer Kathryn Photography
This event look incorporates the lounge idea that is becoming more and more popular. Beautiful white sofas pair with tangerine throw pillows for an inviting look.
The contrasting furniture and pillows frame the welcome table perfectly. Featuring Marmalade Shantung table linen, the welcome table can't be missed!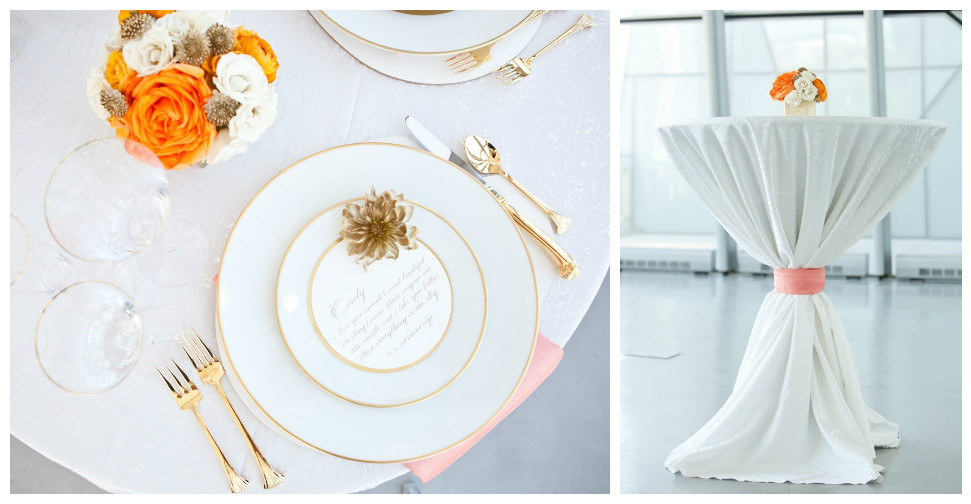 Photo Credit: Jennifer Kathryn Photography
Crisp, White Contour table linen is used at the guest tables. Contour's organic pattern provides a subtle shimmer to the tablescape. Marmalade Shantung napkins and Marmalade Shantung chair ties bring the whole look together.
We love the clean elegance of this event's design. It's perfect for a summertime, afternoon wedding, bridal shower, or any other formal event.
Which of these is your favorite apricot-inspired look? Let us know or share your own creation!