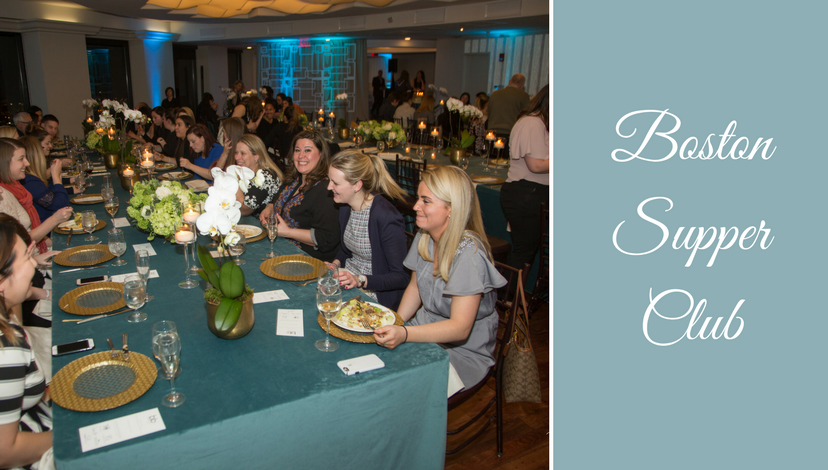 Any time event planners and design specialists get together to exchange ideas are bound to be a special time. And that's what it was recently in Boston when some of the area's most talented event planners and designers came to previewed upcoming product and see the some of the latest trends in tabletop décor. Stunning floral décor by Nectar and music, that asked to be danced to, by Entertainment Specialists transformed The Longwood's State Room into the chicest of dinner parties. Here is a look at what some of the best looks for this year's celebrations will be.
The Boston Supper Club was held on March 6th 33 stories above the Boston Harbor in the contemporary Harborside Salons of the State Room, a Longwood Venue. The evening was a meeting of great minds in the Boston event planning community.
Upon arrival guests were greeted with a Longwood signature cocktail, passed caprese bites, heritage bacon pops with maple bourbon glaze and spicy chicken lettuce rolls with hoisin ginger sauce all while previewing upcoming linen designs.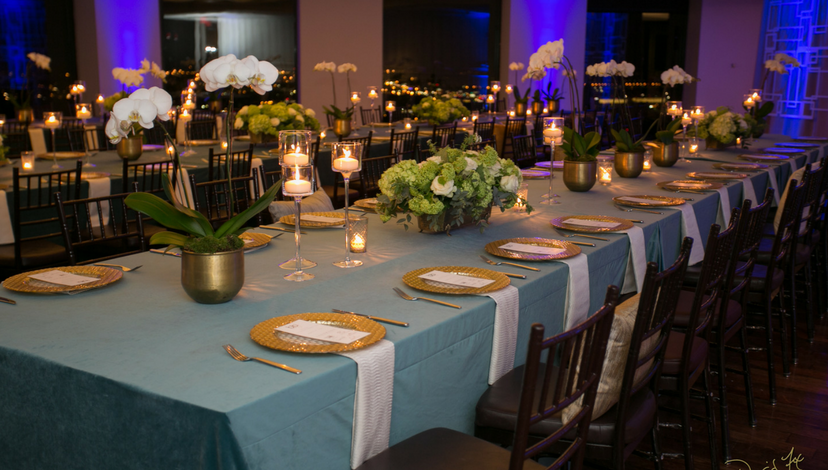 After mingling and checking out the latest tablescape designs, guests were welcoming into the dining room, separated by a stunning custom drape by Quest Drapes.
Dinner conversations took place with Entertainment Specialist's playlist as the soundtrack, and the whole evening was captured by talented David Fox Photographer. The long community tables were a dramatically beautiful way to bring everyone together. Draped in Arctic Velvet table linen, the white orchid paired with green rose and hydrangea centerpieces by Nectar created a modern and inviting setting for everyone to gather around.
Sneak Peek of What's Coming
While we'd love to show you all the designs to come, we must keep some things a surprise. Here's a little peek at what's to come very soon.
In the Pink with Ornate Pattern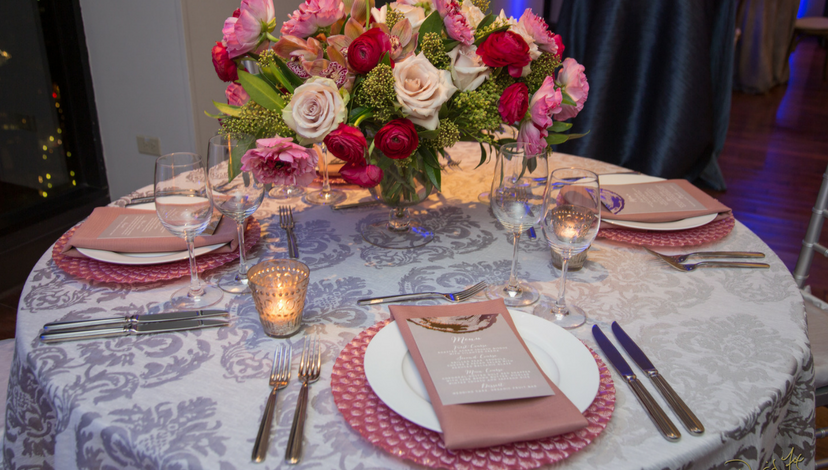 A favorite spring hue for 2017, dusky rose, takes center stage for floral display on round tables draped with a beautifully ornate subdued pattern woven in pale gray. Subtle rose appears again in napkins topped with muted menu cards and grounded with deeply tinted chargers.
Boldly Geometric and Totally Elegant
One of BBJ's newest metallic thread patterns is bold and geometric, but oh so perfect as the base for layering on more pattern and color. Here chargers pick up of the rosy beauty of the floral centerpiece, while ornate china and golden flatware add another dimension to each place setting. Simple menu cards, also embellished with a touch of gold, tuck into classic white folded napkins.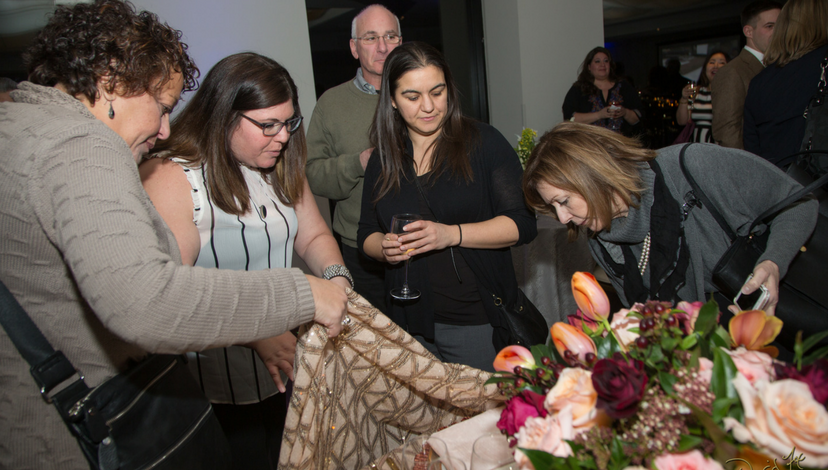 Twilight Whispers
The controlled formality of a table set with softest lilac and lavender is what this scene is all about. The floral arrangement plays up the delicate tracery of pattern on the linen, with a touch of bright color in the bloom and the candleholders. It's a beauty!
Fit for Royalty
Everything about this table setting is stunning — and as refreshing as summer rain. Delicately gray-toned paisley patterned linen paired with ornate flowers creates a classicly beautiful duo. A touch of green in the menu cards ties the regal look together.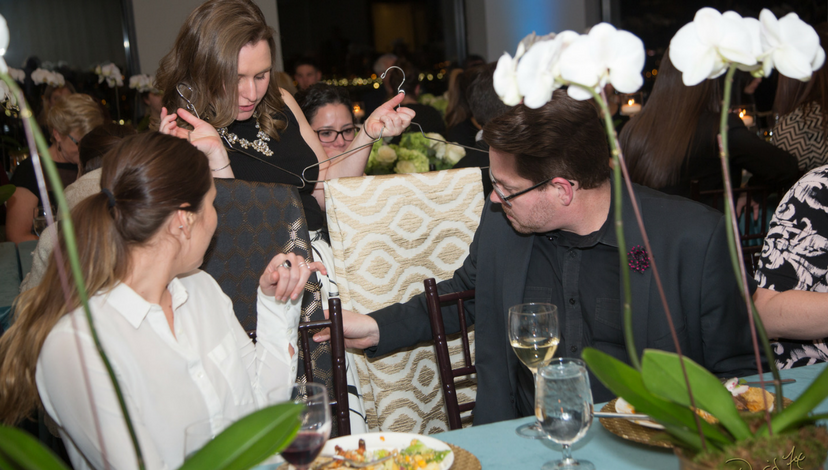 Stripes with a Twist
There's nothing ordinary about this new linen pattern. Wavy bands of color could be casual, but here they play a supporting role for a spirited, upscale expression. It's an inspired mix that calls to mind days at the shore: golden-sand textured chargers, not-quite rustic stoneware and the unexpected sheen of napkins. This scores a "Wow!"
It's All In the Details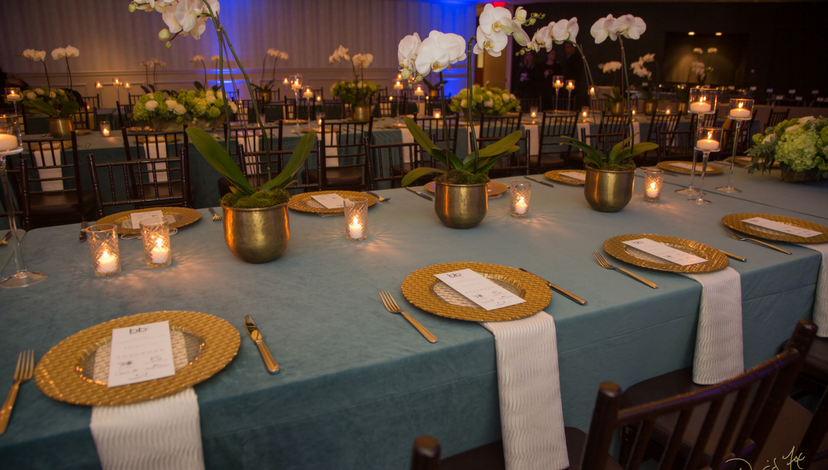 Designing memorable event settings is all about details! Whether it's the use of color in gradations from pale to deep tones, the layering of elements to create a perfectly executive picture, or the juxtaposition of traditional and trendy, BBJ Linen provides you the building blocks to create an event your way!
---
Event Credits:
Venue: State Room by Longwood | Floral: Nectar | Custom Drape: Quest Drape | Tables, chairs, flatware & glassware: Chase Canopy | Music: Entertainment Specialists | Photographer: David Fox Photography