Pantone's 2017 Color of the Year, Greenery, is described as a trans-seasonal shade with myriad possibilities for pairing with other colors — from soft and soothing neutrals to brights and metallics with a lot of sizzle and energy.
Pantone offers a variety of pairings, however, that merge beautifully with Greenery. We took a cue from their suggestions and pulled out all the stops to create elegant suggestions that pull in all of this year's trendy color choices.
Just a Little Jolt of Color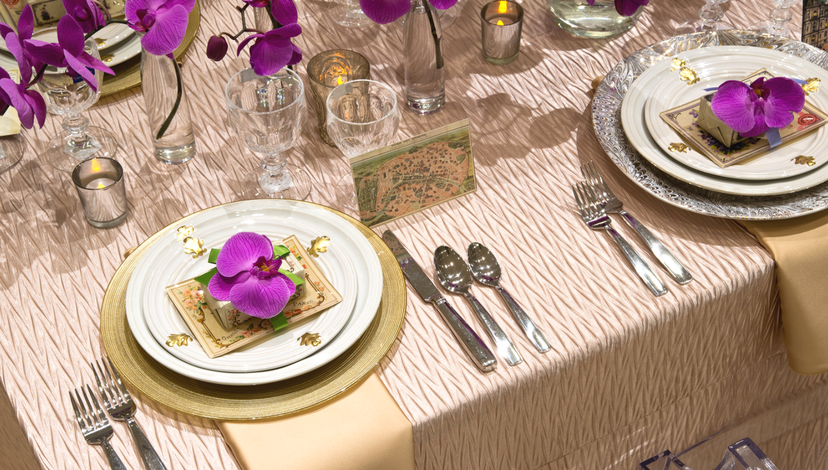 Debi Lilly – A Perfect Event
It isn't necessary that Greenery appear in large doses. Here it's almost an afterthought — used just for a bow — and the design statement is made with a gorgeous combination of golden tones along with the vibrant spark of violet orchids. It's elegant and stunning and the highlight of an "analogous" color scheme.
Debi Lilly – A Perfect Event
Subtle and Charming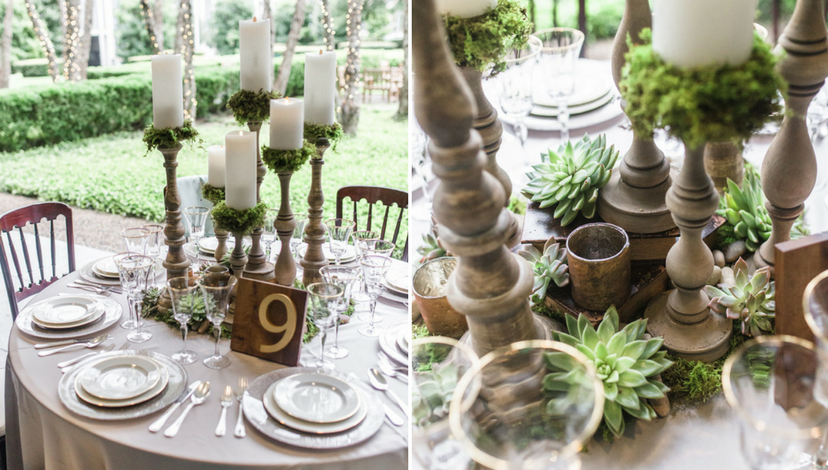 Fauxcades | The Big Fake Wedding
When greenery is the main focus, as in this beautifully natural outdoor setting, no other color is needed. This table exemplifies good taste and restraint, with just a hint of color in the linen, and a charming centerpiece display meant to signify delightful times amidst moss-covered trees. A collection of smooth stones provided counterpoint to the elegance of china and crystal.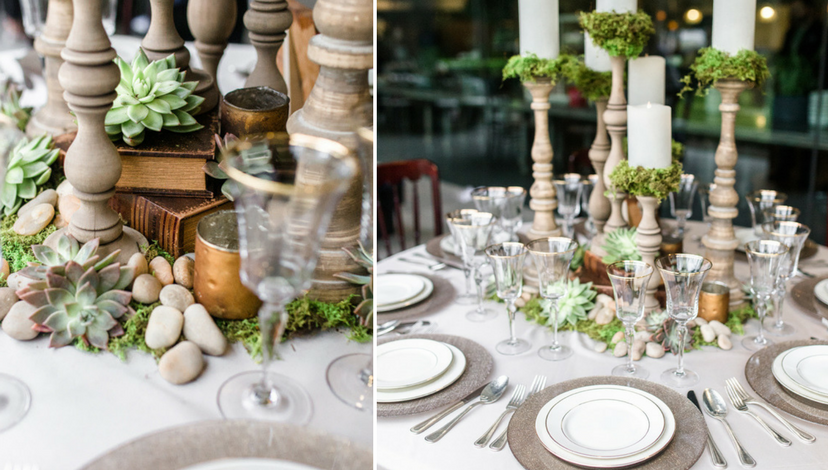 Fauxcades | The Big Fake Wedding
Sizzling and Sassy

Debi Lilly – A Perfect Event
Drenched in vibrant color, this energizing table setting speaks of fun, allowing for nothing but smiles and good times! The patterned linen is topped by an even more vivid charger, then layered with more color and pattern and emboldened with a bit of blue. It's a frivolous approach to celebrating a joyous occasion. What could be better?
Debi Lilly – A Perfect Event
Underscoring Nature's Diversity

Abbie O Events
Taking a cue from the outdoor setting, the dynamic grey and white pattern of the linen mimics stacked stone walls, while natural greenery ties together all the tones of the grove. It's a lighthearted tribute to the perfection of nature. There's plenty of embellishment — the ornate copper rim of the china, the glowing tones of chargers, and the intricate pattern of green glassware — but it's all perfectly curated to enhance rather than distract.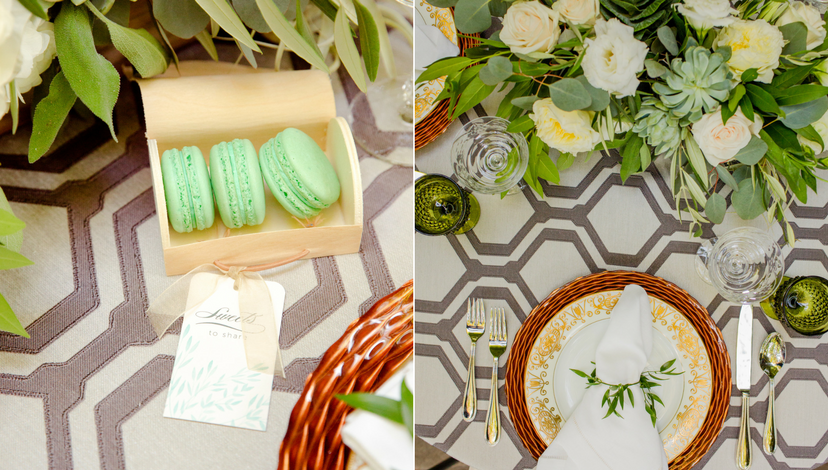 Abbie O Events
Color It Brilliantly
Blueprint Studios
With an impact every bit as sensational as a modern symphony, this brilliant setting holds its own against the architecture's overwhelming drama. There's no hint of timidity here, but the patterned green linen provides a secure base for the uncontrolled high notes of peacock, red and gold. It's a brilliant interpretation of a primary theme, executed by a master conductor. Bravo!
Blueprint Studios
Classically Upscale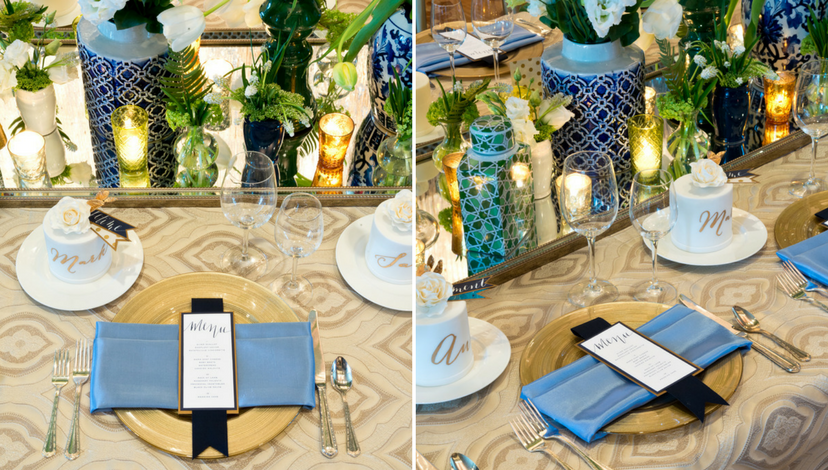 An elegantly embroidered beige cloth teams with strong tones of blue to give a nod to classical elegance for this formal table. The formality is reflected in all accessories — white blooms in traditional blue and white urns, classy "black tie" menu cards, simple china, silver and crystal, and the brilliant use of mirror to reflect it all!
Fanciful and Full of Fun
Sprung Photography
Greenery may play a supporting role, but it can still be invigorating. The brilliant saffron-toned ceiling drapes cast a glow over the hall, while orange, yellow and white brighten dark-toned tables and wood floors. Vibrant linen patterns repeat on small green cocktail tables, and the contrasting color punch reinforces the exotic theme.
Sprung Photography
The Sweetness of Being
Debi Lilly – A Perfect Event
What could be sweeter than a colorful table setting grounded by dusty blue linen and lighted with the colors of a spectacular sunset in a patterned runner. The frosting on the cake — or in this case, the doughnuts — is that none of the colors match, but they all work together to create a delightful luncheon setting.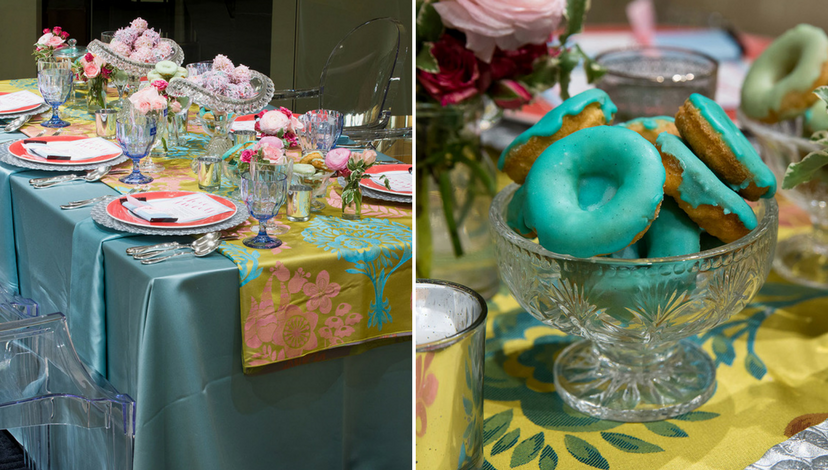 Debi Lilly – A Perfect Event
White Crowned with Brilliance
Just Love Me Photography + Design
There's nothing boring about classic white linen — not when its topped with brilliant napkins and the "fireworks" of vibrantly colored floral arrangements. This is an inspired interpretation that we look forward to seeing more of in the new year!
Just Love Me Photography + Design